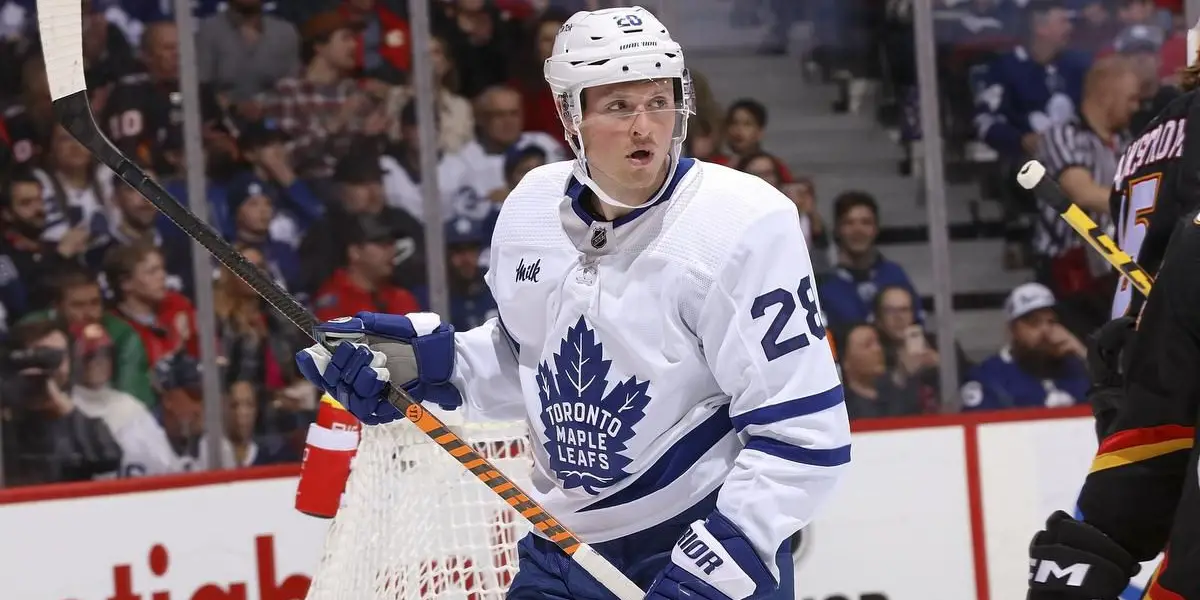 The Maple Leafs picked up six new players before the March 3rd deadline this season. One of those six was Sam Lafferty from the Chicago Blackhawks. Lafferty was in a trade deal that also included Jake McCabe. In exchange for these two players, Chicago would receive A 2025 first-round pick, a 2026 second-round pick, and forwards Joey Anderson and Pavel Gogolev.
So we can get better acquainted with Sam Lafferty, let's look at his personal and professional profile.
FAMILY LIFE
Sam Lafferty Was born on March 6th, 1995, and grew up in Hollidaysburg, Pennsylvania. His parents, Andy and Jill, are divorced. His mother remarried Sam's childhood hockey coach Dave Weaver.
Currently, Lafferty and his wife are expecting their first child.
SPARKING INSPIRATION
Very early days of his hockey journey, Sam's desire to play hockey was inspired by Mario Lemieux. He and his younger brother Charlie played for the Mid-State Mustangs in the Altona Trackers of the Pittsburgh Area Hockey League.
After high school, Lafferty would apply to prep schools. Eventually, a spot would open up for him at DeerField Academy in Massachusetts. In his first season playing for deer field in 2013 in 2014, he collected 95 points. In these 74 games he played, he had 38 goals and 57 assists. Upon graduation, he was drafted by the Pittsburgh Penguins in the 2014 NHL Entry Draft.
COLLIGATE CAREER
Despite being drafted do the Penguins, Lafferty would play four seasons of college hockey with the Brown Bears Men's ice hockey team. In his four years with the Brown Bears, he scored four goals, recorded eight assists in his first year, and played all 31 games. Lafferty's offensive play decreased the following season, and he would finish with four goals and six assists for 10 points. In 2017, Lafferty experienced a breakout year and recorded eight goals and 19 assists on the Brown Bears. That year he finished the season leading the team with 35 points in all 31 played games and was ranked first on the team in assists. In Lafferty's senior season, he returned as an assistant captain, recording eight goals and 14 assists for 22 points. In February 2018, Lafferty helped his team to sweep Harvard and Dartmouth as he collected four points in two games. He received the title of ECAC player of the week for this achievement. In that same month, he scored his very first hat trick at the collegiate level.
Lafferty would end his collegiate career by signing an agreement with the Penguins to participate in an amateur tryout for the remainder of the 2017-2018 season. He would also sign an entry-level contract with the Penguins for the following season in 2018-2019. Pending the Penguins 2018 training camp, Lafferty was reassigned to the American Hockey League affiliate, the Wilkes Barre Scranton Penguins. In his debut professional season, Lafferty played 70 games to record 49 points and become the team's second leading scorer.
PROFESSIONAL JOURNEY BEGINS
On October 8th, 2019, against the Winnipeg Jets, Lafferty made his NHL debut. On October 12th, 2019, Lafferty would score his first NHL goal and assist in a 7-4 win over the Minnesota Wild For the Penguins.
In the first week of 2022, Lafferty was traded to the Chicago Blackhawks for Alex Nylander. Sam scored 15 goals and 17 assists in the 97 games he suited up as a Blackhawk.
On February 27th, 2023, Lafferty would be traded to the Toronto Maple Leafs with teammate Jake McCabe. In a recent interview, Lafferty and McCabe collectively stated their excitement to play in Toronto and were looking forward to the opportunity. When this article was written, Lafferty played eleven games in the blue and white jersey and recorded one goal and two assists.
WELCOME BACK TO LEAFS LATE NIGHT! Presented by Inside The RinkRoscoe / Galaxy Biehn – Dubas Out?!?- Remember All The Good Times We Shared- I Don't Love Our Options- Matthews Next Deal?- Keefe's Fate- AI MascotsSPORTS! IS FUNMERCH IS AVAILABLE!JOIN OUR DISCORD!Remember to follow us on Twitter @LeafsLateNight & IG @LeafsLateNightCheck out Mike, Josh, and Nathan's articles on the Leafs + many more! insidetherink.com