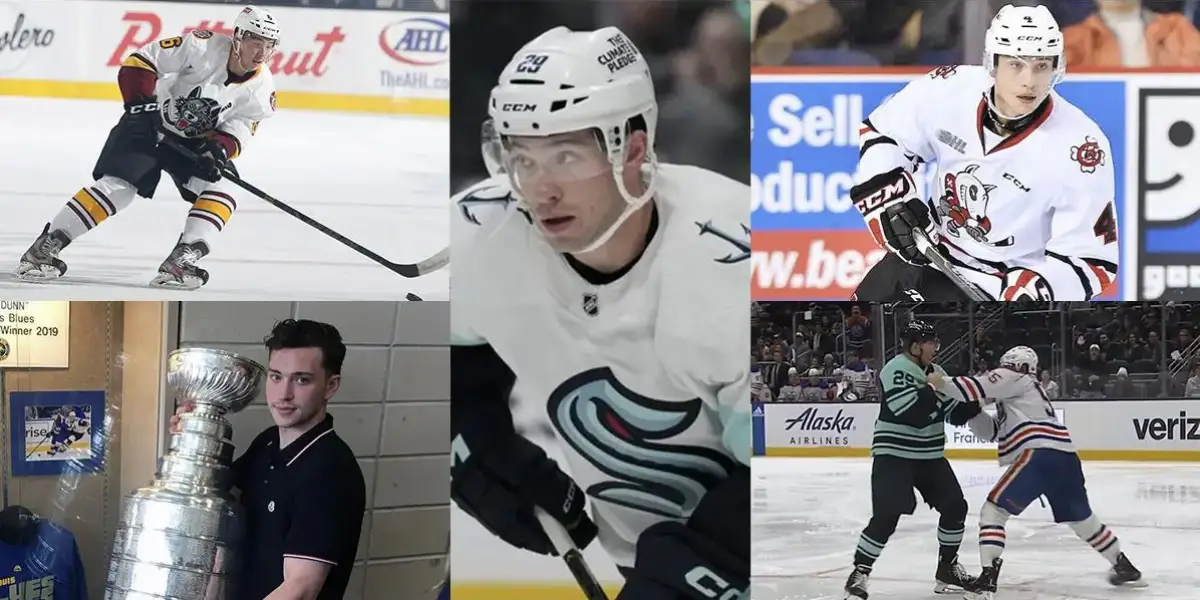 Basic Bio: Vince Dunn was born October 29, 1996, in Mississauga, Ontario, Canada. He stands at 6 '0", weighs 200 lbs, and shoots left-handed. He's played in the OHL, AHL, and NHL throughout his hockey career. Among his many accomplishments in his years playing hockey, none were more significant than his Stanley Cup win with the St. Louis Blues. For a defender, he has scored a vast amount of goals in each season he's played. He's also not afraid to drop the gloves and fight his opponents if he gets hit or cross-checked.
OHL Occurrences: Vince played three seasons for the Niagara Ice Dogs, and in his total of 183 games, he racked up 35 goals and 97 assists while also taking 156 penalty minutes. 35 goals in 3 seasons for a defenseman is a lot, and it's been seen from his time in the NHL that he has minimal difficulty with finding the back of the net. 
AHL Awesomeness: The only AHL team that Vince played for was the Chicago Wolves for the 2016-17 season. He was on the roster for 72 games, and in those games, he piled up a total of 13 goals, 32 assists, and 52 minutes in the penalty box. He started the next season by beginning his NHL career, in which he only played two games for the Wolves. 
Why so Blue? Dunn's first NHL season was spent exclusively with the St. Louis Blues in the 2017-18 season. Prior to being acquired by them, he was named to be in the Canadian Hockey League Top Prospects Game. Luckily for him, Vince's first NHL appearance resulted in a 5-4 overtime win against the Pittsburgh Penguins on October 4th. His first NHL goal wasn't until October 12th, when they sadly lost 5-2 against the Panthers. He finished his first NHL season with 24 points: five goals and 19 assists in 75 games, leading all of the St. Louis rookie players in points. The following season, Dunn showed vast improvement as he finished the 78 games he played with 35 points: 12 goals and 23 assists. He also added eight points in the playoffs: two goals and six assists. That season, he helped the Blues snag their first Stanley Cup win. Dunn played a total of 267 games for the St. Louis Blues, getting a total of 32 goals, 76 assists, and 110 PIM. Of his 32 goals with the Blues, 11 were powerplay goals, six were game-winning goals, and two were overtime goals. He took a total of 499 shots in St Louis. 
Seattle Dunner Stunner: Vince Dunn was claimed by Seattle from St Louis in the expansion draft on July 21st, 2021, and he's played for them ever since, playing 152 games wearing Kraken colors. This season, he's scored 14 goals and 21 total in his time in Seattle, along with his 78 total assists. Two of his Kraken goals have been on a power play, two have been game-winning, and one has been scored in overtime. Of his 201 career points, 26 have been made on a power play. Within the month of April, he reached a new milestone of 200 points in the NHL. The Seattle Kraken only have two games left in the regular season, and then they will head on to their first Stanley Cup playoffs. His career will continue as long as he stays healthy and plays as great as he has been.
For more News and Updates on the Seattle Kraken, follow me on Twitter @gabriellediane0
The boys are back after a long break but have plenty to talk about as the playoffs are in full swing. We go series by series, looking at how teams have fared so far and who will come out on top. Thanks for listening! Please rate and review our show on your favorite listening platform. Check out our partner's website at www.insidetherink.com for all your latest hockey news.