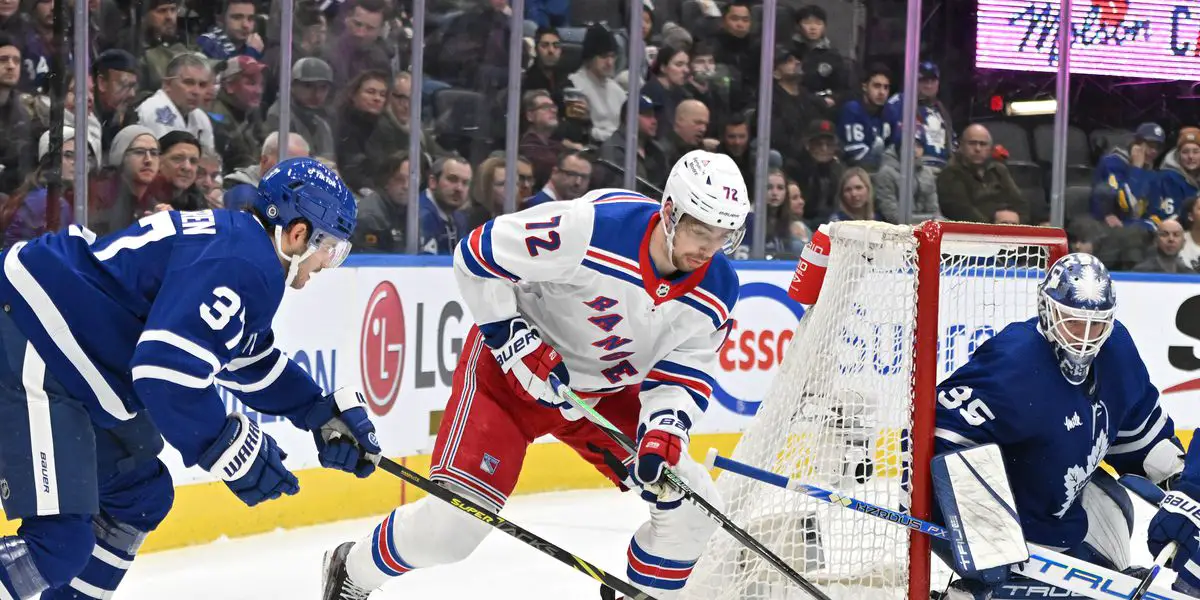 Last night was another game for the NY Rangers where they let a much-needed point slip through their fingers. An overall solid effort didn't result in a win as they allowed the Toronto Maple Leafs to tie the game late in the third period and defeat them in OT off a goal from Mitch Marner. Let's break it down.
THAT'S GOOD!
THE KID LINE (FEATURING FILIP CHYTIL)
To be honest, we could give Chytil his own section, but these three will always seem irrevocably linked, for better or worse. Last night was for the better by a far margin.
The Kid Line was easily the best unit all night, with the only two goals for the team and plenty of other chances. Kakko and Lafreniere were huge drivers, but Chytil was the star.
His first goal was a thing of beauty that you don't often see, if at all. Seeing how much space Toronto was leaving on the faceoff, he swatted at the puck right off the drop, and it fooled Samsonov and went in the net. Chytil's face was a mile wide, and so was mine, as it tied the game at one.  
It was a kickstart to an impressive second period that the Rangers dominated, especially this line when they showed their chemistry and skill with a beautiful tic-tac-toe goal that was started by Laf and ended by Chytil for his second of the night.
It's clear the one major bright spot this season has been the emergence of Filip Chytil. Of course, we were hoping that the player we saw in the postseason (Playoff Chytil as I've been calling him) was not a fluke, and thankfully, he has assumed that identity. Chytil's emergence into a bonafide center couldn't have come at a better time in a season with inconsistent production up and down the lineup.
PENALTY KILL
After a brief lull where this unit was leaking goals, they have come up big lately. Especially last night, for where a time, it seemed the refs were calling everything for Toronto and nothing for us.
The Rangers PK went three for three in stopping a lethal Toronto unit and really kept the game in check when it could have gotten away from them.
THAT'S BAD!
CHRIS KREIDER
There were other culprits last night, and it pains me to type his name here, but last night was one of the worst games I've seen from Kreider for as long as I can remember.
He missed two glorious chances for a goal, including a fluttering try off a three-on-one rush. Even more egregiously, he missed a wide-open net on a power play tap-in, which he usually makes with his eyes closed.
All that could be forgiven, except he was victimized on the tying goal by letting his man get by him to net the rebound. Add in a few other lazy turnovers, and it's a night CK would like to forget.
There is speculation that whatever kept him out a few games is still ailing him, and I wouldn't be surprised. If that's the case, after our game against Vegas on Friday, there will be a ten-day hiatus. Hopefully, that time off gets him right because this team can't afford efforts like last night too often.
TRUST THE PROCESS
I was going to talk about the lack of finishing, but it's getting old. It's still an issue, of course. The Rangers dominated the second period, and while I'll always relish outscoring a team two to nothing, it could have been more if this team could capitalize on their opportunities.
One of the reasons for that not happening was an aspect even the announcers repeatedly pointed out. Way too many times, the Rangers were shooting (which is good), but with no traffic in front of Samsonov. He was making easy glove saves with a perfect line of sight. The Rangers have this odd habit of knowing the proper way to play but abandoning it for long stretches of the game. Then, they turn it on out of nowhere and look like world-beaters. If they could stay true to their process more consistently, it would lead to more consistent scoring.
CAN I GO NOW?
The Rangers probably could have had one or two more goals if they connected on some of these long-range passes. A few times, they put too much speed on the pass, and it was out of reach of the streaking player. The concept is sound, but the execution is off. That's been another underrated frustrating aspect all year.
I would not have recovered if Tavares got that goal instead of the crossbar at the end of the game. I would have just woken up this morning on the living room floor hours later in a daze.
Auspicious start for Cuylle being on the ice for a goal against on his first shift, but he looked more comfortable as the game went on.
The next game is our last game for a while. Friday night against Vegas at MSG. After that, the Rangers are off for ten days (All-Star Break/Bye). Hopefully, we can corral a win and go into the hiatus with a positive vibe.
In this weeks episode we have on Nick Morgan from Locked on Predators pod to discuss coaches Hynes and Laviolette.Thanks for listening! Please rate and review our show on your favorite listening platform. Check out our partner's website at www.insidetherink.com for all your latest hockey news.