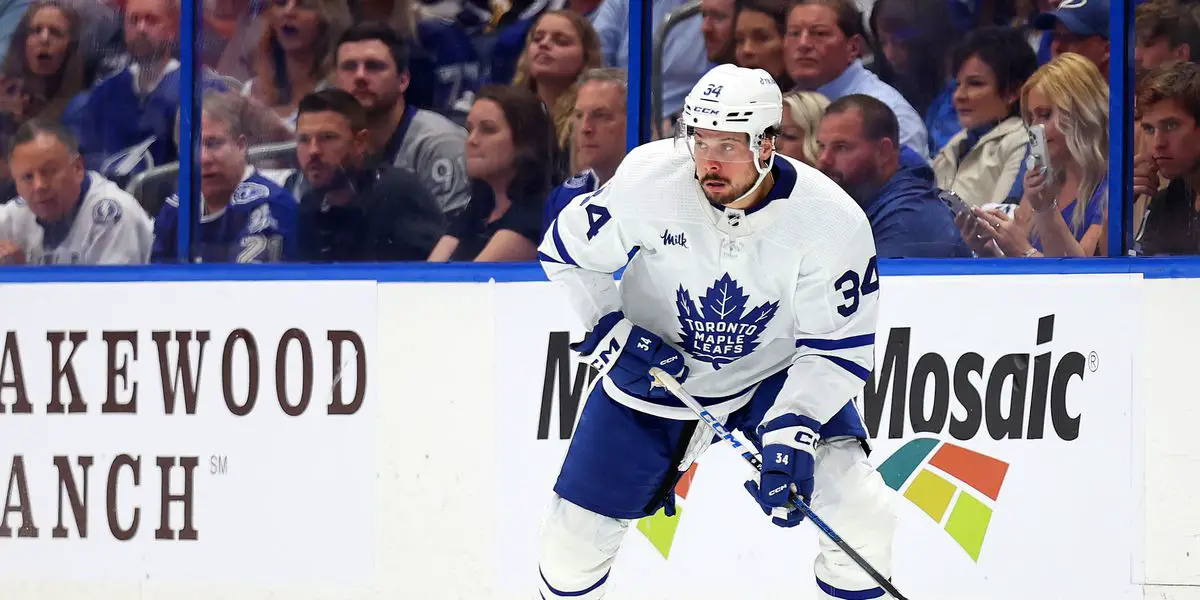 The Toronto Maple Leafs advanced to the second round of the Stanley Cup Playoffs after beating the Lightning 2-1 in overtime! After waiting nineteen seasons, the Toronto Maple Leafs have finally advanced after taking four of the first six games against the Lightning. The Maple Leafs will now wait to see who they play in the second round as the Bruins host Florida in a Game 7.
In the first period, the Tampa Bay Lightning came out strong. After generating a ton of pressure early, Leafs goaltender Ilya Samsonov shut the door. After a couple of power-play opportunities for the Maple Leafs couldn't be converted, the Lightning recaptured momentum heading into the intermission. Neither team could score through the opening twenty minutes of play.
In the second period, the Maple Leafs jumped ahead early. After a few looks were turned aside by Lightning goaltender Andrei Vasilevsky, Maple Leafs star Auston Matthews finally broke the deadlock. After a nice play by Leafs defenseman TJ Brodie, the veteran blueliner fed Auston Matthews a one-time pass just above the face-off circle leading to a rocket up high into the Lightning goal. The Maple Leafs went ahead 1-0, but the Lightning didn't back down. After ending the second period with the lead, the Maple Leafs would still have a lot of work to do if they wanted to advance.
In the final frame of this one, the Tampa Bay Lightning threw everything they could at Leafs goaltender Ilya Samsonov after numerous opportunities were denied by the 26-year-old. Eventually, a rebound in the slot for Lightning star Steven Stamkos was converted. After Leafs defenseman Erik Gustafsson lost his man in the defensive zone and William Nylander couldn't pick up the Lightning attacker, there was Stamkos all alone for the equalizer. Once the Bolts tied the game, both teams came out with some juice. However, neither team could beat the clock. In a heated Game 6 battle with a lot on the line, the Maple Leafs were headed to overtime.
Once the puck was dropped for overtime, Leafs fans across the world were sitting tensely. After a close call early for the Lightning, Maple Leafs captain John Tavares turned onto a wrist shot that just caught a piece of Lightning defenseman Darren Raddysh's skate, beating goaltender Andrei Vasilevsky. The Maple Leafs captain sent the Maple Leafs to the second round for the first time in nineteen seasons.
The Toronto Maple Leafs made history on Saturday and will look to keep rolling. With the second round still undecided, the blue and white can play Florida or Boston. Immediately following the Leafs victory, the streets were crowded with fans as the city of Toronto rejoiced. It's still early in the postseason, but Saturday night was special. 
Thanks for reading! For more Leafs content, follow me on Twitter at ITR_Anselmo.
WELCOME BACK TO LEAFS LATE NIGHT! Presented by Inside The RinkRoscoe / Galaxy Biehn – Dubas Out?!?- Remember All The Good Times We Shared- I Don't Love Our Options- Matthews Next Deal?- Keefe's Fate- AI MascotsSPORTS! IS FUNMERCH IS AVAILABLE!JOIN OUR DISCORD!Remember to follow us on Twitter @LeafsLateNight & IG @LeafsLateNightCheck out Mike, Josh, and Nathan's articles on the Leafs + many more! insidetherink.com