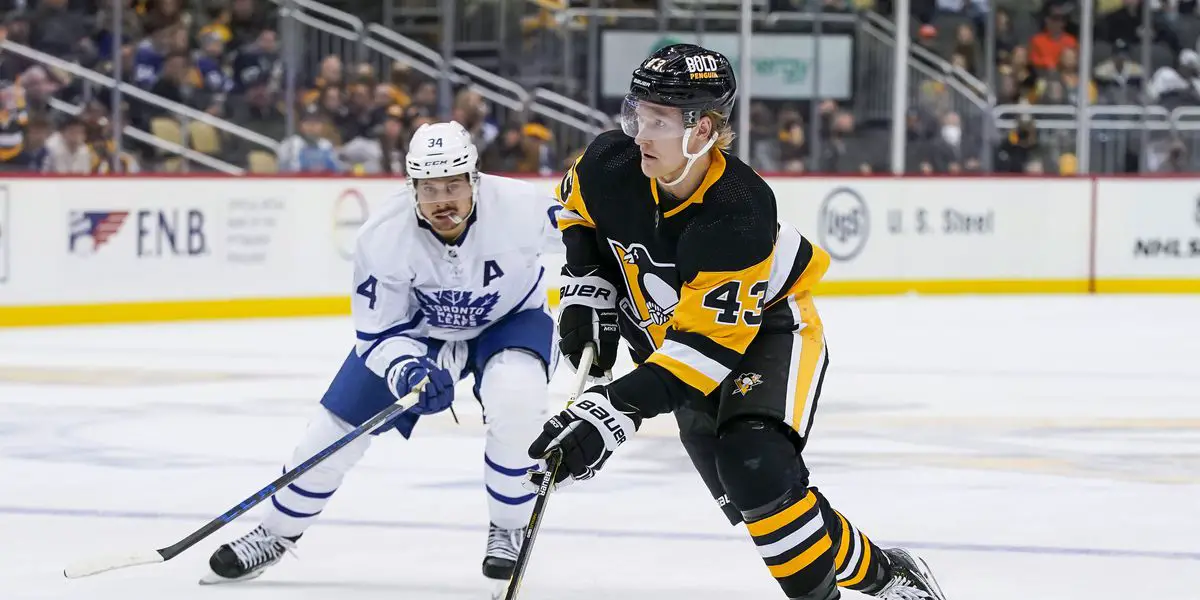 The Toronto Maple Leafs defeated the Pittsburgh Penguins 5-2 at PPG Paints Arena in Pittsburgh! A strong Tuesday night performance from the Maple Leafs earned them the full two points last night. The return of goaltender Matt Murray might have been the biggest difference in this one. Playing his former team in Pittsburgh for the first time since being traded Murray made 35 saves on 37 shots with a goals saved above expected of 1.45 according to Moneypuck.com. The blue and white had some good and bad moments in this one but it was refreshing to see a victory in regulation with Matt Murray in goal.
In the first period the Pittsburgh Penguins came out of the gate hot. After losing a winnable game against Montreal on Saturday the Penguins were flying. After an early advantage in shots on goal, Unexpectedly it was Maple Leafs captain John Tavares who broke the ice. John scored his 9th of the season on a beautiful wrist shot that went right by Penguins goaltender Casey DeSmith. Just over three minutes after it was Maple Leafs forward Mitch Marner who added to the Leafs tally. A dynamic setup from Maple Leafs John Tavares and Morgan Rielly left Mitch open all alone in front. A silky dangle taking DeSmith left and finishing on the right for his 4th goal of the season. After the Leafs went up by two they finished the period strong, so close to a third but DeSmith hung in there.
In the middle frame it was as good of a start as you could have dreamed of for the Leafs! A streaking Michael Bunting scored his 3rd of the year assisted by William Nylander and Auston Matthews. After the Maple Leafs took a 3-0 advantage it started to ramp up with the craziness. Roughly forty seconds later Penguins forward Rickard Rakell scored his 7th of the year. The blue and white were holding a 3-1 lead for just over a minute until a real bad turnover from Leafs Rasmus Sandin sent Penguins forward Sidney Crosby in on a break. Crosby made no mistake with turnover and netted one past Murray on his backhand. After the Penguins scored two quick, the chances kept coming for the black and gold. Coming so nearly to a tie, unexpected Leafs hero Jordie Benn saved the day. A back door pass for Sidney Crosby's redirect was saved on the line by Benn. One that was truly a game saver looking back on this one. Before the period came to an end an extremely late goal from Michael Bunting made it 4-2 Leafs! Bunting got his 2nd of the game and 4th of the season assisted by rookie Maple Leaf Pontus Holmberg! This was Holmberg's first NHL career point and was it ever a big one!
In the final period with the Maple Leafs up by a pair, the team remained strong. A few early opportunities for the Penguins were turned away by Matt Murray. The 28-year-old was sharp after giving up the two goals and honestly never really looked back. High danger opportunities for the Penguins were kept out, making Murray's performance extremely encouraging. This is a Leafs team that's been known to give up some high danger looks in the past so having a goaltender that you can trust in those moments is crucial. Late in the period an awful call of Maple Leafs forward Denis Malgin for high-sticking sent the Penguins to the power-play. A tight moment for the Maple Leafs was ultimately killed off thanks to the penalty-kill and Matt Murray who snuffed out all the danger. After a great defensive play by Morgan Rielly and an empty-net opportunity for Michael Bunting went wide William Nylander went flying down the wing and finished it. Nylander capped off his strong night with his 7th of the season and 2nd point of the night! After the final horn went the cheers for Matt Murray roared as the Leafs won 5-2 in Pittsburgh!
My Takeaway
My biggest takeaway from last night's victory was how solid Jordie Benn looked again! Being on the ice for 3 of the Maple Leafs goals, while also having the lowest expected goals against as a pairing per Moneypuck.com with Morgan Rielly is exactly what you want to see! The two played over 16 minutes of ice-time together and did more than you could have asked. With Brodie being placed on injured reserve and Jake Muzzin out till at least February, many fans have called for an acquisition. Tonight was a huge boost for all doubting the situation with the Maple Leafs blue line, it certainly should make quite the storyline moving forward. However, with scouts from the Blues, Stars, Rangers, Flyers, Golden Knights, Sabres, Devils, & Blue Jackets organisation all in attendance, it's certainly an eyebrow raiser. Could this be a sign of things to come? Who knows. But if Jordie Benn can continue to play this well for the whole season I don't see quite the hole the Leafs media makes it sound to be. Obviously expecting Jordie Benn to maintain a top pairing role might be a bit unreasonable but right now he's earned his opportunity. Should be a good test on Thursday for Benn and the Leafs against an electric New Jersey Devils team.
Thanks for reading! For more hockey content, follow my Twitter at @JAns8lmo