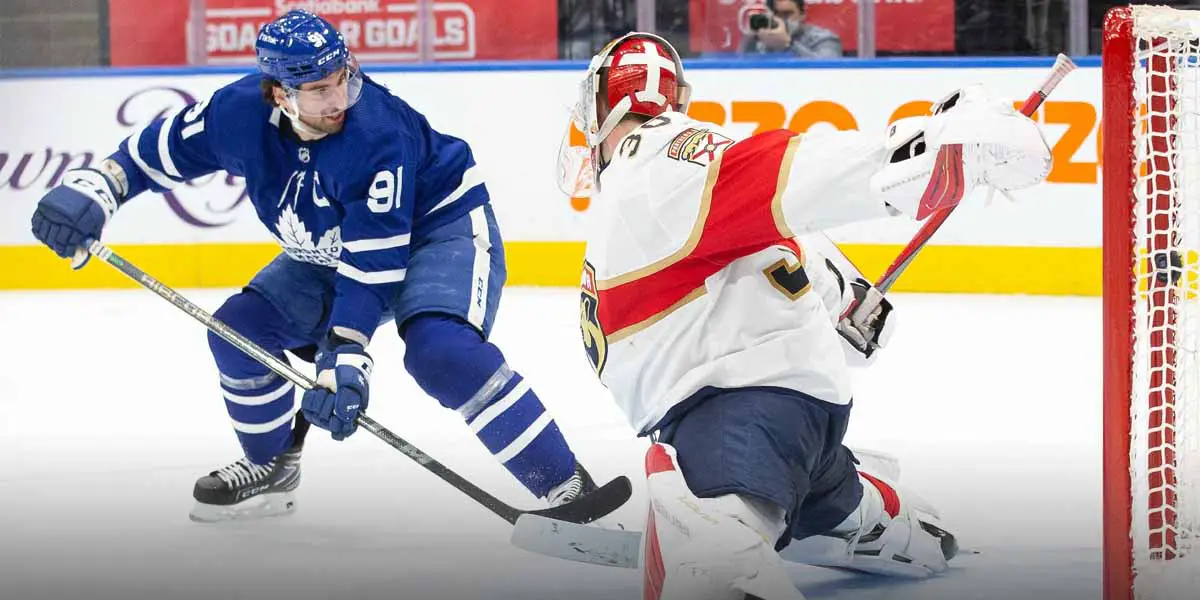 The Florida Panthers defeated the Toronto Maple Leafs 4-2 in Game 1 of the second round. The Panthers, who came into tonight off an incredible Game 7 victory on Sunday against the Bruins, continued their impressive run stealing Game 1 on the road. The Cats were helped by a dazzling performance from their goaltender Sergei Bobrovsky, leading them to an early series lead. 
In the first period, the Toronto Maple Leafs looked good early. A breakaway for Auston Matthews was turned aside by the Florida goaltender. As the period went along, the Cats caught momentum after some solid penalty-kill work early. Around the mid-way point, Florida forward Nick Cousins scored his first of the playoffs, giving the Panthers a 1-0 lead. After Florida went up by a goal, neither team could score in the period sending us to intermission with the Leafs trailing by one.
Related Story: Leafs vs. Panthers (Game 1) Three Stars
In the second period, the Florida Panthers continued their strong play. After testing Leafs goaltender Ilya Samsonov, the Cats finally broke through for a second goal on the night. Panthers forward Sam Bennett caught a deflection from the point, beating Leafs goaltender Ilya Samsonov for his fourth goal of the playoffs. After the Cats went up by two, the Maple Leafs started to find their rhythm scoring back-to-back goals. Opening up the scoring for the Maple Leafs was rookie forward Matthew Knies, who scored his first National Hockey League goal. Not too long after, Scarborough's very own Michael Bunting scored his first of the playoffs, and was it ever perfect timing. Just when things started going the Maple Leafs way, Panthers forward Carter Verhaeghe snuck behind the Maple Leafs defense and capitalized on a breakaway. The Panthers took a late 3-2 lead heading into the second intermission.
When the third period kicked off, the Maple Leafs came out strong, testing Sergei Bobrovsky with numerous opportunities. However, after the strong performance in goal by the Panthers goaltender, it eventually led to the Leafs showing frustration as they drew a penalty late in the third. Before the powerplay even started, with the extra attacker on the ice, Florida defenseman Brandon Montour continued his dominant postseason run, scoring his sixth of the playoffs. The Panthers took a late 4-2 lead and defended well to kill off the clock to finish this one.
The Florida Panthers will now take a 1-0 series lead heading into Game 2 on Thursday. The Maple Leafs had a good pushback in the middle frame but couldn't hold off the Cats as they dropped this one on home ice. I'm sure we will see some lineup changes ahead of Thursday, especially on the Maple Leafs backend. Despite dropping this one at home, this series is still far from over.
Thanks for reading! For more Leafs content, follow me on Twitter at ITR_Anselmo.
So Nice, It Ended Twice feat. Marty Zylstra
–
Leafs Late Night
WELCOME BACK TO LEAFS LATE NIGHT! Presented by Inside The RinkGalaxy Biehn / Marty Zylstra of Sports! Is FunCheck out Marty's Music- Lucky To Be Good, Good To Be Lucky- Mitch Marner Is Underrated- Joseph Woll Remembers.- Gregor's ArkNEW MERCH IS AVAILABLE!JOIN OUR DISCORD!Remember to follow us on Twitter @LeafsLateNight & IG @LeafsLateNightCheck out Mike, Josh, and Nathan's articles on the Leafs + many more! insidetherink.com