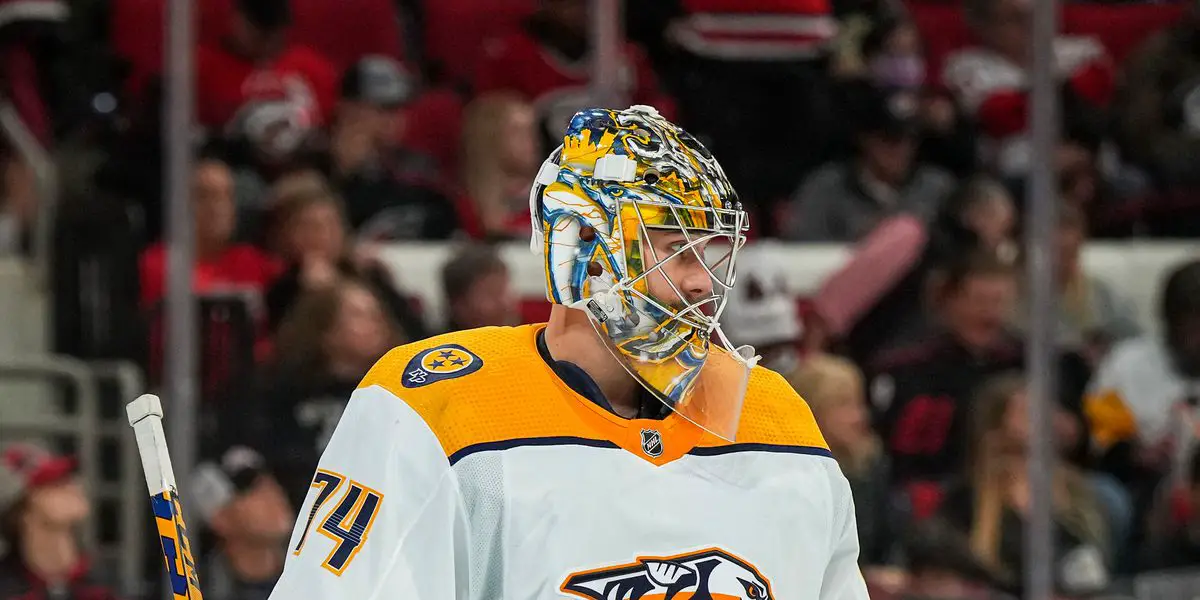 For much of this season, the Nashville Predators played inconsistent hockey.
They would win a bunch of games and then lose a bunch of games. There was never a middle ground, and up until this point, it was costing the Predators in terms of staying in contention in what is a very tight Western Conference.
Fortunately for the Predators, things are starting to trend in the right direction. As of this writing (Saturday, January 7), the team, who is 18-14-16, is just two points out of the second wild-card spot, which is being held by the Edmonton Oilers.
The team is finally starting to play with some consistency. The team has won three straight games and is 6-1-2 in their past nine games, thanks to a 3-2 win over the Washington Capitals on Friday night, January 6.
A big part of this team's turnaround has been the play of their All-Star goaltender Juuse Saros. Saros, 27, is 14-10-0-5 with a 2.77 goals-against average and a .918 save percentage, but he has especially been good in his last three starts.
He won all of three games and stopped 114 of 121 shots during that span. It was Saros's effort back on Thursday, January 5th, that is being talked about the most.

On that night, a 5-3 victory over the Carolina Hurricanes, Saros made 64 saves, a Predators franchise record. He was outstanding in the third period when he stopped all 28 shots he faced.
The team also got a strong effort from their backup goaltender, Kevin Lankinen, in their 3-2 victory over the Capitals. He stopped 30 of 32 shots to improve his record to 4-4-0-1 with a 2.81 goals-against average and a .918 save percentage.
The team's defensive play as a whole has got the Predators back into the playoff hunt. They are 12th in the league in goals allowed
Another player that has been playing well during this stretch for the Predators is Filip Forsberg. He has eight points in his last five games (five goals and three assists) and leads the team in scoring with 34 points on 15 goals and 19 assists.
With that said, there are a few things that the Predators need to work on if they want to stay in contention for a playoff spot. For starters, they need to cut down on the number of shots they allow.
The team is 29th in the league in shots against, as they give up 34.1 shots a game. While the team has two capable goaltenders, facing that kind of volume from here on out is not going to help them and will instead put a lot of pressure on them to be perfect every night.
That brings us to another problem that the team is having, and that is putting the puck in the net. The Predators are 28th in the league in goals scored, as they have scored 106 goals in 38 games (2.79 goals per game).
If this team wants to get themselves into the playoffs, they need to continue playing consistent hockey because if they do not, they will end up being on the outside looking in come April.
The boys are back after a long break but have plenty to talk about as the playoffs are in full swing. We go series by series, looking at how teams have fared so far and who will come out on top. Thanks for listening! Please rate and review our show on your favorite listening platform. Check out our partner's website at www.insidetherink.com for all your latest hockey news.