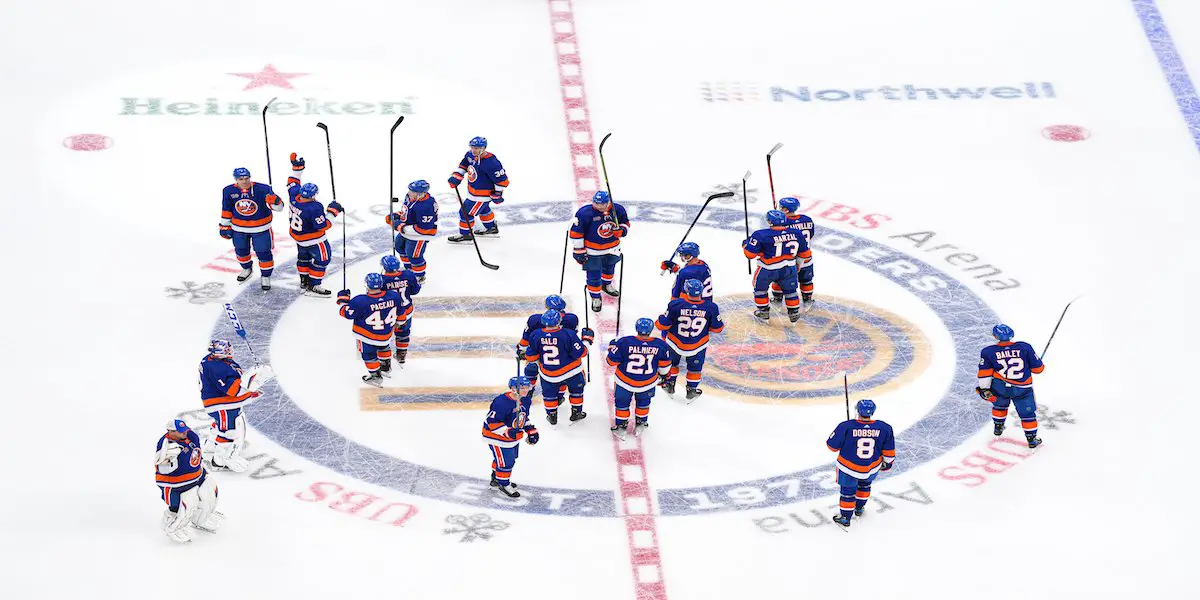 With not much roster turnover since elimination on April 28th at the hands of the Carolina Hurricanes, there will be plenty of familiar faces in the blue and orange when the Islanders take the ice for opening night on October 14th at UBS Arena.
Isles management will stick with their inner belief in this current group in the room and hope for the best in the upcoming season.
A full season of Bo Horvat and Pierre Engvall should have significant impacts on the scoresheet, right? A hope for continued growth from young blue-liners Noah Dobson and Alex Romanov could bring the Islanders back to being a real threat. Will Brock Nelson and Ilya Sorokin regress from their impressive 22-23 campaigns? Will the power play improve? All questions that will be answered throughout the season.
But what will Lane Lambert's lineup look like on opening night when the Buffalo Sabres come to Elmont?
Let's take a look.
Line 1:
Anders Lee-Bo Horvat-Mat Barzal
The most probable top line for the Isles consists of the club's captain and their two best forwards. This line had success when paired together in the regular season. The question will be, can Anders Lee can keep up with the speed of Bo and Barzy?
Line 2:
Pierre Engvall-Brock Nelson-Kyle Palmieri
Without the acquisition of Pierre Engvall before the trading deadline, there's a real solid shot the Isles will miss the postseason. When this line was paired together, it was pure brilliance. Engvall and Nelson brought out the best hockey Kyle Palmieri has played in quite a long time. Engvall emerged as a legitimate middle six forward, while Brock Nelson was criminally underrated, as per usual. These three should be penciled in together for the 2nd line already.
Line 3:
Simon Holmstrom–JG Pageau-Oliver Wahlstrom
Now, here is where it get's a bit complicated. There's a definitely a scenario where Simon Holmstrom and Oliver Wahlstrom are both not on the opening night roster, whether it's because of trade or a scratch, but with where the Isles are at, they're in need of some young legs. Holmstrom's defensive game is much stronger than that of Wahlstrom's, making Wahlstrom's slotting on the 3rd line defensive line a possible mismatch. Pageau can be plugged anywhere in the lineup, so we will see where this goes, but if you're trying to get your best hockey players as high in the lineup as possible, this is it.
Line 4:
Matt Martin–Casey Cizikas–Hudson Fasching
After nearly a decade, the Isles "identity line" is broken up. Hudson Fasching is too good of a player to be kept out of the lineup, and the injury-prone Cal Clutterbuck is sent to the press box.
D-Pair 1:
After two seasons of injury riddled hockey, the P and P pair are re-united at full health to return to be one of the top pairings in all of hockey.
D-Pair 2:
Alex Romanov-Noah Dobson
The kids on the back end are brought back together again to start the season. Another year of maturity for both Romanov and Dobson could go a long way in forming a quite balanced 2nd pairing.
D-Pair 3:
Sebastian Aho-Scott Mayfield
The underlining numbers say Sebastian Aho was one of the best d-men in his respective role in all of 22-23. Scott Mayfield was re-signed to a seven-year deal and is just a steady defenseman that can eat up minutes.
Goalies:
Ilya Sorokin
Obviously, there is zero uncertainty in the blue paint for the foreseeable future for the Isles. Potentially, Varlamov could get some more starts than last season to lighten the load on Sorokin a bit. Sorokin started in 60 games last season and came in relief twice. That's a lot of pucks at a guy in one season.
Scratches:
Cal Clutterbuck (RW)
Samuel Bolduc (LD)
Obviously, this is all just a major massive prediction, but this is the best bet of what Lane Lambert's Isles look like on October 14th. Does this group have enough to reach the postseason? We will find out.