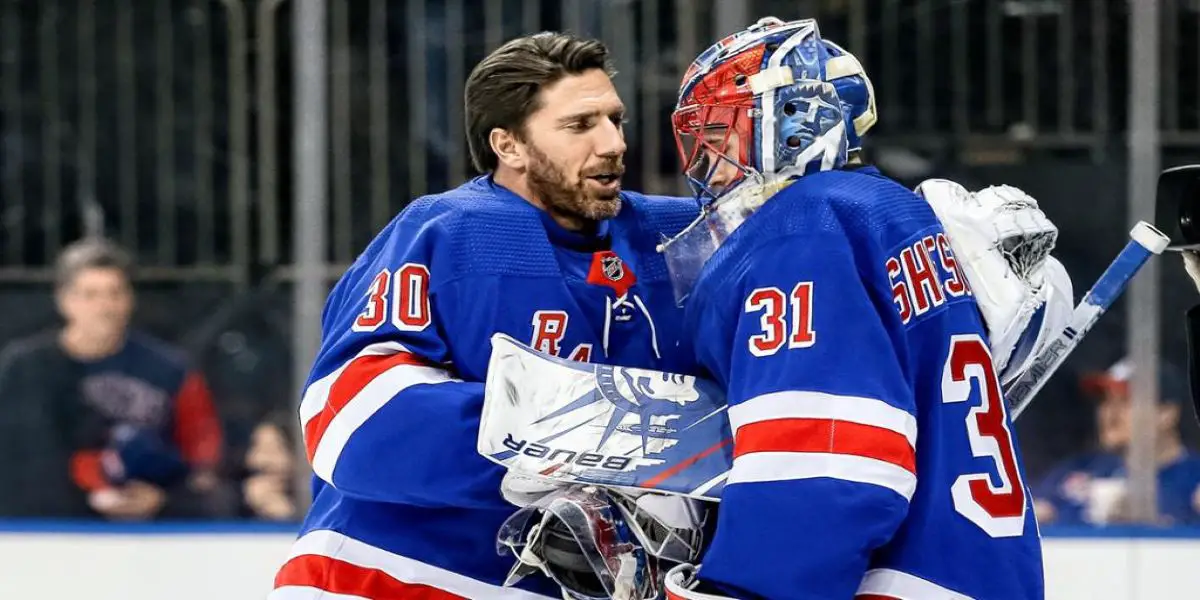 The New York Rangers have really showed their worth this season and into the current state of the Playoffs. The Rangers have proved that they can be a cup contender, seemingly overnight. But how does this team relate to the 2013-14 squad that made it to the Stanley Cup Final.
Let's take a look.
2013-14 New York Rangers vs. 2021-22 New York Rangers
The 2013-14 New York Rangers were a special bunch. There were plenty of highlights for this group, including Henrik Lundqvist, Derek Stepan, Brad Richards, Mats Zuccarello, Derek Brassard, Rick Nash, Dan Girardi, Ryan McDonagh, Ryan Callahan, Carl Hagelin, Marc Staal, Anton Stralman, Daniel Carcillo, and last but not least, Marty St. Louis. The list continues with many more Rangers fan favorites.
What a roster.
This group finished the season with the second-best record in the Metropolitan Division with a 45-31-6 record under Alain Vigneault. In comparison with the modern-day Rangers team, with an average age of 26.7 years of age, this group had an average age of 27.4 years of age. Another key comparison to make is the difference in scoring leaders. Zuccarello, Stepan, and Richards rounded out the top-point getters with 59, 57, and 51 points, respectively. Chris Kreider, who was also a part of the 2013-14 team at 22-years-old, had more goals this season than Richards had points.
The Modern-day team, which we all know about and root for currently, also has a good group. Artemi Panarin, Mika Zibanejad, Adam Fox, Igor Shesterkin, Ryan Lindgren, Filip Chytil, Alexis Lafreniere, Kaapo Kakko, K'Andre Miller, Ryan Strome, Frank Vatrano, the list goes on and on. The significant difference between the two teams is that the previous Rangers team was in the midst of their fourth out of eight straight playoff appearances. This modern team has many experiencing the playoff atmosphere for the first time in their tenure in the NHL.
The last box to check between the comparisons of these two teams is the goaltending—Henrik Lundqvist versus Igor Shesterkin. As I stated earlier, Lundqvist was going through his expected annual run through the playoffs. Shesterkin is facing his first real playoff experience and has been through some tough battles. He was bounced in the early stages of his first two away games in Pittsburgh during round one, only to battle his way back to winning game seven in that series. He has also done something similar against a tough Carolina team, winning that series in seven games. Now it is onto the Tampa Bay Lightning. The back-to-back champs are proving to be all that, as the Rangers trail 3-2 in the series. It is won or go home throughout games 6 and 7, which seems to be Shesterkin, and this Rangers team as a whole, comfort zone.
Obviously, the only way to declare a winner is to see where the 2021-22 playoffs end for the current Blueshirts. Being down 3-2 is a tough spot to be, especially with it being against a team that hasn't lost in their last ten playoff series. If the Rangers cannot advance, I have to confidently say that they did not live up to the same result as the 2013-14 team. But, I also can confidently say that this young group of 2021-22 Rangers could very well be back in the Eastern Conference Final again next year and even the year after. We could certainly be looking at a dynasty if the key pieces remain the same.
In this week's episode we discuss the new rumors regarding the Rangers coaching situation. Then go on to the fun stuff discussing the impact Tkachuck's play will make on the game, Rangers players and more. Thanks for listening! Please rate and review our show on your favorite listening platform. Check out our partner's website at www.insidetherink.com for all your latest hockey news.