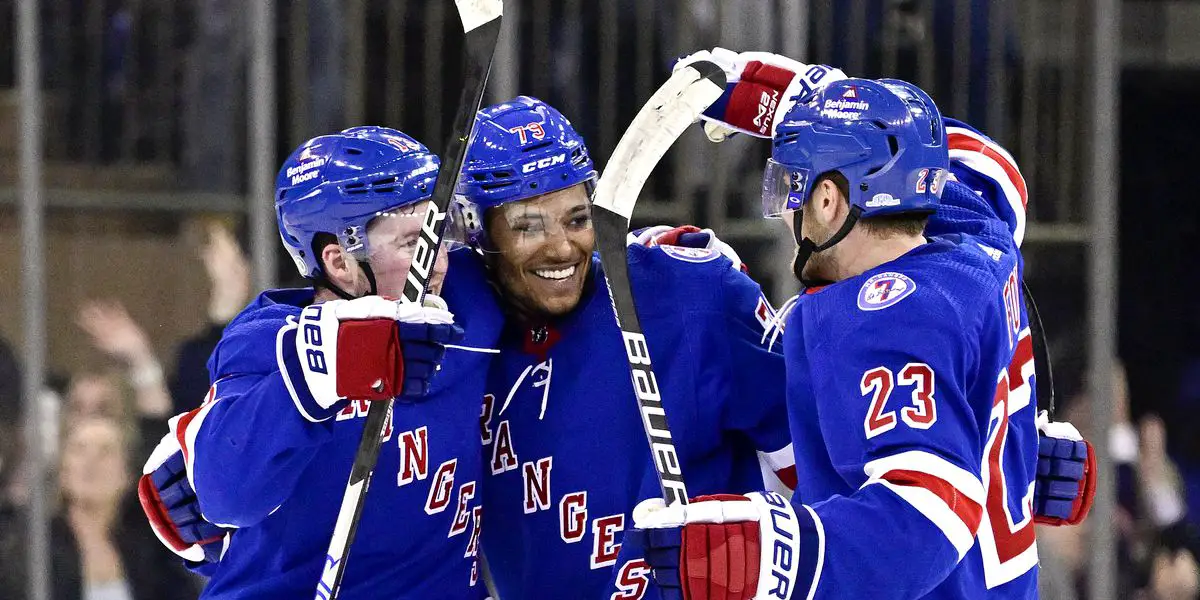 In the NHL these days, offense comes from everywhere.
Teams are not afraid to shoot the puck, both forwards and defense get in on the action, there are more power plays to create scoring opportunities, and the puck is going in the net at an extremely high rate this season. Gone are the days of low-scoring affairs in the regular season.
The New York Rangers have been mediocre when it comes to scoring goals this season. As of this writing (Thursday, January 25), the Blueshirts are 17th in the league, as they have scored 151 goals in 48 games (3.15 goals per game).
Believe it or not, when it comes to putting up points this season, the team has had a lot of them from their defensemen. The team's defensive corps has combined for 115 points.
Leading the way for the Blueshirts on the blue line is Adam Fox. Fox, 24, had 48 points on ten goals and 38 assists and has shown that he can be close to the next Brian Leetch for this franchise.
Fox also has four game-winning goals this season, logs a lot of minutes, and plays in every situation imaginable. He is the team's most reliable blue liner, both when it comes to playing in their own end as well as playing in the offensive zone.
Behind Fox is K'Andre Miller. Miller, 23, has not only shown that he can make great defensive plays with his stick in his own end, as well as being able to catch opposing forwards on breakaway chances, but he has also shown that he can contribute offensively.
Miller has 25 points on five goals and 20 assists. His biggest goal this season came on Thursday night, January 12, when he scored with less than a second left in the game to tie the Dallas Stars 1-1 and send it into overtime, where Fox would win it with a great goal.
The team's toughest blue-liners, Jacob Trouba and Ryan Lindgren have also put up some points this season. Trouba has 14 points and Lindgren, who is still looking for his first goal of the season, has 13 points.
One of the most surprising offensive contributors from the team's backend this season has been Braden Schneider. Schneider, 21, has 11 points and has shown that he has a great shot when he uses it.
Being able to get points from your defensemen is a luxury in the NHL. Luckily, the Blueshirts happen to be one of those teams that have guys that can produce on a consistent basis.
https://feeds.transistor.fm/new-york-paingers