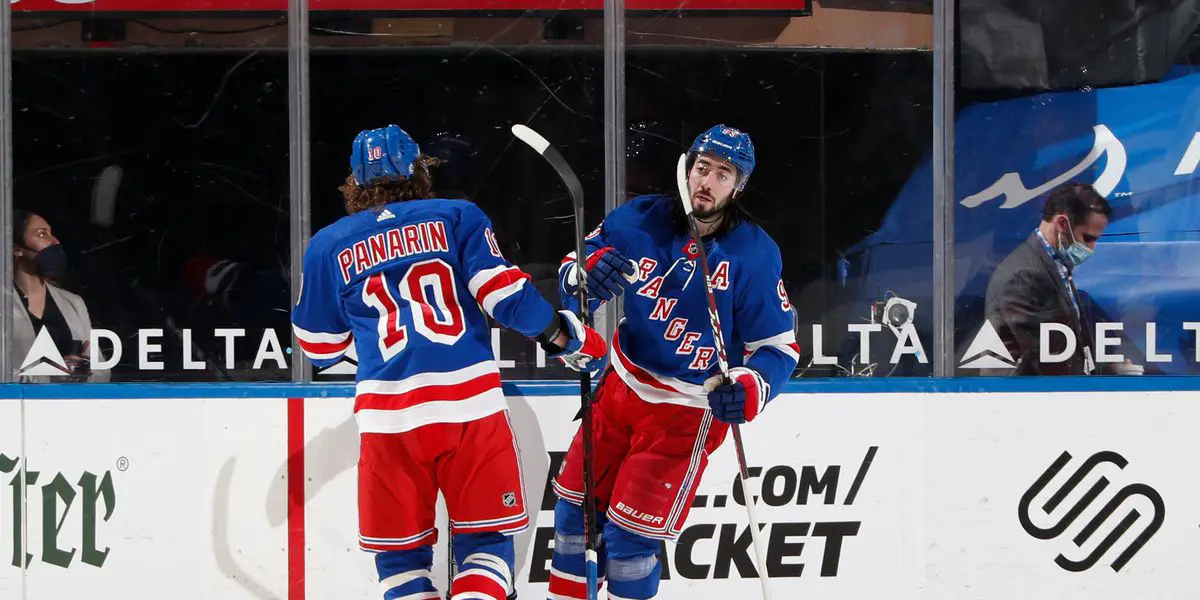 Wow! What a first half of hockey! With the All-Star break upcoming, it gives us a chance to flashback at the first half of the New York Rangers season. There were so many bright spots for them and some unfortunate dark ones. This allows us a chance to grade each player's first half and explain if they were above or below expectation. Further, I will predict that player's second half of the season.
Kaapo Kaako     C+    Below:
The second overall pick, in his second year, has not shown the Rangers that he is ready to take the next step. He has only five goals and nine assists. Not all of it may be his fault. For example, when he got hot, the Rangers coaching moved him up a line ruining his building of chemistry. Though he may seem this way now, he should end this year around a B+, especially if he stays on one line.
Alexis Lafreniere   C     Below: 
               Like Kaako, the first overall pick has not lived up to his expectations. LaFreniere has potential but seems to not have unshelled it. He has nine goals and just three assists, but much of this may be due to his lack of time on ice, which Gallant seems to not want to change. Further, his confidence in himself is shot and needs to be built up. If he has more time on the ice, he definitely can hit a B+ to end the season. Let's just see.
Artemis Panarin   A+   Above:
               Please do not take this grade to mean he has been outstanding in all areas because that would not be true! Panarin has played well, but his want to pass has gotten him away from his outstanding shot. This being so, there is some more expected from him in the second half of the season. A player of his stature should stay an A+ for the 2022 season.
Mika Zibanejad    A-      Above:
               Ever heard of a slow start? Well, Mika had just that, and boy, did it frustrate fans. As soon as he got things straight, he got hot, and when that happens, all Ranger fans know what that means. Mika has been one of the fastest players on the team this season and has been above our expectations. Though this is true, we need to see this continue and not another slow beginning out of the break. Should he continue, he is a definite A+ very soon.
Ryan Strome    B+        Below:
Strome has been one of the most complicating players this year to discuss. On the one hand, he has excellent chemistry with Panarin and his line, but he still seems to be a liability. His nine goals are low, and his 24 assists show what he is doing, passing and not much more. The second half of his season can be deciding his fate, and with trade talks and contract extensions, his future can't be decided.
Chris Kreider     A+      Above:
               31 goals! Do I have to say more? This is an amazing first half for a surprising player. Not just the number but when and how. Kreider has been lethal on power plays along with Zibanejad and has been consistent all along. Let's hope this just keeps on going through the whole season. He is a key piece to a possible playoff run. Don't expect less than an A+ from Chris for the rest of this season.
Filip Chytil      C-      Below:
               This has been a disappointing draft prospect by the Rangers. There isn't much to grade on Chytil's first half, but he has potential but not in New York. Therefore, a C- is deserving, and if there is one player definitely in trades, it's him.
Ryan Reeves     A+     Above:
Ok, so you see this grade and go, YOU'RE CRAZY!! But let me explain. Reeves is not a scorer, passer, or playmaker, but when he hits, the lights go out. The Rangers have not had this physical specimen-type player in years. The energy he has added is worth the pay just to have him in the locker room, so the A+ is not for on the ice but off the ice. He won't have many minutes for the rest of the season but keep up that energy, Ryan, and it may go a long way for this team.
Julien Gauthier     B-    Above:
A grade like this can be a little high for a fourth-line player. Gauthier is not exactly this dynamic scorer and won't dazzle you with plays, but he is a positive force on the ice. Between his speed and puck handles, he can add pressure to other teams. I think this is the one player that goes down a grade to a C since he hasn't been much besides a few spurts of scoring. If the Rangers add players, he can fall off the map.
Barclay Goodrow     B      Above:
               Looking at Goodrow's contract, most might not be happy with him, but he will never be that worth it. Still, he has been great. Being on the lower lines most of the time, he still has ten goals. I don't expect him to get much better than this; therefore, a B is a solid mark for his season.
Kevin Rooney     B-        Above:
               Rooney is a bottom-line B- simply because he has played well when on the ice. He is solid when needed and not a lot to complain about. Even so, he is never going to be more, so he won't go higher than a B- and maybe will even go lower.
Adam Fox      A+     Above:
If there was another step to take for this guy, he reached it. Fox has been outstanding and has put his place as one of if not the best Defensemen in the NHL right now (Avalanche fans back off!). In recent news, he got injured and has been put on the IR, but it comes in good timing of the break. Coming out of the break, he should be back, we hope. The only concern as of now is for him to get healthy. Besides that, A+ the rest of the way for the Norris trophy winner (this year too).
Jacob Trouba     A      Above:
               This has been a great story this season, especially since the Rangers already had a young Fox doing amazing. Trouba has taken a big step since leaving the Jets. Both his defense and offense, as well as some of his highlight hits, have shown he has excelled to another level. Hopefully, his play continues to be this vibrant, and he can hit an A+ towards the end of this season.
K'Andre Miller      B     Below:
 Miller has a very unique build, yet he doesn't use it. He is big and fast and won't hit and be physical. His play has been great on offense, which is nice, but being a Defenseman, he has been below what is needed. If Miller starts to be more physical, along with his speed, he can make his grade fly up. In the second half, expect this to be a focus and his grade to go up. The future of this player is bright.
Ryan Lindgren     A-      Above:
               Adding to the defensive surprises was Lindgren. He surpassed a lot of our expectations, including mine. The work he puts into each game has been astounding, and he only continues to impress game by game. Fox has had a great impression on him, and he is taking advantage. Recently he has slacked off, and thereof can give the wrong idea to many. Look in the upcoming half for him to get back on his feet and step up again. I don't expect him to go higher than his grade now, and for sure, let's hope not lower.
Patrick Nemeth   F-        Below:
Terrible contract, terrible play, and terrible in all areas. I have no clue the thought process here with signing him, and they need to get rid of him quickly. Not only has he ruined his play but the play of others.
Libor Hajek       F-         Below:
               Same as Nemeth, just a terrible player and has no place on this team.
Igor Shesterkin          A+     Above:
               Going from Lundquist to Shesterkin has been an amazing experience. Igor has been lights out and should win the Vezina trophy.
There are some names not mentioned, like Nils Lundqvist, who was a failed trial, as well as McKegg and Hunt, who have not done much. Alexander Georgiev has been a solid backup. Watch for him to be involved in trade talks. Players like Morgan Barron, Brayden Schneider, Zac Jones, and others have not played enough to grade, but some nice signs have shown from their play. Lastly Coaching, Gallant has been amazing to bring this team to a top team in the NHL, and he deserves a lot of credit. Therefore, his grade would be an A, and he has given a new attitude to this team. More may be asked from Gallant in the future, but for now, what a job he has done!
Overall, the Rangers were an A. They have played hard and have been very competitive. There is still a lot of work to be done, and at this point, a fan has to be excited that, for once, a pain may soon turn to be just scars of the past.