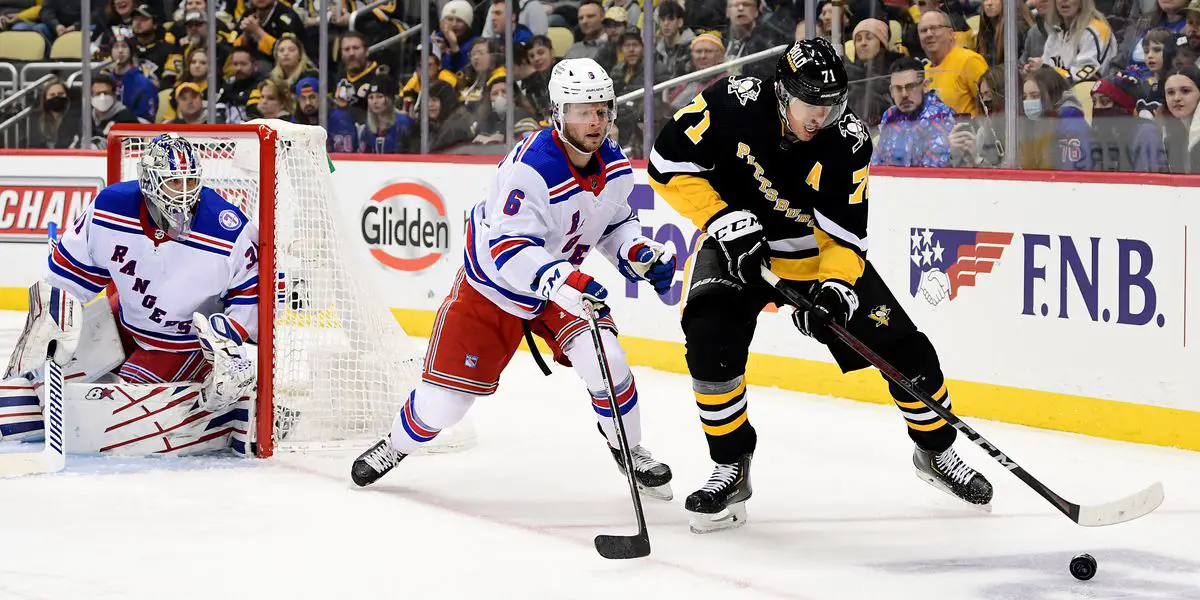 If this series were to be described in just a word, we'd use the following, "momentum."
As any NHL playoff series is, it's all about grabbing and holding onto the momentum. The fact of the matter is, any momentum, or edge, has been tough to keep. From a Rangers' perspective, we've seen plenty of times where they have been able to use the momentum to their advantage, put up a goal or two on the scoreboard, only to give it up just moments later. Anybody who watched game one of this series knows exactly what I speak of.
Game three featured plenty of pushes made by both teams. The entire first period was about Pittsburgh, notching four goals on the Rangers net-minder, Igor Shesterkin. Worth noting that Saturday night was Igor's first away game in the playoffs. He felt the hostility early from the PPG home crowd.
The number of periods played for Shesterkin seemed to affect his play during the first period. He is struggling with rebounds and puck control, something he is typically good at. Stats-wise, Igor faced 15 shots, allowing four passed him, one of which took a video review to decide. Ruled initially "no goal" on the ice, was later determined to be "good" in Toronto. Another instance where the fans firmly believe the league is in the favor of Pittsburgh. Igor was pulled from the game to start the second period.
As for the other two periods, Rangers' controlled the pace and play in the second period, scoring three unanswered goals on the Penguins. Goals by Vatrano, Copp, and Panarin tied the game. New York then had the opportunity to put the game away with three consecutive power plays. As many of us stated, to begin the postseason, if the Blueshirts were going to win any series, it would have to be done on the special teams. Saturday was not the case. Rangers went 0-3, role-player Danton Heinen had the go-ahead goal for the 'Pens, and that was enough for them to put away the game. Final score: 7-3.
If this New York Rangers' season has shown anything, it's revealed the amount of resilience and determination to fight back. They are known to rebound quickly from a loss, winning 20 and losing 8. Igor should be well-rested, getting most of the game off on Saturday. He should be back to form tonight in what should be another high-intensity game. Tonight is as close as it gets to a "must-win scenario" for New York. Failing to secure a victory tonight doesn't spell good things for the rest of the series.
As for what needs to happen for New York to capture a victory, the only line the team struggled against is the Crosby line. Noted on the line is Crosby, but so is playoff monster Jake Guentzel. In the four playoff games Jake has played so far, he's tallied four goals and zero assists. Overall, in his playoff career, he's played 54 games, putting up 52 points. Guentzel is quite the playoff performer.
As mentioned, the Guentzel-Crosby-Rust has been a problem, nor have the Rangers. A counter to that is to have a healthy defensive line one on the rink. What remains to be seen is a healthy Ryan Lindgren to the lineup. Playoffs are all about deception, not revealing your hand. Coach Gerard Gallant hasn't said much about Lindgren as of late. If Lindgren does play tonight, I think it has to come at the cost of Patrick Nemeth's spot. Nemeth has been a detriment to the team so far, posting a -3 on his stat sheet. As a hockey guy, I know it's hard to calculate a defensemen's overall play in a game. If Nemeth isn't getting "line one time," meaning most often times he isn't playing against skaters like Crosby and Malkin and is still posting a negative attribute, it's time to drop him from the lineup. He's also been penalized three times. Not good.
In some last words, the Rangers need to be quick out of the gate tonight. They need to hold onto the momentum when they have it and not give it away as quickly as they have in the past. I believe the team has what it takes to win a critical game like tonight. They've scratched and clawed all season long, and I don't think it stops tonight.