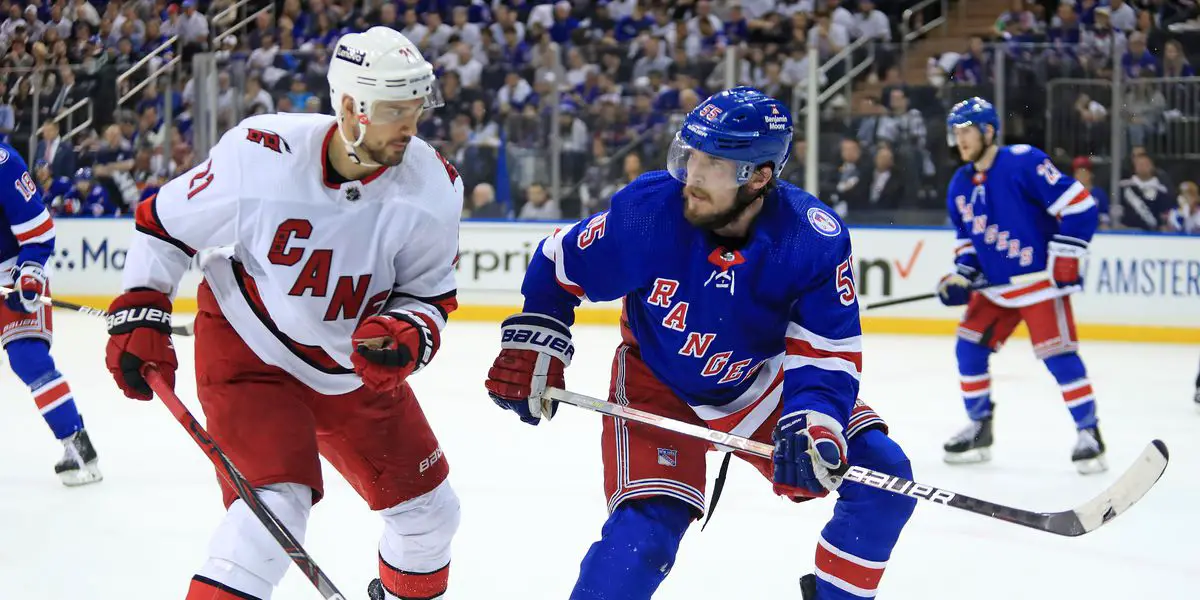 It is New York Rangers game day.
Tonight, the Rangers take on the Carolina Hurricanes for the fourth game of this second-round matchup. With the series at a 2-1 advantage, the Blueshirts are looking to even up the series in front of their home crowd.
Let's take a look at what we should expect in tonight's game.
Let's Get Ready To Rumble
At the end of the Rangers 3-1 victory in game 3, things got a bit chippy. Carolina's Max Domi cross-checked rangers defenseman Ryan Lindgren, which resulted in a response of a stick slash and impromptu headlock battle to the Garden ice. Looking at the Rangers bench, former Rangers d-man Tony DeAngelo was letting his loose lips fly at Rangers Head Coach Gerard Gallant. The two had a lengthy conversation containing the full vocabulary of bad words.
Post-game, Gallant wasn't pleased with how Carolina ended their first loss of this series and made quite a declaration concerning tonight's game. "If they want to play like that, we've got the guys that can match that," he said. The sparks can fly, and gloves could come off as early as the opening faceoff, especially with the Rangers fourth line containing Ryan Reaves, Kevin Rooney, and Tyler Motte.
Reaves and Rooney certainly know how to chuck the knucks, but Reaves is certainly the highlight of the two. And, after being Gallant's guy in Vegas for tenacity and ruthlessness, it should not be a surprise that Reaves would be trusted with setting the tone early. Reaves has thrown down an astounding 74 times, according to Hockeyfights.com, in his career, and interestingly enough, he hasn't fought against anyone in a Carolina Hurrican uniform.
It is unclear if the dust has settled in the downtime since the final whistle brawl in game 3, but we will surely know early. The Rangers have not had a single fight thus far in this postseason.
Stars Continuing To Shine
After the lines were shuffled, the Rangers were able to finally break through in game 3. The Hurricanes let up the least amount of goals in the regular season with only letting 200, and only one to the Rangers in the first two games of this series. Gallant took a big gamble with shuffling the lines, and it paid off. I would expect those lines to return for the first two, if not three, periods of game 4.
We finally got to see a breakthrough from the revamped top-6 forwards as well. Mika Zibanejad and Chris Kreider were able to score goals on Anti Raanta in game 3 after being unusually quiet. All four lines were exquisite and played a complete game, and that is going to have to happen again if the Rangers want to win.
The defensive core has been stellar in this series. They will have to continue to hold it down for Igor Shesterkin and allow him to do his thing in goal. Shesterkin has faced an abundance of shots this postseason and another 44 shots in game 3.
Another 60 Minute Game
It is going to take another complete 60-minute game from the Rangers to tie up the series, especially with the series switching back to Carolina after this game and the Rangers being on the road for two of the last three potential games of the series. They cannot afford to lose this game, but if they do, the series is still far from over.