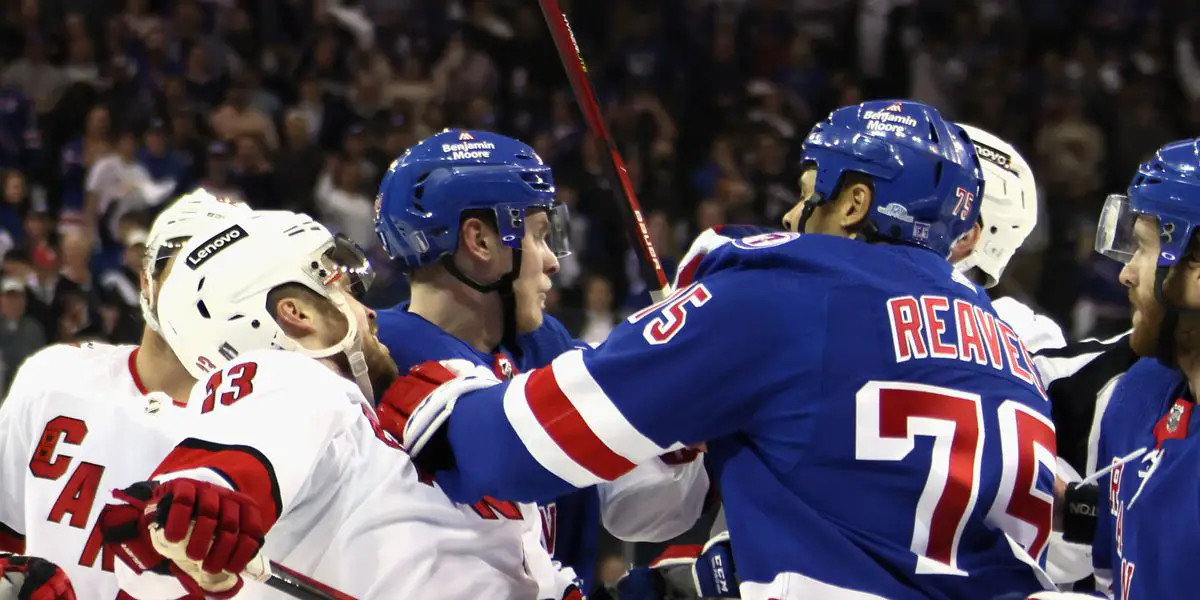 The New York Rangers were able to even up their second-round series with the Carolina Hurricanes, 2-2, with a dominating 4-1 victory. Both teams have won on their home ice, and the series now flips back to Carolina for game 5.
But, before that, let's take a look at what went down in game 4.
Another Complete Game
Similar to game 3, the Rangers played a complete game for the entire 60 minutes in game 4. They relied on them, for the most part, original lineups from the majority of the playoffs. The only change was Kaapo Kakko being moved down from the kid-line to the fourth line and Tyler Motte replacing him on the third line. These four forward groups played their best game of the playoffs, which really showed. There were impactful plays made by each of these lines, and they finally seemed to find that lost chemistry seen in games 1 and 2.
Also, like in game 3, the stars came back out to play. Frank Vatrano got back on the score sheet, his first of this series. He got a slick cross-ice pass from Andrew Copp on the powerplay at the 13:31 mark in the first period. Mika Zibanejad scored his fifth goal of the playoffs on a loose puck in the crease. Ryan Lindgren had the assist on that one, and he had another one giving Adam Fox his deflection goal in the first period. Copp did more than facilitate the puck by scoring the fourth and final goal of the night for the Rangers. He finished with three points on the night, with a goal and two assists.
The physicality in this game was also dominated by the Rangers, who led in hits 30-23. Jacob Trouba had the highlight hit, with this ferocious hit on Max Domi. This resulted in a Rangers powerplay after Carolina's Steven Lorentz was called for the instigator penalty going after Trouba. Lorentz also received a 5-minute fighting penalty and a 10-minute game misconduct. Vatrano would score after this series of events.
Domi, if you remember, was the instigator of the brawl that ensued after game 3. At the end of this one, Domi would again be at the center of it all while Ryan Reaves tried his hand at roughing him up.
Igor Shesterkin was, once again, stellar. He was comfortable, calm, and collected in the net. Even though Carolina had a plethora of high-scoring chances throughout this game, he stopped all but one of Carolina's 31 shots. All eyes are gonna be on him to keep his cool when going back on the road to a loud PNC Arena in Raleigh.
Two On The Road, One at Home
It is now a 2-2 series, which means it is a best-of-three. Carolina, who has been perfect at home with a 6-0 record. The Rangers have a record of 1-4 on the road going back to the first round against Pittsburgh. The Blueshirts have two on the road for games 5 and 7, and then they have the final home game in game 6 at Madison Square Garden.
Game 5 will take place in Carolina on 5/26. It will be televised on ESPN, with a 7:00 PM EST puck drop.
In this weeks episode we discuss the Rangers contender status, offensive problems, Gallants questionable decisions and more.Thanks for listening! Please rate and review our show on your favorite listening platform. Check out our partner's website at www.insidetherink.com for all your latest hockey news.