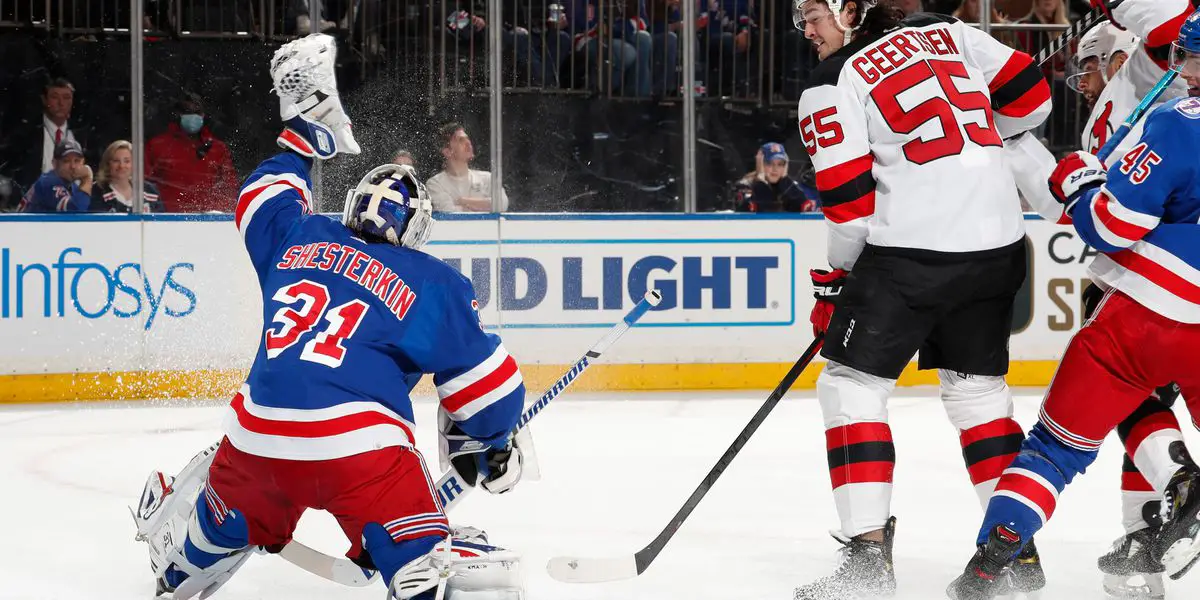 The New York Rangers have clinched the playoffs for the first time since 2017. As of the NHL's current standings, the Blueshirts are expected to host the Pittsburgh Penguins in the first round of the Stanley Cup Playoffs.
There is no base formula for bringing home the Stanley Cup. However, there are many aspects of a successful hockey team that the Rangers have shown this season that needs to continue into the postseason. They have a Vezina candidate goaltender in Igor Shesterkin, who has won 35 games this year and leads the league in both goals-against average (2.05) and save percentage (.935).
He has been the front runner all season to win the prestigious award and has grown into a goaltender that can rival the league's best for the remainder of his career if he can remain consistent. His ability to incorporate himself into team play and move the puck is an aspect of goaltending that we are seeing in this league. To give your team a sixth skater out on the ice is extremely important, considering he can start fast breaks and clear pucks on the penalty kill. His incredible talent will be the most important thing for the New York Rangers come May. If he can get hot in the playoffs, there isn't an argument against the Rangers winning a Stanley Cup.
However, there are a lot of factors that go into success for this team. This summer, the Rangers brought in several players to toughen up their lineup after the Tom Wilson fiasco last May. Many would say that Wilson broke the Rangers organization, but most would think that he woke them up towards the end of this season. New York acquired Ryan Reeves, Barclay Goodrow, and Sammy Blais to bring in some toughness for Gerard Gallant's team.
In seasons past, you saw the attacking ability of several Rangers. Artemi Panarin, Mika Zibanejad, and Adam Fox, among others, always put on a show in front of goal, but this team lacks grit. Sacrificing the likes of Pavel Buchnevich and Tony Deangelo seemed to be a regretful decision to some, but letting them go made way for other opportunities and improvements to be made. These acquisitions added a whole new level to their game. 
This team now outworks opponents on most nights. They are leading the charge with hits and puck battles on the walls. Players need to lead by example, not just with their skills but with their energy. This season they have implemented a strong wave of forechecking to their system, pressuring the puck and forcing turnovers.
If the Rangers can win the battle in the neutral zone, they will dominate the game for 60 minutes. The Rangers will need consistent scoring from multiple players. It is really good that they currently have five players sitting at 50+ points on the year (Panarin, Zibanejad, Kreider, Fox, and Strome). However, the playoffs are essentially a whole new season. These players will need to continue their success and get off the mark fast to build some confidence. A huge part about this team is that they don't have to rely on just the stars in the regular season.
The Rangers brought in Frank Vatrano and Andrew Copp at the deadline, and they have shown just how well they fit in with this team. Vatrano has already recorded 11 points in 17 games for New York, and Gerard Gallant has put him on line one alongside Zibanejad and Kreider. After a hot start with the Blueshirts, Andrew Copp has recorded 11 points in 14 games. He is consistently recording points, but it should be interesting to see if his numbers take a hit now that Ryan Strome is back from injury. Consistent scoring and contributions will be essential come playoff time because if the first two lines carry all the weight of the scoresheet, they will struggle to win a seven-game series.
Lastly, and probably the most important detail, is the Rangers' issues are playing five-on-five hockey. The Rangers have heavily relied on the Powerplay throughout the year to score their goals. On numerous occasions, they have been stuck to break through during games, and they have had to rely on the powerplay to give them the edge. When the opponent wouldn't take any penalties, New York seemed to lack chances and couldn't find that spark. In those times, they needed Shesterkin to keep them in the game until they found a way to score.
In this weeks episode we discuss the Rangers contender status, offensive problems, Gallants questionable decisions and more.Thanks for listening! Please rate and review our show on your favorite listening platform. Check out our partner's website at www.insidetherink.com for all your latest hockey news.