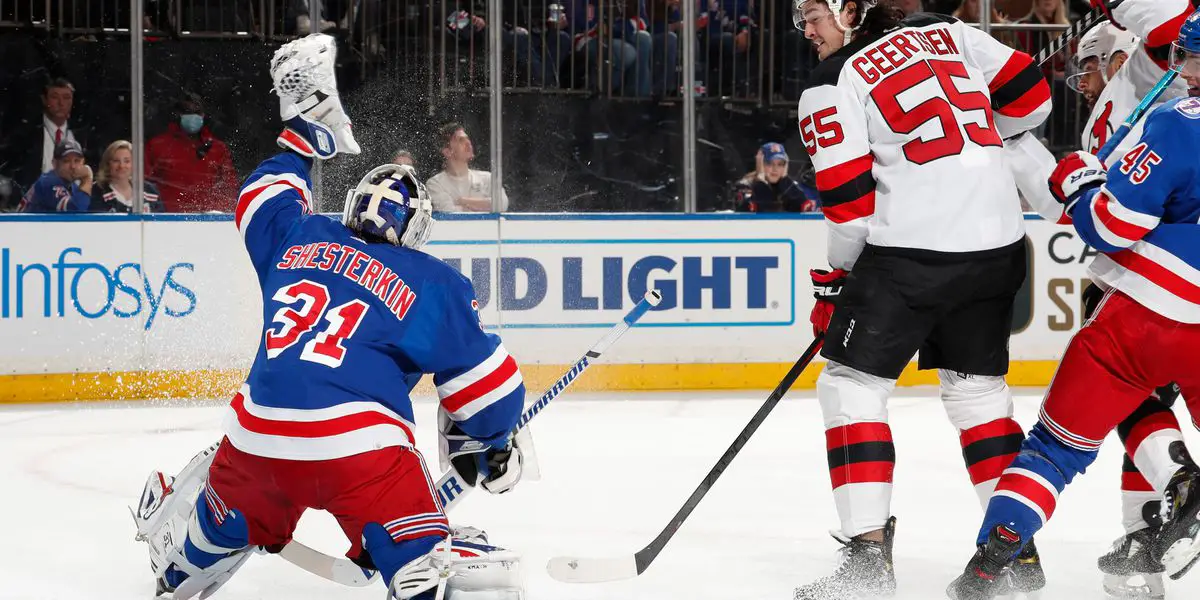 Igor Shesterkin continues to receive much-deserved recognition for his phenomenal regular season. Thursday morning, the NHL announced that Shesterkin (New York Rangers), Connor McDavid (Edmonton Oilers), and Auston Matthews (Toronto Maple Leafs) would be the three finalists for the Hart Memorial Trophy for league MVP. The announcement comes two days after Igor received his first nomination for the Vezina Trophy as the best goalie in the league.

In a season where scoring saw its most dramatic increase since the '90s, his numbers are more than impressive and speak for themselves; Save Percentage .935 (1st), Goals Against Average 2.07 (1st), Goals Saved Above Average 45 (1st), Adjusted Goals Against Average 2.11 (1st), Goals Allowed Adjusted 70 (1st), Shutouts 6 (3rd), Goalie Point Shares 13.4 (2nd). Regardless if he hoists the trophy or not, the nomination in and of itself is an extreme honor for goalies. Only eight goalies have won the award in the 92 years since it's been handed out. Since the league expanded in 1967, the only goalies to win the award have been Dominik Hasek (1996-97 and 1997-98), Jose Theodore (2001-02), and Carey Price (2014-15). The last goalie to be nominated was Sergei Bobrovsky when he finished 3rd in 2016-17.

The voters tend to be more offensively inclined to this award historically. So, the favorite going into the ceremony, which will occur between games 3 and 4 of the Stanley Cup Finals, is Auston Matthews. The Maple Leafs star scored 60 goals and finished with 106 points. Not included in the trio but equally deserving of a nomination are Johnny Gaudreau (Calgary Flames, 115 points), Roman Josi (Nashville Predators, 96 points as a defenseman), and Jonathan Huberdeau (Florida Panthers, 115 points). However, Shesterkin beat out those gaudy numbers and earned a spot in the top three suggests he may have a chance at the coveted award.

How do Shesterkin's numbers compare to the previous three goalies who have won the award in the modern era?
GS GAA SV% SO
Hasek- 1996-97 67 2.27 .930 5
Hasek- 1997-98 72 2.09 .932 13
Theodore- 2001-02 67 2.11 .931 7
Price- 2014-15 66 1.96 .933 9
Shesterkin- 2021-22 52 2.07 .935 6

Side by side, he looks like he belongs in that group. The one category that jumps out the most is Games Started. The other goalies who have won the award started at least 65 games. Shesterkin has only played in 52 this season due to a minor injury in December and a different league-wide philosophy of goaltender usage. Because he's made it into the final three for MVP, he looks to be a lock to win the Vezina.

It isn't being spoken about enough that Shesterkin has stepped into Henrik Lundqvist's crease and made it his own. It took the Garden faithful no time to switch their tune of HEN-RIK, HEN-RIK, to I-GOR, I-GOR. Often a talented young prospect struggles when taking over for a fan favorite that's also a Hall of Famer. It's taken some franchises decades to find a replacement for their keystone netminder, while the Rangers have seamlessly transitioned into a new era of goaltending dominance overnight.

Take Shesterkin off the Rangers, and this team's season ended months ago. If the voters followed the true definition of the phrase, Most Valuable Player, Igor has more than a chance to take home the hardware next month.