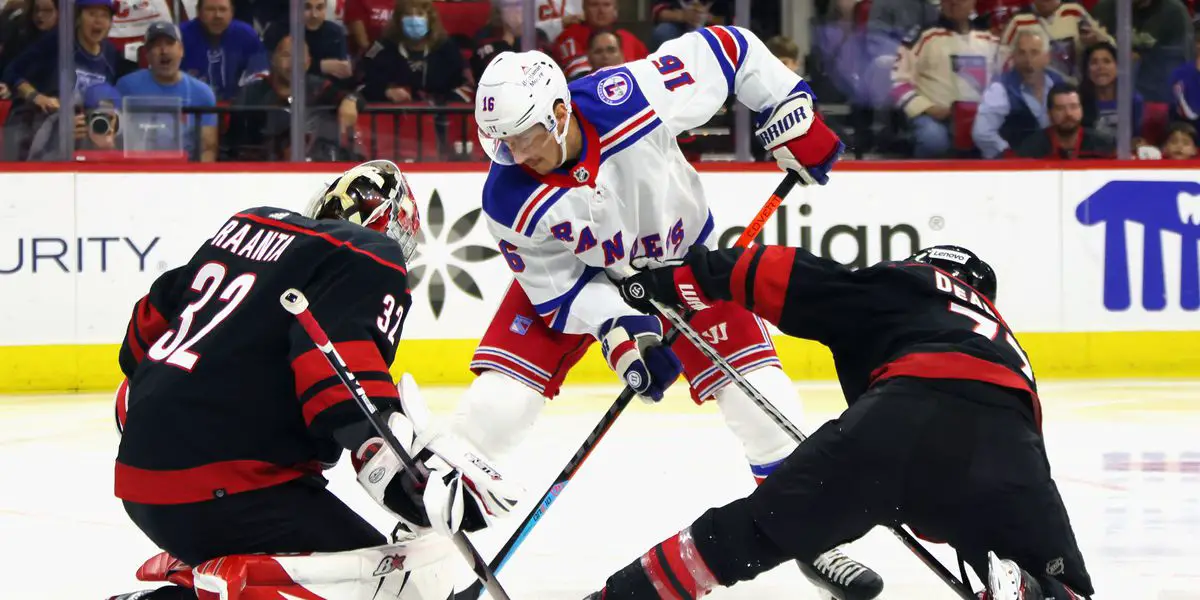 The New York Rangers had arguably their worst performance of the Stanley Cup Playoffs last night in their 2-0 loss to the Carolina Hurricanes. The series now slides to 2-0 in favor of Carolina, who won both games with only four combined goals. The only positive here for the Blueshirts is that the series shifts back to Madison Square Garden, where this team will have help from the home crowd to hopefully give them a spark.
Let's take a look at what happened in game 2.
Sloppy
This was just a sloppy effort from the Rangers. There seemed to be a big disconnect between nearly every member of the forward and defensive groups. Neutral zone turnovers, consistent dump-and-chase with no one there to retrieve, and they ultimately looked like they were dead tired in the second and third periods.
It was a hard-fought defensive battle, and both Igor Shestrekin and Antii Raanta were lights out in the net. But, the momentum was in Carolina's favor much more than the Rangers. The first period was much more even, with both teams coming out firing. Ryan Strome had a beautiful chance in deep on Raanta, but that missed the net. And then, a little later in the period, Strome would have another opportunity after a slick pass from Andrew Copp. Still, Hurricanes d-man Tony DeAngelo unknowingly blocked it with his calf.
The Rangers had ample opportunity to score on special teams, with a couple of 4-on-4 chances and even a bit of time on a 4-on-3 advantage. They couldn't get it past Raanra. And then the worst happened. With a four-minute powerplay opportunity in the second, courtesy of a high sticking from Brady Skjei, the Rangers surrendered a short-handed goal to Brendan Smith, which was complemented with a boarding and a slashing call from both Kevin Rooney and Chris Kreider—giving a momentum swing to Carolina for the last 5 minutes of the middle period.
The third period came and went, and the Rangers had one more flurry of offense in the final minutes with Shesterkin pulled. A few minor chances came and went, and ultimately it was Sebastian Aho putting it in the empty net with two seconds on the clock.
No Spark
The top-six were the focus of this game. With the spotlight on them, they failed. Artemi Panarin, Mika Zibanejad, and Kreider, specifically, each failed to try to get any kind of spark going for their team. They are the leaders of this team, and they were quiet on the ice.
Another notable no-show was Adam Fox, who seems to be battling an injury, and it was evident last night. He was beaten on easy puck battles, and his balance was off. Not to mention, for someone who had 63 assists in the regular season and seven more in these playoffs, he could not go tape-to-tape with anyone last night.
The "Kid Line" once again facilitated the only slight spark. There has been a lot of talk on the Rangers Twitterverse about whether it is time to split up the line containing Filip Chytil, Alexis Lafreniere, and Kaapo Kakko and dispense them in the top-6. I don't think it is necessary, but giving promotion to Panarin to the first line and bumping down Vatrano to the second line with Copp and Strome is an option. And then, take that new second line and move them down to the third line and give the "Kid Line" a couple more minutes of playing time.
At this point, a slight change needs to be made, as this group has only registered one goal on Raanta in 120 minutes of play. There is no spark in their play, which was very evident last night. Their mantra of "No Quit" was more like "All Quit."
Going Back Home
The Rangers now have an opportunity to steal two games back and tie the series up at home. In these playoffs, Carolina is 6-0 at home and 0-3 on the road. The Rangers have to take these two games. This will be the toughest test of these playoffs for this young group, and it will take a complete team effort.
Game 3 will be on Sunday, with a 3:30 PM EST puck drop.
In this weeks episode former Rangers goalie Dan Blackburn comes on to discuss his time with the Rangers, the draft, and more.Thanks for listening! Please rate and review our show on your favorite listening platform. Check out our partner's website at www.insidetherink.com for all your latest hockey news.