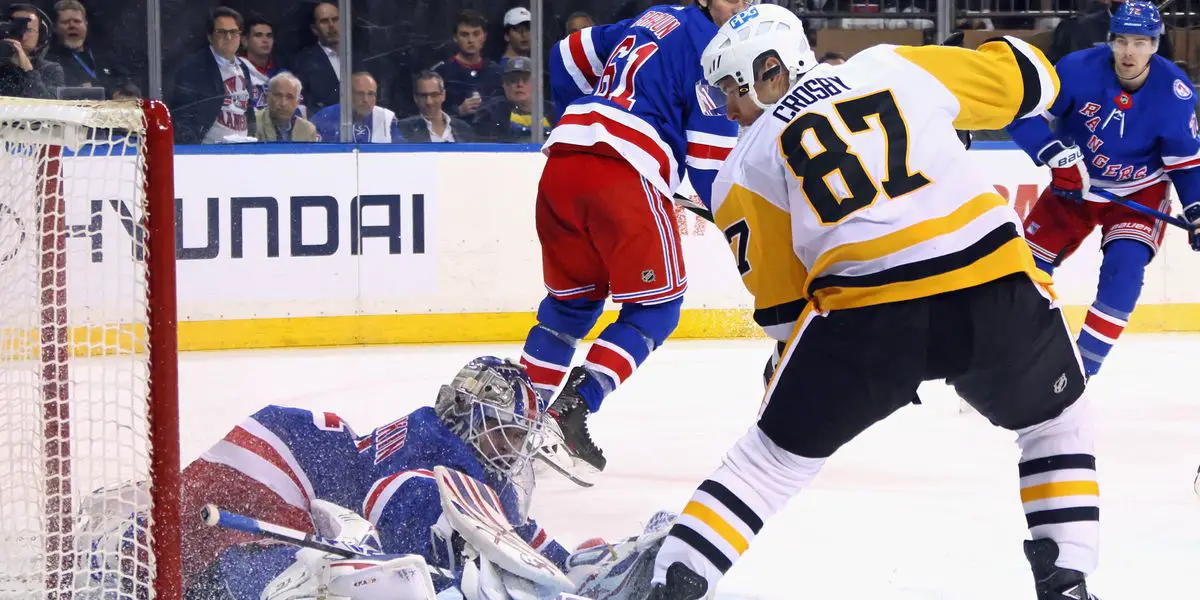 Just like that, the New York Rangers' season is on the brink.
The Pittsburgh Penguins put together back-to-back seven-goal efforts on the Rangers. Among notable issues, the Blueshirts don't seem to have an answer for the Guentzel-Crosby-Rust line. They also don't seem to have an answer for the Penguins' power-play unit(s). It's been all hands on deck for the Penguins, and no matter what the Rangers do to try and counter the Pittsburgh offense, they manage to find a way to place immense pressure on New York and find twine.
To microscope last night, at least just the opening period, the game started in New York's favor. Opening up the scoring, Alexis Lafreniere put a simple wrist shot on net, and it beat goaltender Louis Domingue, who was starting in his third consecutive game. Domingue has played decently well enough for Pittsburgh ever since he's come in for relief for Casey DeSmith in game one. Domingue is now 3-1, with a save percentage of .906 and a goal against average of 3.40. Not great stats by any means, but well enough to earn three wins.
It wasn't long after Alexis' opening goal that Pittsburgh was awarded a power-play opportunity, a two-minute-high sticking minor penalty on none other than Patrik Nemeth. His fourth penalty so far of the postseason, which then resulted in a Sidney Crosby goal. It's beyond frustrating how Nemeth continues to dress and play in games when he has played as poorly as he has. Gallant has a big decision to make ahead of game five as to who gets the last defensive skater position. Ryan Lindgren still seems to be iffy for game five, and the final spot should be left to Libor Hajek or rookie Zach Jones, who has shown flashes in the regular season just how important of a piece he can be to this lineup in the future.  
As for the remainder of the game, New York carried a 1-1 tie into the first intermission, hoping to find scoring in the second period. The lackluster play was in store for New York, skaters not in the right positions, and a poor period of play by Igor, the first so far of this series. Coach Gerard Gallant called the Rangers' play "soft." That's one way to put it. As a personal note – Igor hasn't appeared the same to me since he took the incidental hit from Jeff Carter late in game two. Either that, or he's feeling the immense pressure from the PPG Paints Arena crowd.
The Penguins took a 2-1 lead a couple of minutes into the second period. Mike Matheson, who has done a great job filling in on the first defensive line for Pittsburgh, provided the go-ahead score off a face-off win in his offensive zone. The walls seemed to cave in on the Blueshirts after the Matheson goal. Fourteen seconds later, Jake Guentzel tapped one home, a feed from Bryan Rust and "Sid, the Kid." That line is getting it done once again. When the second period came to an end, the Rangers were staring at a 6-2 deficit. They've mounted comebacks before, but none in the likes of trailing by four goals.
New York couldn't muster anything in the third period, and the Rangers lost 7-2, the second consecutive game where the 'Pens tallied seven goals. Malkin had the 7th goal for Pittsburgh.
From a fan's perspective, Nemeth continues to be played when he shouldn't be, guessing that's due to not enough depth defensemen. Adam Fox likely had the worst game of his professional career last night, going a minus three., something of which he's only done twice in the regular season; March 10th against St Louis (-4) and December 8th against Colorado (-3). He had a goal, which bounced off Matheson's skate. Otherwise, he'd be a minus four for the night.
Ask ourselves, what happens now? Can the Rangers claw back from being down in the series 3-1? Or will they whimper and lose tomorrow night at home? They've come back from such a trail, but that was with more of a veteran team assembled. Not placing the bank on it, odds are they don't make up the ground lost and fail to advance to the second round.
A plotline headed down the stretch in the regular season was the fact of how deep the Rangers were. The loss of Tyler Motte was significant, but the Blueshirts were able to fill the void he left. Now with the loss of both Ryan Lindgren and Barclay Goodrow, it's tough to fill the void of a multiple-time Stanley Cup winner. Goodrow isn't lighting the lamp on the consistent basis that Crosby or Guentzel does, but he provides playoff experience to a team that lacks it severely.
When all is said and done, New York has gained a tremendous amount of postseason experience that'll be highly valuable in the long run. This team's window is just beginning to open, with the expectancy they'll be in the position to fight for a playoff spot next March. Some offseason changes are coming, but they will be for the better.  
In this weeks episode we talk about the promising signs and questionable decision making. We also have 3 Brand new segment's for the pod. Thanks for listening! Please rate and review our show on your favorite listening platform. Check out our partner's website at www.insidetherink.com for all your latest hockey news.