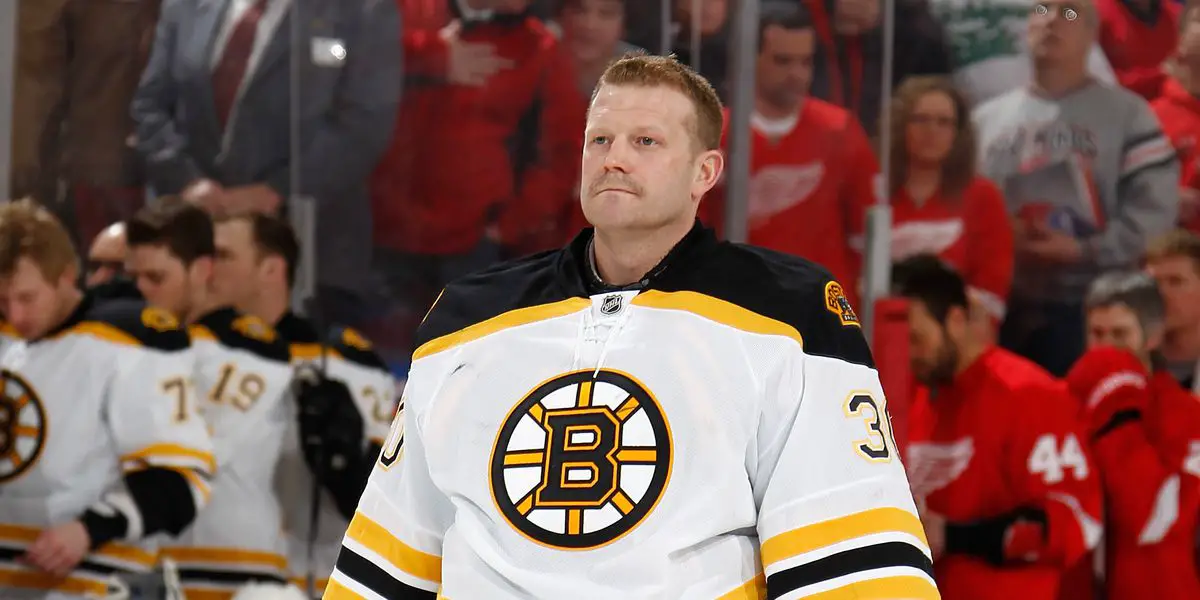 Since the creation of the Boston Bruins in 1924, there have been 110 goalies that have suited up and played between the pipes for the 97-year-old franchise. The Bruins have had some high-caliber names suit up in the iconic black and gold over the years, like Andy Moog, Gerry Cheevers, Frank Brimsek, Tiny Thompson, and the two men that have led the Bruins in net the last 16 years, Tim Thomas and Tuukka Rask. While each player has specific contributions to this great organization, some stick out a little more than others; while some have won Stanley Cups and multiple Vezina Trophies, some have the most wins in franchise history and the highest save percentage. No player is perfect, and some play longer at the top of their game; there will always be a discussion when it comes to who's the best player in franchise history. It all comes down to perspective and what contributions, awards, and statistics mean the most to you. Tim Thomas and Tuukka Rask were fantastic goaltenders at their peaks, racking up wins, awards, and a Cup. They propelled a Bruins team over 17 years to compete for a Cup each year, reaching the Stanley Cup finals three times in 2011,2013 and 2019, and bringing home the Cup to Boston in 2011 that no one will ever forget.
Tim Thomas Rise to Fame
Tim Thomas's rise to fame in Boston and the NHL had an interesting start for the Flint, Michigan native who played his college career at the University of Vermont, from 1993 to 1997. While attending there, he was drafted 217th in the ninth round by the then Quebec Nordiques in the 1994 NHL Entry Draft. Thomas played many years in the minor league systems of multiple franchises and even went overseas to play in Finland and Sweden, trying to establish himself as an elite goaltender. Thomas's path to Boston started in August 2002 when he signed as a free agent, playing the next two seasons in the AHL with the Providence Bruins with only four call ups to the Major league club before returning to Finland for the 2004-2005 season. 
Thomas then resigned with Boston in September of 2005, where he wouldn't look back as he gained the keys to the Bruins net that following January. Since taking over full-time duties in the net, Thomas was a workhorse of a goalie as he started 50 or more games five times and even started 62 games during the 2006-2007 season. Thomas had some memorable season's in Boston as the former netminder had four 30 win seasons that helped him take home two Vezina Trophies in 2008-2009 and 2010-2011, when Thomas had the best season of his career.
The Unforgettable 2010-2011 Season
The 2010-2011 season is Thomas's crown jewel and the most remarkable season for a Bruins goalie in franchise history. Not only did the 37-year-old Thomas win the Vezina that year thanks to regular season stats that consisted of 55 games played, a 35-11-9 record, a 2.00 GAA, a .938 save percentage, and nine shutouts, Thomas went on to have a stellar postseason. During the postseason, Thomas continued his domination over another 25 games played and started as he compiled a 16-9 record to go along with a 1.98 GAA, .940 save percentage, and four shutouts that ended with Thomas hoisting the Stanley Cup over his head. Tim Thomas also captured the Conn Smythe Trophy for his spectacular playoff run that was a driving force in his team winning the Cup that year and a season that will never be forgotten in Bruins history.
Where Thomas Ranks in Franchise Records
While he didn't have such a long career in Boston compared to others, Thomas still managed to rank high in franchise records thanks to his career in the league starting later in life. During his seven-year career in Boston, Thomas ranks 6th in franchise history with 378 games played by a goalie. Of those 378 games played, Tim Thomas was able to win 196 of them, which puts him top five in franchise history, right at number five. Thomas is one of only four players in franchise history to have over 10,000 saves during their Boston career as he recorded 10,533 saves. With a .921 save percentage during his days in Boston, Thomas is tied at number one with none other than Tuukka Rask, while his 2.48 Goals Against Average only ranks sixth. The last big stat that is always looked at is shutouts, where Thomas finished with 31 in Boston, good for fourth in franchise history. While some of these ranks are top five and top ten, it is impressive to see where Tim Thomas ranks with a smaller sample size than most others as he built a storied career in Boston centered around that 2010-2011 Stanley Cup-winning season.
The Rise of Rask
If it wasn't for the hip injury, we might have seen Tuukka last a couple more seasons, but unfortunately, that will not be the case. Tuukka Rask was a stalwart for many years, leading the Bruins to playoff berth after playoff berth throughout the 2010s and into the 2020s before finally calling it a career this season. Tuukka Rask and Tim Thomas had different starts to their careers as Rask was a former first-round 25th overall pick of the Toronto Maple Leafs in the 2005 NHL Entry Draft out of Savonlinna, Finland, who was then traded to the Boston Bruins. In 2006 the Boston Bruins acquired Rask from the Leafs in a trade that sent then Boston goaltender Andrew Raycroft to Toronto in return which opened the doors for Tim Thomas that year in Boston. Rask burst onto the scene during the 2009-2010 season when he appeared in 45 games and started 39. Rask's start in Boston was a special one that saw the young goaltender have a 22-12-5 record his first season in the league while also having a 1.97 GAA, .931 save percentage, and five shutouts, giving the Boston faithful a glimpse into what would come across his 15-year career. While Rask was on the roster that won the Stanley Cup during the 2010-2011 season, he played zero games during the postseason. The following two seasons, though, saw Rask take a back seat to Tim Thomas as Rask only played in 29 and 23 games during the 2010-2011 and 2011-2012 seasons. When Rask was finally given the full reins to the net after Thomas's departure, Rask went on to win the Vezina Trophy for the 2013-2014 season and lead the Bruins for years.
The Elusive Stanley Cup
While Stanley Cups are not what makes a most outstanding franchise goalie, it certainly helps break it, as it's hard to overlook the lack of postseason glory and hardware. Tuukka Rask led two teams to the Stanley Cup Finals during his 15-year career, but unfortunately, both attempts fell just short as the Bruins lost to the Chicago Blackhawks in 2012-2013 and then again to the St. Louis Blues in 2018-2019. The postseason is the one part of Rask's career that haunts him as he was never fully able to get it done but only come so close. The postseason may not have been Rask's strong point, but the regular season was, as Rask put up franchise-leading statistics across the board.
Where Tuukka Rask Ranks in Franchise Records
Over his long, storied Bruins career, Rask accomplished a lot on the stat sheets. Tuukka stayed healthy and played 564 games which put him atop the list for goaltenders by 96 games over second-place bruin goalie Tiny Thompson. One of the significant categories that help Tuukka's case for the greatest goalie in franchise history is he's the winningest goalie in Boston's long tenure in the NHL. Tuukka racked up 308 wins and finished with a regular-season of 308-165-66, which is impressive considering he's the only goalie in Bruins history to win over 300 games, with second-place finisher tiny Thompson only winning 252 games. Rask is the franchise leader in saves as he compiled 14,345 over 15 seasons and saw him record 52 shutouts, good for second in franchise history. If not for the dreaded hip injury, it's hard not to imagine how much more Tuukka would have been able to pile on to these numbers as he was just 34 years old when finally retiring.
The Verdict
While it's easy to look at the stats and call one player the greatest in franchise history, it's also essential to appreciate and be thankful to have witnessed both these talented players suit up in the black and gold and lead the storied franchise for so many years. While Tim Thomas has postseason success and more hardware under his belt, Rask showed how to dominate; year after year in the regular season, he helped the Bruins be perennial Stanley Cup contenders. If the 2013 and 2019 teams had accomplished the final task of raising the Cup, this conversation would never be a debate. Since they didn't finish the job, the question will always be who is the better Boston goaltender, Tim Thomas or Tuukka Rask?
Episode 51: Interview w/Jack Ahcan Episode 51 is back in action talking about the New York Paingers ITR bet, Can Buffalo Sabres make the playoffs? Is Vancouver in the wrong on the Boudreau treatment? Is Tocchet the right guy? Is Daryl Sutter the last Dinosaur in the NHL?YouTube: https://www.youtube.com/@insidetherinkTwitter: https://twitter.com/CueTheDuckBoatzFacebook: https://www.facebook.com/Cuetheduckboats/Thanks for listening! Please rate and review our show on your favorite listening platform. Check out our partner's website at www.insidetherink.com for all your latest hockey news. Also, catch all of the games in this year's NHL season by signing up for ESPN+ at Insidetherink.com/ESPN