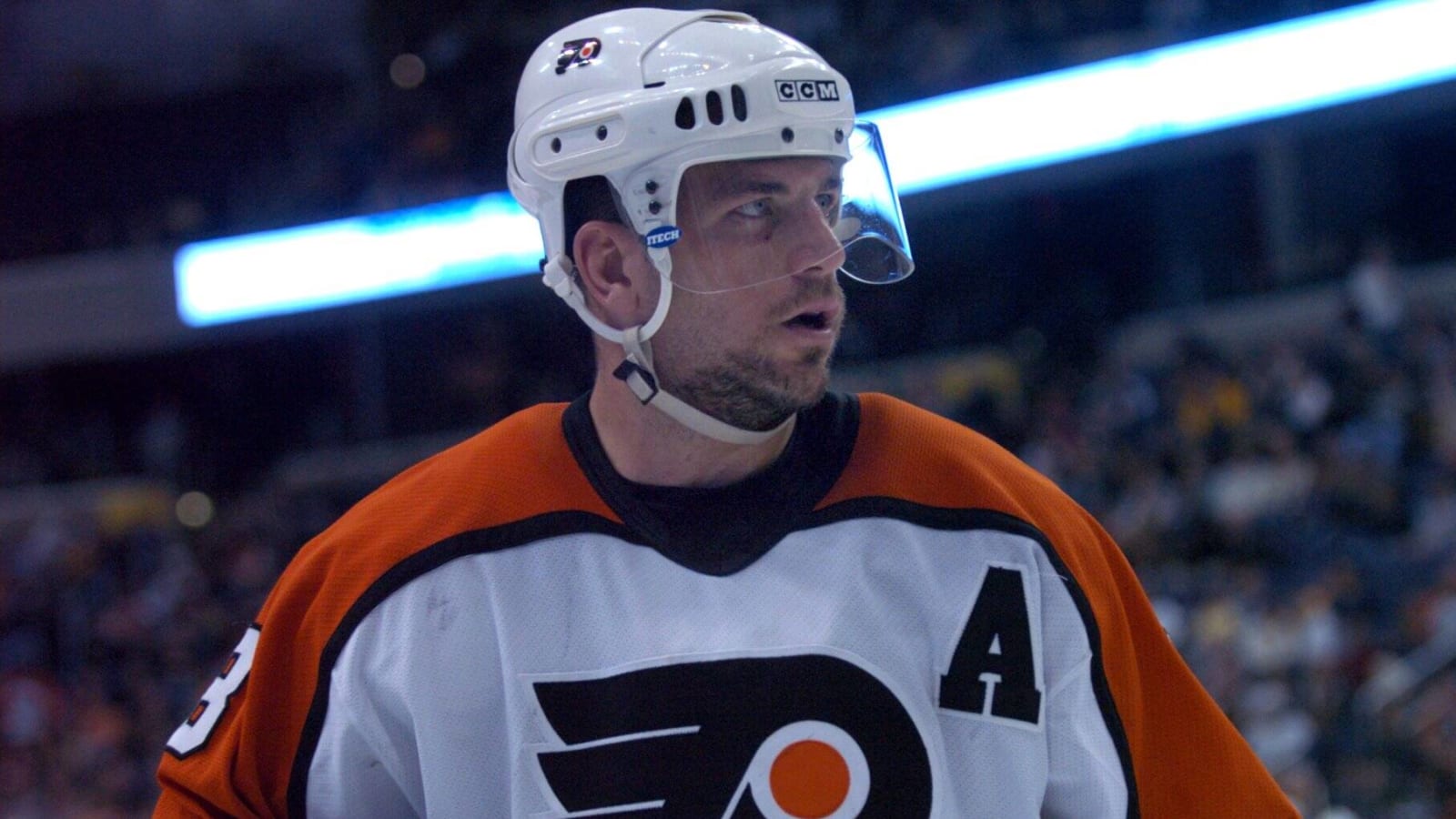 The Philadelphia Flyers announced on Thursday, September 14th, that Mark Recchi will be inducted into the Flyers Hall of Fame on Saturday, January 27th. The pregame ceremony will occur at Wells Fargo Center when the Philadelphia Flyers host the Boston Bruins. Recchi will be the 28th member of the Flyers Hall of Fame and the first since the 2021-22 season.
"This is a tremendous honor and one I was not expecting to get a call for." My time in Philadelphia meant a lot, still means a lot, to me and I am very thankful to be the next inductee into the Flyers Hall of Fame. Thank you to Dan, Keith, and the nomination and voting committees for this opportunity. I look forward to sharing this memory with my family, the fans, fellow Flyers Alumni and the entire Flyers organization."

Mark Recchi – Interviewed by Flyers Media – September 14th, 2023
Mark Recchi: Career Accomplishments
Recchi was drafted in the fourth round at 67th overall by the Pittsburgh Penguins in the 1998 NHL Entry Draft. Recchi would debut and play with the Penguins in the 1998-89 season until the 1991-92 season when he was traded to the Philadelphia Flyers. Recchi spent ten out of his 22 seasons in Philadelphia and played for teams like the Pittsburgh Penguins, Montreal Canadiens, Carolina Hurricanes, Atlanta Thrashers, Tampa Bay Lightning, and the Boston Bruins.
Related: Mark Recchi Stats
Throughout Recchi's 22-season career, he amassed 1652 NHL games played, scoring 577 goals and 956 assists for 1533 points. Recchi also appeared in 189 Stanley Cup Playoff games, scoring 61 goals and 86 assists for 147 post-season points. Recchi scored a career-high in assists (73) with the Pittsburgh Penguins during the 1990-91 season. Recchi would score a career-high in goals (53) and points (123) with the Philadelphia Flyers in the 1992-93 season.
"As a teammate of Mark's, I can ensure that one deserves this exclusive honor more than him. January 27th will be an outstanding day for our franchise and for Mark and his family as we celebrate all his Flyers accomplishments."

Keith Jones, President of Hockey Operations for the Philadelphia Flyers – Interviewed by Flyers Media – September 14th, 2023.
Throughout his long NHL career, Recchi appeared in seven NHL All-Star games and won three Stanley Cups as an NHL player. Recchi won the Stanley Cup with the Pittsburgh Penguins in the 1990-91 season. Recchi would also win with the Carolina Hurricanes in the 2005-06 season and the Boston Bruins in the 2010-11 season. Recchi retired as a Stanley Cup Champion at the end of the 2011 Stanley Cup Finals. Later in 2017-18, Recchi would be inducted into the Hockey Hall of Fame. Recchi also boasts awards such as a U20 World Junior Championship Gold Medal in 1987-88 and a World Championship Gold Medal in 1996-97, both with Team Canada. Recchi now adds the honor of being inducted into the Philadelphia Flyers Hall of Fame.
Why Recchi Being Inducted Is Important
Mark Recchi being inducted into the Philadelphia Flyers Hall of Fame is important. Not only did he play ten of his 22 NHL seasons in Philadelphia, he split his time in Philadelphia into two separate stints. After Pittsburgh traded him to the Flyers, Recchi played his first run in Philadelphia in 1991-92. In the 1994-95 season, Philadelphia traded Recchi to the Montreal Canadiens. Oddly enough, Montreal traded him back to Philadelphia in the 1998-99 season to kick off Recchi's second run with the Flyers.
Recchi is known for a number of things, but what falls under the radar is the fact that he is one of two players in Flyers franchise history to record multiple 100-point seasons. Bobby Clarke happened to be the other 100-plus point scorer next to Mark Recchi in Philadelphia. What's also worth mentioning is Recchi tallied 123 points in the 1992-93 season to break Bobby Clarke's franchise record for most points in a single season. This is a record that Mark Recchi still holds today.
"The Flyers Hall of Fame began with Ed Snider and our Flyers Alumni and has become so enriched to our organization that I am thrilled to see it grow with the induction of Mark Recchi. Mark's ten seasons with the Flyers were very special to our franchise and to the Flyers community as he was a part of so many iconic historic moments. We are all looking forward to January 27th when we can solidify Mark in our proud history."

Dan Hilferty, Chairman & CEO of Comcast Spectator & Governor of the Philadelphia Flyers – Interviewed by Flyers Media – September 14th, 2023
While Mark Recchi probably would've loved to bring home a Stanley Cup to the Philadelphia Flyers, it just didn't happen that way. Recchi has won three Stanley Cups as a player, which was previously mentioned. After Recchi's retirement, he won two more Stanley Cups as a member of the Pittsburgh Penguins front office staff in the 2016 and 2017 Stanley Cup Playoffs.
Recchi made many contributions on and off the ice, and his impact on the franchise was felt immensely. When Recchi reflects on his NHL career, he almost always mentions his time with the Flyers franchise.
The Connor Bedard Tour Begins (20)
–
Jacko Media
Thank you for listening to today's episode of the Jacko Media podcast presented by the Inside The Rink Podcast Network!In this episode, host Conrad Jack talks about:- How about those Jets? (2:29)- The NHL goes down under for the Global Series. (15:00)- Atlantic division standing predictions. (18:18)- Metropolitan division standing predictions. (26:14)- Central division standing predictions. (31:01)- Pacific division standing predictions. (34:58)- Season predictions. (36:40)- Various news pieces. (47:43)This episode includes music from The Janzen Boys and their song called "One For The Road." Show them support on streaming any available streaming platforms.If you want to submit a question to the show, you can follow me on X/Twitter and reply to a post.