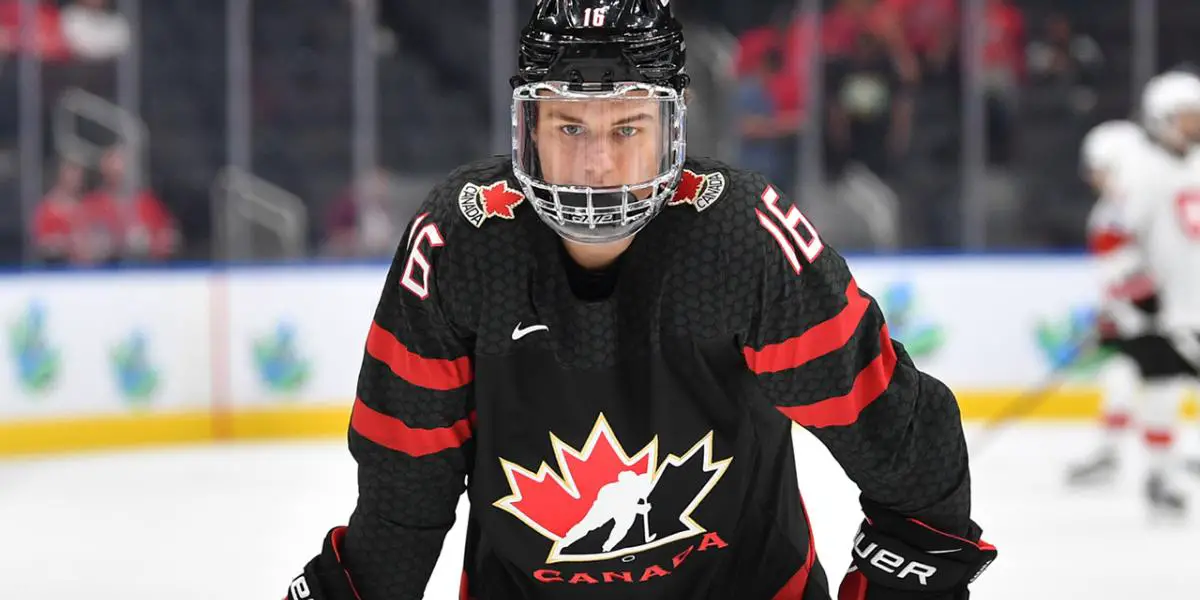 There was no denying the fact that Canada was heavily favored as the favorite heading into this one. Austria had yet to score a single goal so far in the tournament while giving up a total of 20 goals. Austria has also never won a game in the history of the world junior championship. Despite his subpar performance against Czechia on Boxing Day, Canada elected to go back to Ben Gaudreau between the pipes. Full credit to the Austrians as they held Canada to a single shot on goal 10 minutes into the game, and they also didn't give up a dangerous scoring chance in that time frame either. With 6:42 to go, Austria took the first penalty of the game as Sablattnig was called for interference. Canada's top power-play unit was absolutely lethal against Germany. That domination continued in this one as Bedard, Othman and Guenther created a fantastic passing play that was finished off by Guenther, giving Canada a 1-0 lead. Canada quickly made it 2-0 on a goal from Newfoundland native Zach Dean, his first of the tournament, with 4:07 to go in the period. Canada was given their second power play of the game as Horl cross-checked Roy from behind in the slot. The top power-play unit wasted very little time once again as Connor Bedard added to his point total with another assist as he set up Shane Wright for his third goal of the tournament. The opening frame would come to a close with Canada leading 3-0 and leading the way in shots, as well as they outshot Austria 10-3.
Canada controlled the majority of the play to open the second period, as it felt like every single shift was being spent in the Austria zone. Eventually, Canada would break through as Joshua Roy scored his second of the tournament. Before the Roy goal was even announced, Connor Bedard fired an absolute laser that came out of the net as fast as it went in. It was so quick that no one other than Bedard knew it was in. The referees even had to go as far as reviewing the goal to make sure it was in. The onslaught would continue as Nolan Allan threw a wrist shot on goal from the point that Oschgan did not see whatsoever. Bedard went to work again driving the net but was stopped. However, Stankoven picked up the loose puck and made no mistake, but the refs waived it off, but it would eventually be reviewed. After a video review, it was deemed a good goal. With 1:52 to go in the period, Erne high-sticked Korchinski, but there was no call on the play. The final seconds would tick away in the second period, with Canada leading 7-0. Shots on goal after 40 minutes of play were 34-8 in favor of Canada.
Heading into the third period Connor Bedard was just one goal away from tying Jordan Eberle for most goals ever at the world juniors. Eberle scored his record-setting 14 goals in just 12 games. Tonight was Bedard's 12th game. Less than a minute into the final frame, Canada was given another power play. The top unit wasn't able to deliver this time, but Fantilli made no mistake as he ripped a wrist shot from the high slot that found its way to the back of the net, making it 8-0 Canada. Austria managed to generate a solid scoring chance, but Gaudreau shut the door. The Austrians did, however, draw a penalty on the play, giving them a power play 6:01 into the third period. Canada successfully killed off the man advantage as Austria remained without a single goal in the tournament. With 8:02 to go, Dach dished the puck to the slot, where Gaucher made a great deflection to finish it off. Logan Stankoven decided to go forward on an offensive zone face-off, which turned out to be a smart move as he found Connor Bedard in the slot, and he made no mistake. That goal made it official; he tied Jordan Eberle for the most goals for Canada in world junior history with 12. Brandt Clarke was called for roughing as he got his hand up and hit an Austrian in the head with 5:48 remaining in regulation. Canada's penalty kill got the job done as they prevented Austria from scoring yet again. Canada's relentless attack continued as Tyson Hinds scored his first goal of the tournament off of a wrist shot in the slot that went top shelf making it 11-0 Canada with under two minutes remaining in regulation. While it may have taken Canada longer to get going than expected, the end result was exactly what we all thought it would be, as Canada defeated Austria by a score of 11-0. Shots on goal were 47-12. Connor Bedard lead the way with six points on the night, giving him a total of 14 points in three games so far in the tournament. Logan Stankoven also had an impressive night as he finished with four points himself. The Player of the game for Austria was Lukas Horl, while the player of the game for Canada was Logan Stankoven.
Canada will have the day off tomorrow then they will take on Sweden on New Year's Eve! 
For all your hockey news be sure to follow me on Twitter @mikethefanatic!
WELCOME BACK TO LEAFS LATE NIGHT! Presented by Inside The RinkRoscoe / FanalystSteph / Mikey D- The Line Blender- Consistency- Stuperstitions- How To Keep Willy- The Great Pop DebatesMERCH IS AVAILABLE!Remember to follow us on Twitter @LeafsLateNight & IG @LeafsLateNightCheck out Mike, Josh, and Nathan's articles on the Leafs + many more! insidetherink.com