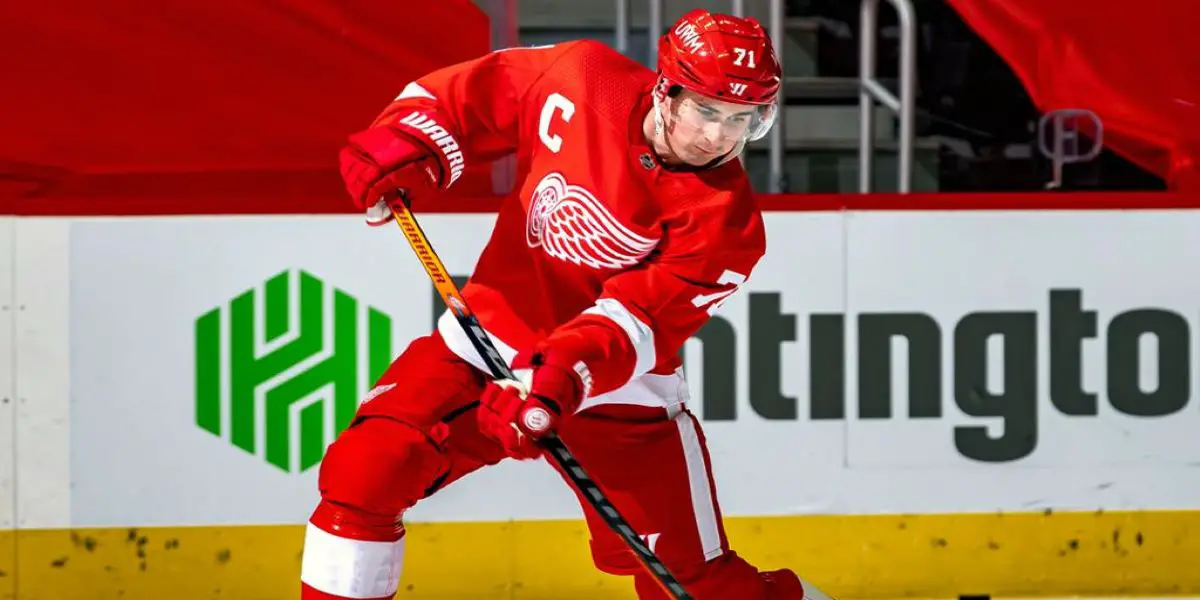 The Detroit Red Wings have several UFA's to decide on this summer, but the next year will define the direction of a once-proud franchise. Detroit captain Dylan Larkin and his linemate Tyler Bertuzzi are set to enter the final year of their respective contracts before they can become UFA's next summer.
Larkin has indicated that he wants to remain the captain of Detroit and is looking to sign a long-term extension with his hometown team. A season-ending core-muscle injury required surgery, and Larkin only played in 71 games this season. Even though the surgery was deemed successful, Detroit General Manager Steve Yzerman will need to make sure that his best player is sound enough to continue on a healthy trajectory.
Here is a look at the seven players who will be highly sought-after at next year's trade deadline if extensions are not exercised before next season's opening.
Dylan Larkin
There is mutual interest between the team and Larkin, and an extension is likely imminent. Larkin was the top forward for Detroit and led the team on and off the ice this past season. In 71 games, Larkin scored a team-high 31 goals, 38 assists, 69 points, and a -18 rating. In seven NHL seasons, all with Detroit, Larkin has scored 147 goals, 211 assists, 358 points, and a -85 rating. Larkin played five playoff games as a rookie, and his teams have been shut out of the playoffs for the last six seasons. Larkin will enter the final year of his most recent contract, which carries a cap hit of $6.1M. Larkin will undoubtedly be asking for a long-term extension in the range of $40M for five years.
Tyler Bertuzzi
Tyler Bertuzzi will also become a UFA after next season. Yzerman has indicated that he would also like to sign Bertuzzi to a long-term extension along with Larkin. Despite not being vaccinated and missing nine games played in Canada throughout last season, Bertuzzi ended up second in scoring for the Red Wings. In 68 games, Bertuzzi scored a career-high 30 goals, 32 assists, 62 points, and a -11 rating. In six NHL seasons, all with Detroit, Bertuzzi has scored 84 goals, 104 assists, 188 points, and a -31 rating. Bertuzzi has yet to play an NHL playoff game for the Red Wings. Bertuzzi is also entering the final year of his most-recent two-year extension that carries a cap hit of $4.75M. Bertuzzi will likely be looking for a five-year extension valued at $30M to stay in Detroit.
Pius Suter
Pius Suter just completed the first year of a two-year free-agent contract with Detroit. Suter will be a UFA at the end of his current deal with Detroit. Suter was 4th in forward scoring for Detroit. In 82 games, Suter scored 15 goals, 21 assists, 36 points, and a -11 rating. During his two seasons in the NHL, Suter has yet to play a playoff game. Suter has a cap hit of $3.25M for next season. Suter will likely be looking for a three-year contract in the $12M range to stay in Detroit.
Oskar Sundqvist
Oskar Sundqvist was one of the players acquired in the Nick Leddy trade with St. Louis. Sundqvist scored four goals and added four assists in 18 games with Detroit. Sundqvist also had a +1 rating while playing a bottom-six role for the Red Wings. Sundqvist played 59 games on the season and scored eight goals, 15 assists, 23 points, and a +5 rating. Sunqvist just finished his 7th season in the NHL. In 288 regular-season games, Sundqvist has scored 40 goals, 55 assists, 95 points, and a -6 rating. Sundqvist has a cap hit of $2.75M for next season before he can become a UFA. At 28, Sunqvist will likely be looking for a three-year extension at $3M annually.
Adam Erne
Adam Erne recently completed his 3rd season in Detroit. In 79 games, playing primarily in the bottom six, Erne scored six goals, 13 assists, 19 points, and had a -22 rating. Erne has played 294 games in six NHL seasons, scored 32 goals, 39 assists, 71 points, and has a -47 rating. Erne will be entering the final year of his current two-year contract extension with Detroit. Erne will have a cap hit of $2.1M next year and can become a UFA after the season. Erne will likely be looking at a two-year extension for $4.5M to stay in Detroit.
Jordan Oesterle
Jordan Oesterle just finished his first season in a Red Wings uniform. Oesterle will turn 30 in June and will likely be playing the final year of his two-year deal as a rental for Detroit. Oesterle only played 45 games for the Red Wings this year, scoring two goals, six assists, and eight points, and he had a -7 rating. Oesterle has played in the NHL for parts of eight seasons. In 297 games, he has scored 17 goals, 56 assists, 73 points, and a -44 rating. Oesterle will be entering the final year of his contract, which carries a cap hit of $1.35M. He will likely be looking to match his current contract to remain in the NHL.
Alex Nedeljkovic
This past season, Alex Nedeljkovic was a workhorse as the #1 goaltender in Detroit. Nedeljkovic played a career-high 59 games for Detroit. He had a record of 20-24-9, with a 3.31 GAA, .901 SV%, and four shutouts. Nedeljkovic has played parts of five NHL seasons, having played 88 games. Nedeljkovic has a career record of 37-31-13, with a 2.86 GAA, .909 SV%, and seven shutouts. At 26, Nedeljkovic will be looking for long-term stability to stay with Detroit. Nedeljkovic will likely be looking for a five-year, $25M deal with the Red Wings.
Final Thoughts
The following year is going to determine the future of the Detroit franchise. This summer, seven players will become UFA's, and four will become RFA's. Next summer, seven additional players could become UFA's, and two more players could become RFA's. With 14 players sets to become UFA's in the next year or so, Steve Yzerman has a chance to put the final stamp on what he wants in a possible playoff-bound team.
In a podcast this week, former Red Wings player Darren McCarty said that 4-6 current players from this year's team would be part of the future Red Wings championship team. Only the future will determine which players will represent the next Detroit Red Wings success wave.
Please rate and review our show on your favorite listening platform. Check out our partner's website at www.insidetherink.com for all your latest hockey news.