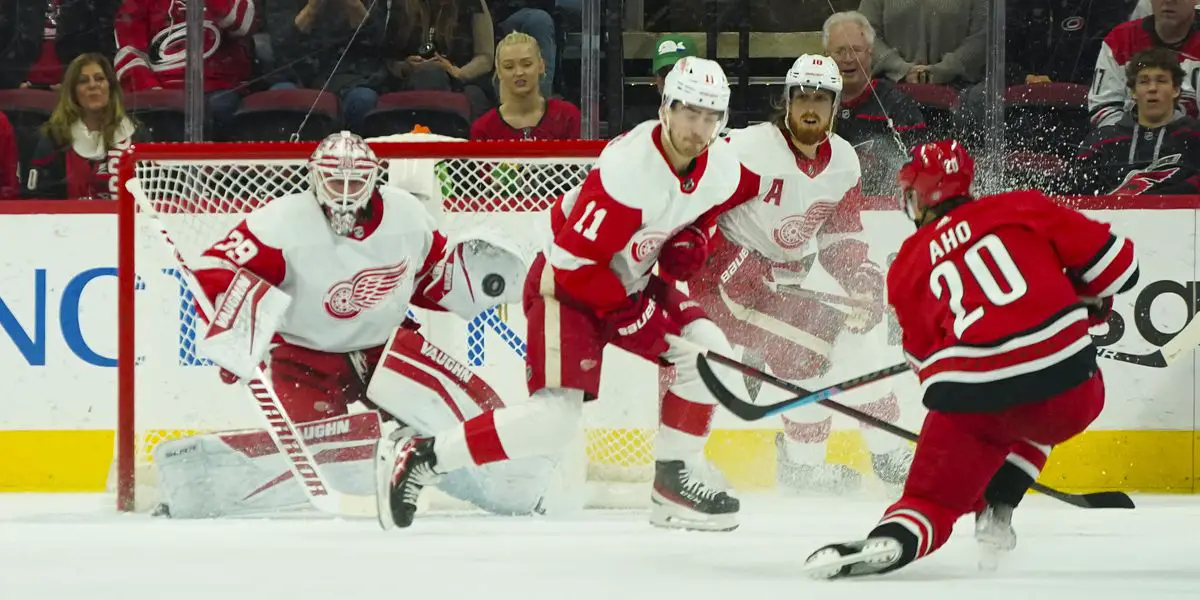 Last night, Alex Nedeljkovic put on a show against his former team leading the Detroit Red Wings to a 3-0 shutout victory over Carolina. The 46-save shutout was the third of the season and the sixth of Nedeljkovic's brief career.
Nedeljkovic was fantastic and exceptionally sharp throughout the game, making 35 saves over the final two periods. Nedeljkovic has now won 19 games and will be looking for his first 20-win campaign as the Red Wings have eight games remaining in the regular season.
Ned's 1st Season in Detroit
Alex Nedeljkovic was drafted 37th overall by Carolina in the 2014 NHL Entry Draft. Nedeljkovic played his first NHL game during the 2016-2017 season but didn't earn his first start with Carolina until the 2018-19 season. Last year, the abbreviated season provided Nedeljkovic with his first opportunity to play in the NHL full-time. He led the NHL with a 1.90 GAA and a .932 SV% during his 23-game season. Nedeljkovic was also a finalist for the Calder Trophy as the NHL's top rookie.
Nedeljkovic was terrific to start the season. With only 29 NHL games under his belt, Nedeljkovic still qualified to start his first year in Detroit as a rookie. By December 4, in 16 games played, Nedeljkovic had a record of 8-3-3, and the Red Wings were in the running for a Wild Card playoff spot in the Eastern Conference.
An injury to backup goaltender Thomas Greiss created an opportunity for Nedeljkovic to play every night. With the condensed schedule due to the Olympic Games in February, coupled with several games requiring re-scheduling because of Covid-19 issues, the burden to play every night was challenging, and both Nedeljkovic and the Red Wings struggled.
Despite playing a career-high 54 games this season, Nedeljkovic has only lost three games in a row once since December. Nedeljkovic currently has a record of 19-21-9, with a 3.27 GAA and a .903 SV%.
One Year Left Before Free Agency
Nedeljkovic was traded to Detroit after the 2021 season. The Red Wings traded impending UFA Jonathan Bernier and the 94th overall pick in the 2021 NHL Entry Draft in order to acquire him. Nedeljkovic signed a two-year extension with a cap hit of $3M to play for his hometown team (started his OHL career with Plymouth). The contract expires after next season, and he can become a UFA.
There is no doubt that Nedeljkovic deserves a long-term contract extension with the Red Wings. Detroit is really thin when it comes to NHL-caliber goaltenders in their organization. Having a stabilizing influence as the #1 netminder is precisely what Nedeljkovic and the Red Wings want.
Goaltending is becoming a strength in Detroit
In order to win in the NHL, a team has to have great goaltending. The Red Wings only have two goaltenders signed past this season. Thomas Greiss is now 36 and is expected to become a UFA this summer. The Red Wings recently signed KHL veteran Magnus Hellberg for the remainder of the season. He will likely make some starts for Detroit in an attempt to earn an extension with Detroit for next year.
With Nedejkovic and Cossa signed, and Hellberg showcasing his talents during the next eight games, the Red Wings will be looking to sign more goaltending depth this summer. The top goaltenders entering free agency this summer are Darcy Kuemper and Jack Campbell. The remaining goaltenders, such as Marc-Andre Fleury and Mikko Koskinen, are expensive and nearing the end of their careers.
Internally, the Red Wings have another graduating junior from the QMJHL. Jan Bednar has been exceptional playing for Acadie-Bathurst this year. In 41 games, Bednar has a record of 26-10-4, with a 2.66 GAA, a .912 SV%, and two shutouts. This summer, Bednar is also expected to compete for Czechia in the remainder of the IIHF World Junior Championships.
Final Thoughts
Alex Nedeljkovic is the best goaltender Detroit has had since the glory years of winning Stanley Cups. With a winning resume and currently only 26-years of age, Nedeljkovic could be the goaltender to lead the Red Wings back to respectability. He would be an excellent role model for #1 goaltending prospect Sebastian Cossa and the duo could form an important partnership of long-term stability for the Red Wings.
With five picks in the top-50 of the 2023 NHL Draft, the Red Wings are in prime position to make a trade for a top-six forward. We breakdown fits of players that are potentially on the trade market and what a potential package could look like. We also start with how Red Wings at the World Championships are performing, focusing on Dominik Kubalik, Carter Mazur, and Lucas Raymond.