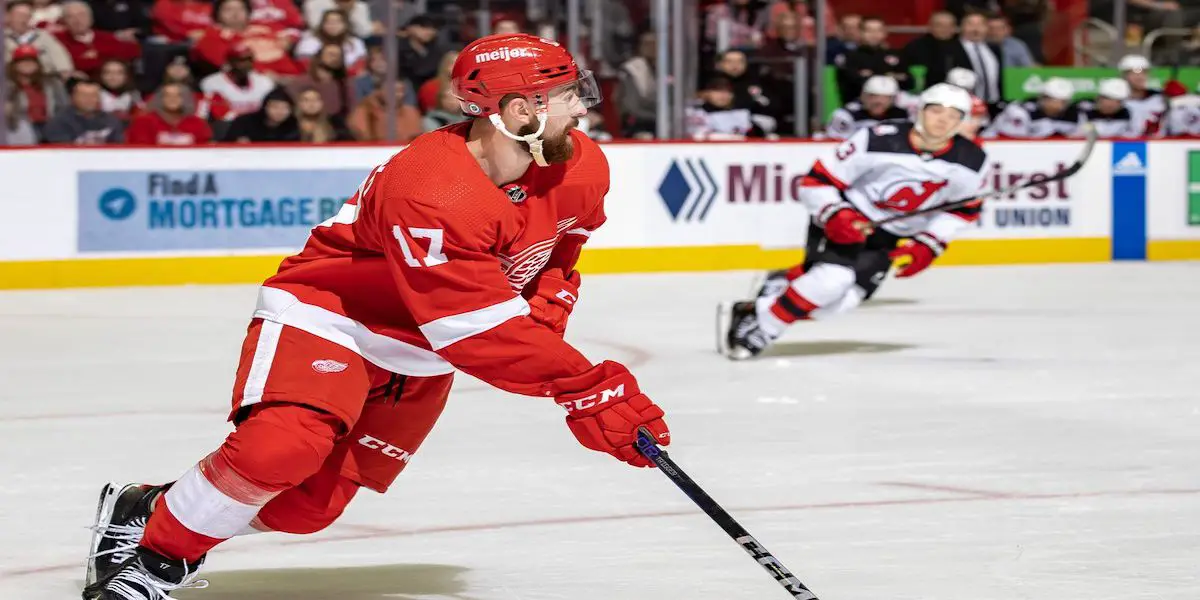 Towards the end of the 2021-22 season, a large portion of the Red Wings fan base (including myself) was wondering about the future of Filip Hronek. After seemingly coming out of nowhere and developing into a top-four offensive-defenseman, Hronek struggled in a reduced role with the emergence of a Moritz Seider last season. So far, through 20 games, Hronek has arguably been Detroit's best defenseman.
This begs the question, what is different this season?
On the surface, Hronek's role has remained the same. He is currently averaging 22:09 of ice time a game, which is nearly identical to his average last season (22:02). Possibly the most significant factor in Hronek's play is having a consistent partner in Olli Maatta.
Last season, Hronek was, for the most part, partnered with Nick Leddy, who, similar to Hronek, is an offensive-minded defenseman and often would lose coverage in the Red Wing's end. From Money Puck, the pair of Leddy and Hronek had an expected goals against per 60 minutes of 2.74. This season with Maatta, the pair sits 14th best in the NHL among defensive pairings playing 100 or more minutes with 2.06.
Maatta's safe, defense-first mindset has allowed Hronek to take more chances, knowing where his partner will be, which has led to more offense for the Red Wings.
Among NHL defensemen, Hronek is currently tied for 9th in scoring with six goals and 18 points. While scoring was never an issue in Hronek's game, the defensive side was, and with a revamped system under Derek Lalonde and Bob Boughner, Hronek looks much improved. Lalonde credits Hronek's commitment to playing a simple style in the Red Wings zone, which has helped the Red Wings transition game, which has struggled in past seasons.
In terms of analytics, Hronek was someone who wasn't viewed favorably amongst public models. This season, however, has been a different story. From Dom Luszczyszyn's model, Hronek ranks tenth amongst defensemen in GVSA (Game Score Value Added), sitting above the likes of Devon Toews and MacKenzie Weegar.
From Evolving Hockey, Hronek ranks fifth in expected goals above replacement with 6.6, with only Rasmus Dahlin, Cale Makar, Adam Fox, and Erik Karlsson ahead of him.
Hronek's emergence has also given Detroit's second powerplay unit much-needed firepower, which they had lacked in years past. Eight out of Hronek's 18 points have come at the man advantage, and of late, he has found his most success with Lucas Raymond, Tyler Bertuzzi, Andrew Copp, and Jonatan Berggren.
Detroit struggled to convert on their opportunities with the man advantage last season, finishing 26th in the NHL with a 16.3% conversion rate. This season, Detroit ranks 12th with a 23.3% success rate, leading to the Red Wings winning more games, which Hronek has been a large part of, including Friday night versus Arizona, where he scored a goal and assisted on Andrew Copp's tally on the powerplay in a 4-3 shootout victory.
While Hronek's 74-point-pace and shooting percentage of 13 percent likely is not sustainable, he has been a big part of Detroit's 11-5-4 start to the season. The Red Wings are approaching their toughest stretch of the season to date; it will be interesting to see if Hronek can continue his strong play.
In this episode, we recap the World Championships, highlighting Kubalik, Seider, Mazur. Next, we take a long look at the 2023 first round and which players will be available at 9th and 17th.