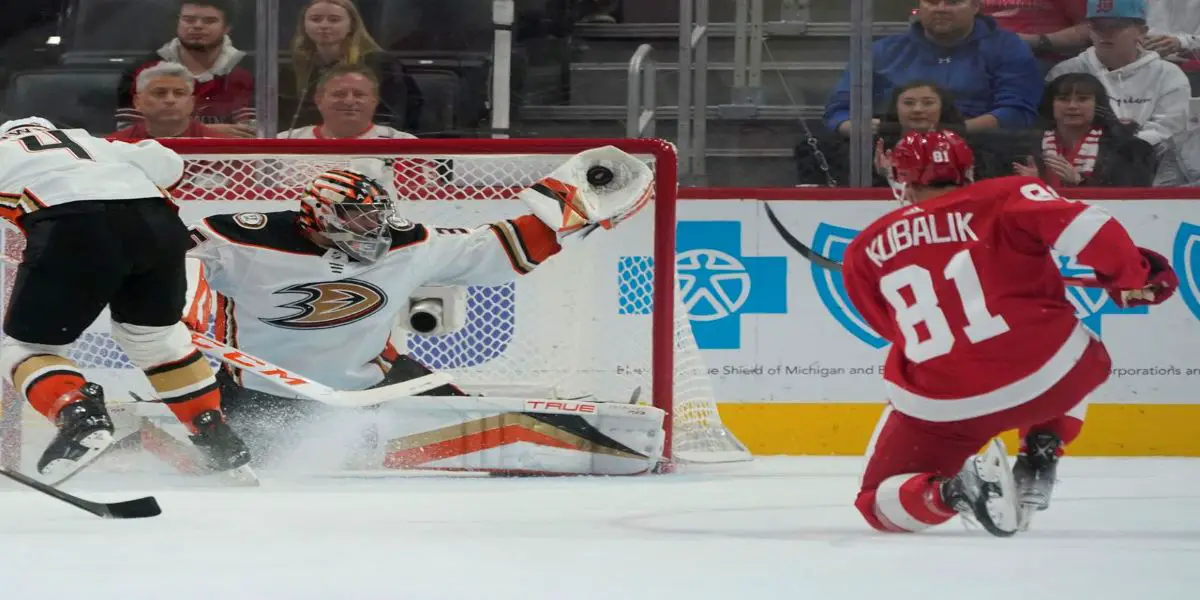 When the free agency period opened in July, the Detroit Red Wings were looking to add skill at a reasonable cost. On the first day of free agency, the Red Wings signed 27-year-old Dominik Kubalik to a two-year deal.
Kubalik has always had the potential to be a gifted player. During his rookie season in Chicago, he scored 30 goals in 68 games. Since his rookie season in 2019-2020, Kubalik only scored 32 goals in 134 games for the Blackhawks. When a new management team took over the Chicago team, several players, including Kubalik, were either traded or not offered contracts to return.
Signed by Detroit
When free agency started in July, the Red Wings jumped at the chance to sign the highly skilled winger. Kubalik signed a two-year contract on the first day of free agency with an annual cap hit of $2.5M. The deal is a guaranteed one-way deal for the duration of the contract. If he is not re-signed, Kubalik can be a UFA after the 2023-2024 season.
During the preseason, Kubalik was penciled in to play left wing on the fourth line with Pius Suter and Adam Erne. The trio started the first two games of the regular season together, but that all changed when Tyler Bertuzzi was injured in the second period of game two.
Kubalik was immediately thrust into the limelight on the top line with Dylan Larkin and Lucas Raymond. Five games later, all Kubalik has done is lead the Red Wings in scoring and play significant minutes on the power play.
What the Red Wings can expect
During Bertuzzi's absence, Detroit can expect Dominik Kubalik to continue playing in the top-six forwards and on the first power-play unit. He has contributed four goals, six assists, 10 points, and a +2 rating since his promotion to the top line. This rate of scoring will be difficult to maintain for an entire season. If Kubalik continues to excel as a top-scoring threat, the Red Wings will have some difficult decisions later this season. Bertuzzi will likely be back in early December, and Robby Fabbri is expected back from his knee surgery mid-January.
It is a nice situation for Detroit general manager Steve Yzerman. Having extra depth will help the team throughout the difficult 82-game schedule. The Red Wings also have four forwards who could potentially become UFA's next summer. So far, there has not been any news on extensions for Larkin, Bertuzzi, Suter, or Oskar Sundqvist. If extensions are not exercised by the deadline, expect some players to be traded.
Kubalik has been a pleasant surprise for Detroit. He looks comfortable and seems to be enjoying his scoring prowess. If he stays healthy, Kubalik should be able to contribute strong offensive numbers and contribute to a winning culture in Detroit.
Final Thoughts
Dominik Kubalik has helped the Red Wings to a nice 3-1-2 start. His ten points in the last five games are good enough to place him at the Top-10 of NHL scoring. He has added skill and depth to an already deep Red Wings forward lineup. So far, he has been my pick as the top Red Wings player to start the year. Watching Kubalik has been fun, and hopefully, the top line can continue to contribute at an alarming rate for the foreseeable future.
In this episode, we recap the World Championships, highlighting Kubalik, Seider, Mazur. Next, we take a long look at the 2023 first round and which players will be available at 9th and 17th.