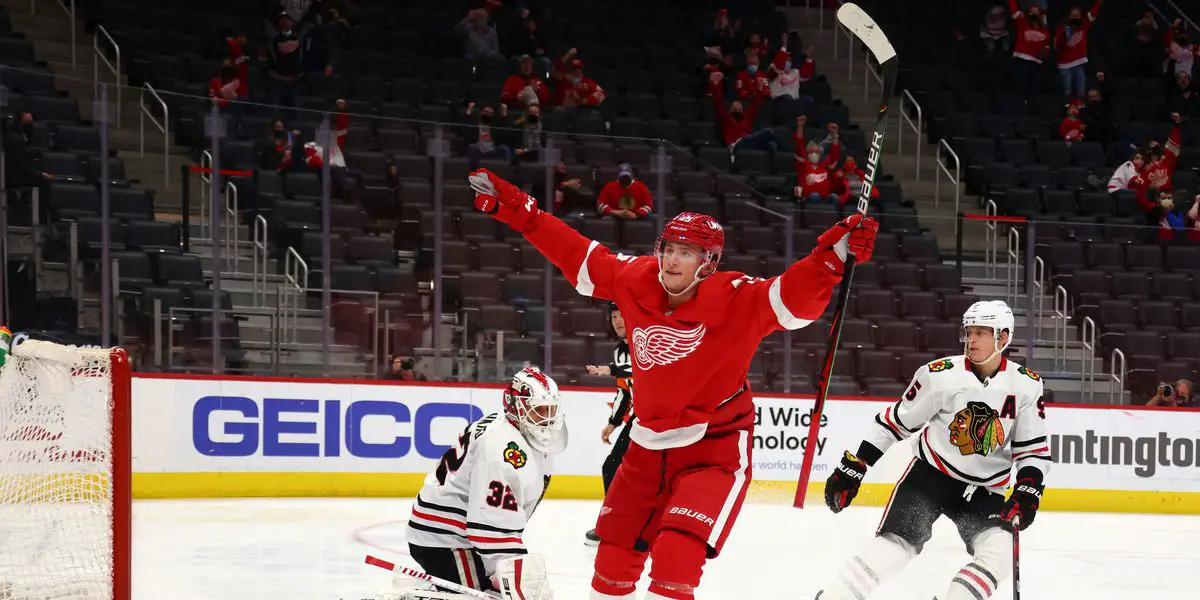 One year ago, Detroit General Manager Steve Yzerman shocked the hockey world when he traded Anthony Mantha to Washington in the dying minutes before the trade deadline. In return, the Red Wings obtained Jakub Vrana, Richard Panik, a first-round pick in the 2021 draft, and a second-round pick in the 2022 draft.
One Year Later
One year after the trade, the deal looks like an absolute steal for the Red Wings. In two partial seasons with Detroit, Vrana has played 28 games and has scored 18 goals, seven assists, 25 points, and a -5 rating. After shoulder surgery during training camp, Vrana missed most of the current season and only returned to game action in early March. In 17 games this season, Vrana has scored ten goals, four assists, 14 points, a -6 rating, and 42 shots on goal.
Panik was traded with the 52nd pick in the 2021 draft for defenseman Nick Leddy. Leddy was recently traded along with Luke Witkowski to St. Louis for a 2023 second-round pick, defenseman Jake Walman, and forward Oskar Sundqvist.
The additions of Walman and Sundqvist have added depth to the Red Wings roster. Walman has played really well on defense while partnered primarily with Gustav Lindstrom. In 10 games, Walman has chipped in with two assists and a -4 rating. Sundqvist has recently played RW on the third line with Michael Rasmussen and Joe Veleno. In 11 games, Sundqvist has two goals, two assists, four points, and a -3 rating.
The Red Wings used the first-round pick in 2021 to move up in the draft and take top goaltending prospect Sebastian Cossa. Cossa has put together another excellent season in Edmonton (WHL) this season. In 45 games, Cossa has a 32-9-3 record, 2.33 GAA, .911 SV%, and five shutouts. Cossa and Alex Nedeljkovic are currently the only goaltenders under contract with the Red Wings organization for the 2022-2023 season.
Moving Forward
Jakub Vrana turned 26 in February and is currently in his sixth season in the NHL. Last August, Vrana signed a three-year extension to remain with Detroit. Vrana has a cap hit of $5.25M. After this season, Vrana has two years remaining on this deal, and he can become a UFA at the end of the 2023-2024 season.
Jake Walman also turned 26 in February and is currently in his third season in the NHL. Walman currently has a cap hit of $725,000. This deal ends at the end of this season, and Walman will become an RFA this July.
Oskar Sundqvist recently turned 28 and is currently playing in his seventh NHL season. Sundqvist is currently in the third year of a four-year contract with a cap hit of $2.75M. Sundqvist will become a UFA at the end of the 2022-2023 season.
Sebastian Cossa will turn 20 in November and is currently playing in his third and final season in the WHL. Cossa will turn professional next season and is expected to start the year playing for Grand Rapids in the AHL. Next season, Cossa will be entering the first year of his three-year entry-level contract, which will pay him $925,000 if he plays in the NHL and $80,000 if he plays in the AHL.
The second-round pick that Detroit obtained will be Washington's pick in the Entry Draft this year. Washington is currently 12th in the NHL standings, so this selection is expected to be in the 50-60 range of the draft.
Final Thoughts
The players obtained in last year's big trade are, for the most part, early in their NHL careers and fit nicely into the rebuild of a once-proud Red Wings organization. Detroit is now entering the sixth consecutive season of missing the playoffs. There is no doubt that Vrana, Walman, Cossa, and possibly the second-round pick this year will play significant roles in getting Detroit back into the playoffs. This is something that Anthony Mantha alone would not have been able to accomplish. Once again, after looking back at the Detroit/Washington trade, we can surmise that Steve Yzerman made another shrewd move that is no doubt part of the Yzerplan of getting Detroit back into the playoffs for the first time since 2016.
In this episode, we recap the Traverse City Prospect Tournament and which players stood out. We spend the rest of the episode previewing the Red Wings' training camp and potential storylines to follow.