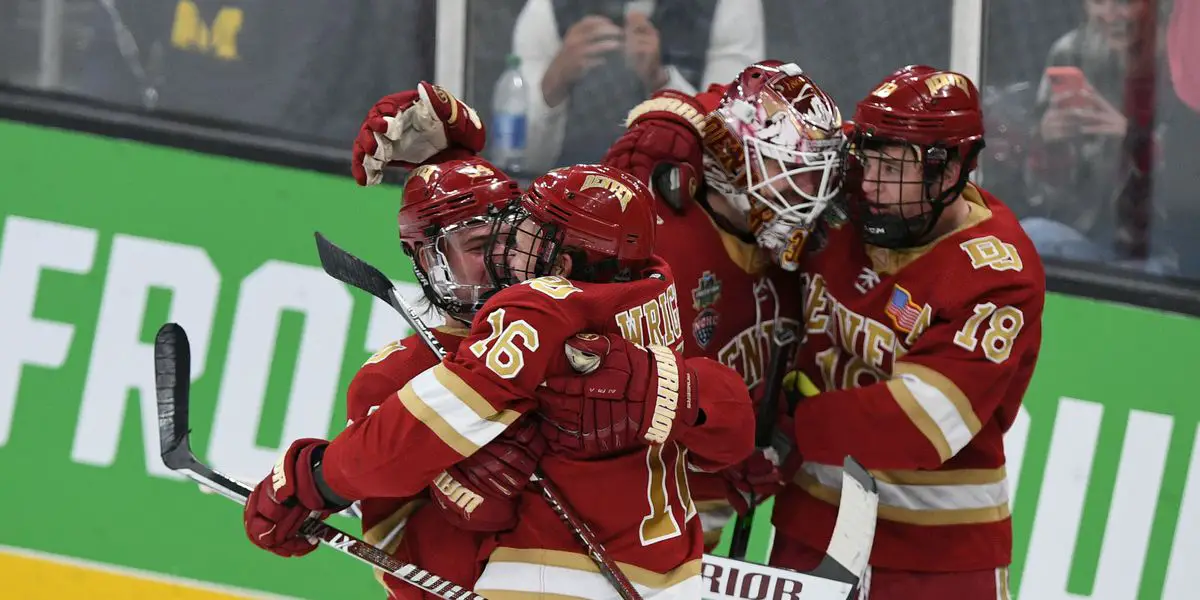 Three Detroit Red Wings prospects were part of the University of Denver Pioneers team that won the NCAA Frozen Four National Championship on Saturday. The trio of Shai Buium, Carter Mazur, and Antti Tuomisto combined for two assists during Denver's 5-1 championship win over Minnesota State.
Red Wings Prospects
Tuomisto was the first of the three Pioneers players drafted by the Red Wings. He was drafted in the 2nd round, 35th overall in the 2019 draft. Tuomisto spent his post-draft year playing for Assat in the U20 SM-liiga. In 48 games, the RD scored 15 goals, 34 assists, 49 points, and a +18 rating. Last season, Tuomisto moved to Denver and played 24 games as a freshman. He scored two goals, nine assists, 11 points, and a -2 rating. This season, as a sophomore, Tuomisto played solid defensively while chipping in occasionally on the offensive side. He scored one goal, eight assists, and a terrific +20 rating in 35 games.
Buium was selected next by Detroit when he was drafted in the 2nd round, 36th overall in the most recent 2021 draft. After the draft, Buium immediately started playing for Denver. Playing LD as a freshman, Buium played 39 games and scored three goals, 15 assists (including one in the final), 18 points, and an impressive +20 rating.
Mazur was also selected in the 2021 draft by Detroit. Mazur was picked in the 3rd round, 70th overall. Mazur had a terrific freshman season at Denver. Mazur was selected as NCHC Rookie of the Month in December when he led all rookies with eight points in five games. Mazur was also selected to play for Team USA at the IIHF World Junior Championships. In 41 games for Denver, Mazur scored 14 goals, 24 assists (including one in the final), 38 points, and a +23 rating.
When will they arrive in Detroit?
Typically, NCAA players who are picked in the first round play at least one season and then turn professional. Other top-end players who end up playing professionally, tend to play either three or four years in the NCAA. For example, Denver's top scorer and Philadelphia 2nd round pick Bobby Brink just finished his 3rd season at Denver before signing his first professional contract with the Flyers on Sunday.
Tuomisto is expected to play one more year before signing with Detroit. The 6'5″ rearguard will likely start his professional career in Grand Rapids (AHL) after his junior season at Denver. Buium and Mazur will both likely play two more seasons at Denver and then turn professional in the spring of 2024.
Signing these players will depend on their development in the NCAA. Tuomisto will be 22 after his junior season, and with his size and skating ability, he should be ready to play professionally in 2023. Mazur is currently 20 and at 6′ and 170lbs, he needs to add strength before he will be prepared for the pro game. Buium recently turned 19, and despite being 6'3 and 203lbs, needs more development time before turning pro.
There is no doubt that each of these prospects will play in the Detroit system one day. The Red Wings are deep in prospects, and the Denver trio looks to be promising pieces on the road to what seems like a long rebuild in Detroit.
With five picks in the top-50 of the 2023 NHL Draft, the Red Wings are in prime position to make a trade for a top-six forward. We breakdown fits of players that are potentially on the trade market and what a potential package could look like. We also start with how Red Wings at the World Championships are performing, focusing on Dominik Kubalik, Carter Mazur, and Lucas Raymond.