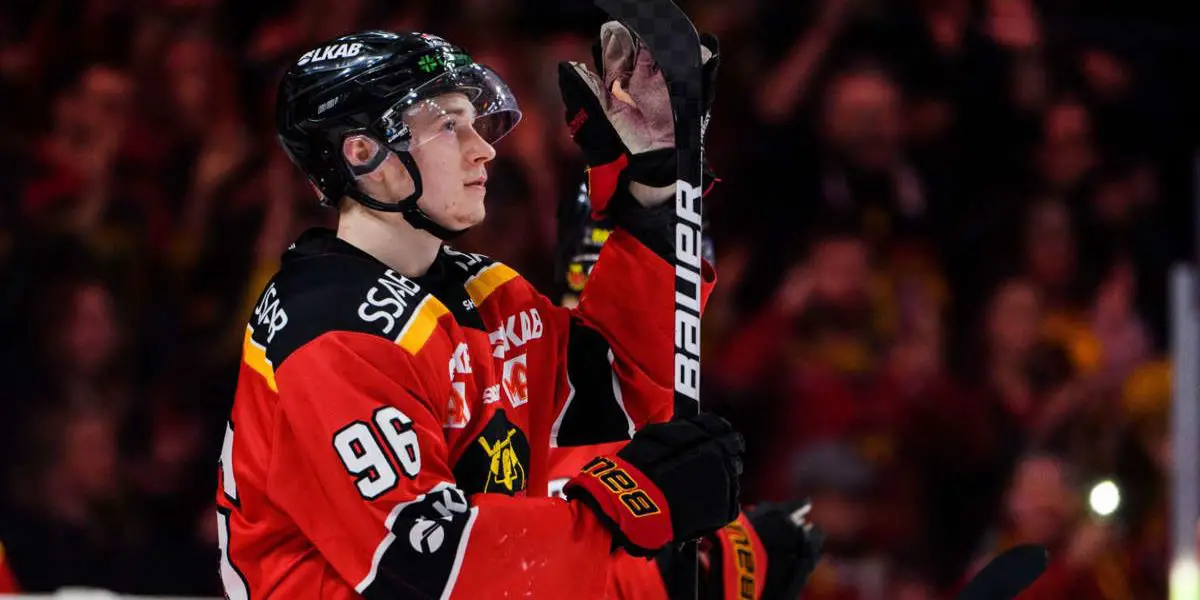 As the 2021-22 NHL regular season winds down, this will mark the seventh consecutive year the Red Wings missed the Stanley Cup Playoffs. While Red Wings fans will likely not have any rooting interest in any other NHL team in the postseason, there are a few prospects across the globe that fans can get behind as they compete for their respective league championships.
Pontus Andreasson
Andreasson is the definition of a late-bloomer as this is his first season playing in the top league in Sweden for Luleå, spending the past two in HockeyAllsvenskan with IF Bjorkloven. He was recently nominated for the SHL Rookie of the Year alongside fellow Red Wings prospect Simon Edvinsson.
Andreasson was amongst the league's top scorers this season as, through 52 games played, the winger tallied 18 goals and 20 assists. The 23-year-old has been a force in the SHL playoffs since reportedly signing with the Wings at the beginning of the month. In 8 games, Andreasson has eight goals and 11 points, which puts him only behind his linemate and former NHLer, Linus Omark, in SHL playoff scoring. On Saturday, Andreasson's team knocked out Simon Edvinsson and Frolunda in the second round in five games.
Luleå will face Farjestad in the SHL finals starting Saturday, so Red Wings fans will have a rooting interest in both sides as Albert Johansson will be matching up against Andreasson.
Andreasson's deal is reportedly a one-year, two-way contract starting next season, confirmed by Director of European Scouting Hakan Andersson. It will be interesting to see if Andreasson can translate his success in Sweden to North America and possibly win a spot in Detroit next season.
Albert Johansson
Johansson had another successful season in the SHL playing for Farjestad, as he finished second in U21 scoring, only behind Elmer Soderblom. Johansson's skating ability sets him apart from other defenders in the SHL as he's able to make quick escape moves in the defensive end to break out a puck quickly or can create an offensive chance by walking the offensive blue line and putting a defender out of place.
Johansson and Farjestad will take on Luleå in the SHL finals, which start this Saturday. Through 12 SHL playoff games, Johansson has two goals and two assists.
In an interview with Aftonbladet, Red Wings Director of Amateur Scouting Kris Draper had this to say about Johansson's play:
"Albert is showing incredible confidence. He's got skating, shot, and physical play. When the season is over, we'll discuss if it's time for him to come over to the NHL. The way he's developing, he's getting ready."
Johansson will likely come over to North America next season, but with these comments from Draper, maybe we're not too far away from seeing Johansson playing in the NHL.
Sebastian Cossa
After an up and down regular season, Cossa finished his solid 2021-22 campaign with a record of 33-9-3, and a save percentage of .913, which may look pedestrian compared to his outstanding 2020-21 season. But given the adjustment to playing an entire season and every team in the WHL, it was unlikely that Cossa would finish with a .941 save percentage in back-to-back years.
Cossa has hit his highest level of the season in the WHL playoffs. Cossa has a record of 4-0, has allowed six goals against, and has a save percentage of .936. Cossa will be a key piece to a long playoff run and hopeful Memorial Cup run for the Edmonton Oil Kings. After his season is wrapped up, all eyes will be on Red Wings management and their decision on whether or not Cossa begins his pro career in Grand Rapids next season.
Cross Hanas 
Hanas has rebounded nicely after a rough 2020-21 season playing in both the USHL and WHL. The Red Wings' 55th overall pick in the 2020 NHL draft finished 9th in WHL regular season scoring 26 goals and 86 points in 63 games. With Hanas's rights expiring at the end of the season and being in the midst of his breakout season, the Red Wings signed the 20-year-old winger back in March to a three-year, entry-level contract.
Hanas was drafted as a player who excelled as a skilled player who can play higher in the lineup at the lower levels. To be successful at the pro level, Hanas would need to develop his two-way game and versatility, which he has this season. Hanas has been relied on in critical situations this season for the Portland Winterhawks and even has become a key member of the team's penalty kill.
That doesn't mean that Hanas doesn't use his high-end skill on a night-to-night basis, as there have been multiple instances this season where he has made the highlight reels, including a lacrosse style assist from behind the net.
Portland's head coach Mike Johnston has credited Hanas, a player who has continued to make strides in his development throughout the season and has become more of a complete player and a leader on the team.
Hanas added one goal and an assist in Portland's four-game sweep over Prince George in the first round of the WHL playoffs. Hanas will be a key piece for the Winterhawks' potential run to the championship, and hopefully, he can build off a strong season and come into training camp ready to be an impact player for Grand Rapids next season.
In this episode, we recap the Traverse City Prospect Tournament and which players stood out. We spend the rest of the episode previewing the Red Wings' training camp and potential storylines to follow.