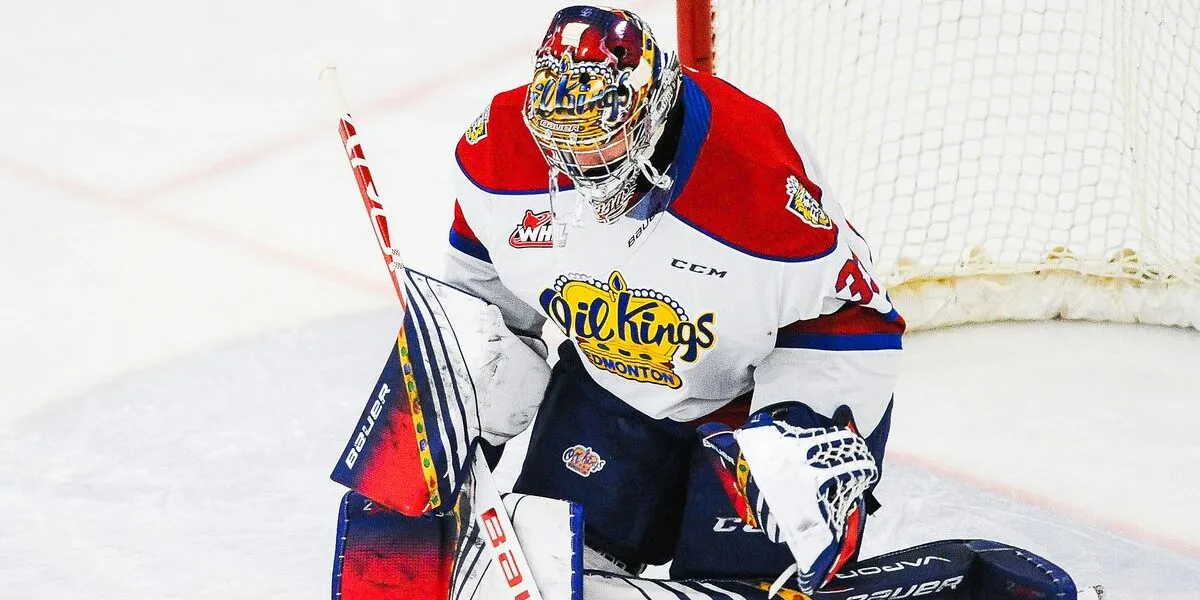 After another embarrassing loss on Sunday, Red Wings fans may be looking for an escape from the current team and switching their attention toward the future. The Yzerman regime has made it clear the importance of drafting and developing talent, and some of those prospects are starting to shine in their own respective leagues.
Shai Buium
Buium was drafted 36th overall in the 2021 NHL Entry Draft, the 6'3 210 pounds left-handed defenseman was a late riser in the draft. After playing 17 games for Shattuck St. Mary's, Buium would move on to the USHL to play for the Sioux City Musketeers, where he'd have more of an opportunity to showcase himself in front of NHL scouts.
Buium started on Sioux City's bottom pair, but as the season went on, his role increased, as he was playing on both special teams and getting matched up against opposing teams' top lines. He'd finish the year with 26 points in 50 games, which was fifth on Sioux City and fourth for U18 defenseman.
This season at Denver University has been similar to last season for Buium as the season has progressed his game has improved. Buium has impressed with his skating ability and confidence with the puck.
Buium currently sits fifth among U19 defensemen in the NCAA with 17 points in 37 games played. He and fellow Red Wings prospects, Carter Mazur and Antti Tuomisto have helped Denver to the Frozen Four tournament which starts April 7th.
Sebastian Cossa
It seems like with goalie prospects there is a longer development path towards the NHL and patience is a team's best course of action. There are the rare occasions of the likes of Marc Andre-Fleury, but that can't be the standard for every high-end goalie prospect. 
Cossa has had an up and down WHL season so far after a very strong 20-21 campaign, with a record of 17-1-1 and a .941 save percentage. Granted with the restrictions last season, the Edmonton Oil Kings only played within their division and were dominant, only losing three total games. This season, Cossa has a record of 31-8-3 and a save percentage of .911, while still good, it is a significant decrease. It may be due to the adjustment of playing every WHL team again, but the Oil Kings haven't struggled as they sit first in the Eastern Conference. Cossa was selected to play for Team Canada in the World Junior Championships but wasn't able to get into any games after a subpar pre-tournament game.
Cossa is a unique goalie as he is a 6'6 goalie who is also extremely athletic. Cossa signed his three-year, entry-level contract with the Red Wings back in August, and being a late 2002 birthday, we likely see him playing in the AHL next season. Patience is key with goalies, and Cossa has plenty of upside, so the Red Wings traded up during the 2021 NHL Entry draft to take him at 15th overall.
Jonatan Berggren
After a short adjustment period, Jonatan Berggren has been able to translate his game from the SHL to the AHL and excel. In 56 games this season playing for the Grand Rapids Griffins, Berggren has 15 goals and 44 points, which is second only behind Taro Hirose. Berggren plays with a pass-first mentality and uses his speed to create time and space for himself to create offense.
His biggest criticism coming into the season was that he was a player who shied away from the middle of the ice for scoring. The Red Wings development staff made it a priority to develop Berggren in that area. 
With his importance to Grand Rapids and their playoff aspirations and with the play of the Red Wings over the past two months, it's looking more likely that Red Wings fans will have to wait until next season to see Berggren in the winged wheel. 
Simon Edvinsson
With the way the Red Wings defense has looked of late, Edvinsson can't come over fast enough. It is important to remember that generally, Red Wings management has shied away from playing 19-year-olds in the NHL, but with how good Edvinsson has been in the SHL this season, it's looking like he could be in the opening night lineup.
The sixth overall pick from the 2021 NHL draft has been a staple in Frolunda's top-four, averaging over 20 minutes a night playing with ex-NHLer Christian Folin. Edvinsson's skating ability and size allow him to jump into plays in the offensive zone and get back and break up a rush defensively. He is also one of the best defensemen I have seen at reading a pass from the opposition and breaking it up. 
Edvinsson's points per game of .43 (19 points in 44 games) put him only behind Rasmus Dahlin and Victor Hedman all-time in a single season for U19 defensemen in the SHL. Edvinsson also did this without powerplay time but was a mainstay on the penalty kill, averaging 1:34 minutes per game, which was first among U20 players in the SHL. It will be exciting to see him develop his offensive game over the next few seasons, and with Seider and, soon enough Edvinsson, the future of Detroit's blueline is bright.
William Wallinder
Wallinder might be Detroit's most improved prospect this season. After a lackluster 20-21′ season playing for MODO in Sweden's second-level pro league, HockeyAllsvenskan, there was some concern surrounding Wallinder's development. In the offseason, Wallinder signed with Rogle BK of the SHL, the same team Moritz Seider played for, and has really found his game.
The 32nd overall pick in the 2020 NHL Entry draft started the season as the team's seventh defenseman and spent time playing for Rogle's U20 team. As the season progressed, Wallinder was given more opportunity and, through 47 games this season, has four goals and 19 points this season, tying fellow Red Wings defensive prospect Simon Edvinsson.
Wallinder is in a similar mold as most of the defensemen that the Red Wings have drafted under Yzerman, as he's 6'4 and 190 pounds but is mobile with an impressive toolset.
Along with the development of his offensive game, Wallinder has also started to iron out his deficiencies in the defensive zone this season, which was his biggest area of concern coming into the year. Wallinder is under contract with Rogle BK until the end of the 22-23 season, and with his progression, there is no better place for him to be in the meantime. Wallinder was left off of Sweden's U20 World Junior Championship roster this past December, and with the tournament restarting in August, it will be interesting to see if he is selected this time around.
In this episode, we recap the World Championships, highlighting Kubalik, Seider, Mazur. Next, we take a long look at the 2023 first round and which players will be available at 9th and 17th.