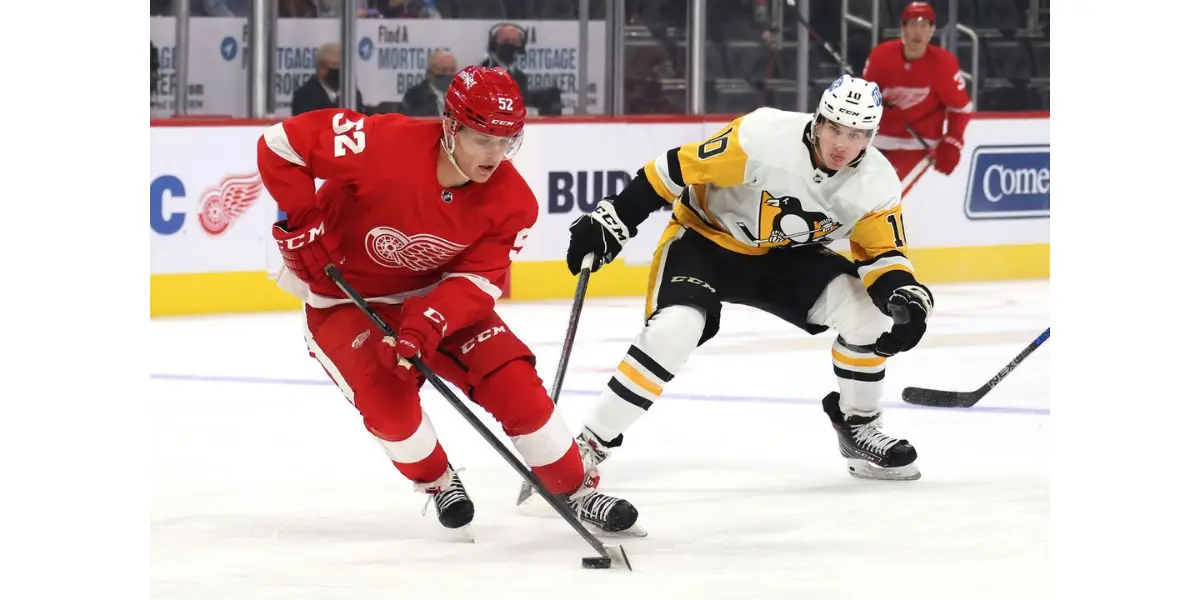 A three-part series looking at where the I slot Wings prospects in the 23-man depth chart.
With all of the draft picks over the last four years, it's easy to lose track of how prospects are performing. Starting with the 2018 draft, I selected 23 players to fill out the first Red Wings prospect depth chart at Inside the Rink. This 3 part series will provide updates to the forward, defensemen, and our goalie groups while highlighting one standout player. Anyone that is currently on the main Red Wings roster is going to be omitted from the list. First up, Forwards.
1st Line: Theodor Niederbach – Robert Mastrosimone- Jonatan Berggren

Niederbach 2 Goals /4 Assists /6 Points – 27 Games Played for Frolunda (SHL): While having a slow start to a season, Niderbach has the benefit of time to develop his offensive game to a pro level. His TOI average is 10:26/ GP which is very similar to Lucas Raymond in his early SHL career; Niederbach has only put up points in games where he plays more than his avg. TOI. Frolunda is a powerhouse and isn't in the position to just give away ice time to a player who isn't staying. Prediction for 2022 – Grand Rapids (AHL).
Mastrosimone 5G/6A/11P – 17 GP Boston University (NCAA): Already a good two way center, "The Master" is putting together a solid second season for the Terriers. A wonderful skater, the offensive skills seen in his juniors career are finally showing up at a consistent pace. His game is very similar to Veleno's but with less offensive upside than Joe. Grand Rapids really honed JV's defensive game first before letting him flex offensively this season. A similar development track for Mastrosimone would lead to an ELC and promotion this offseason with a possible late 2021 AHL debut depending on how BU performs come playoffs Prediction for 2022 – Grand Rapids Griffins (AHL).
Berggren 7G/9A/16pts – 20GP Grand Rapids Griffins (AHL): The injury bug seems to finally have left him alone and its payed off since the start of last season. While Grand Rapids has been depleted due to injuries and COVID -19 in Detroit, it hasn't slowed him down. He's capable of driving a line at the pro level with mid-grade talent. I expect a call up this season before Varna returns to see what they have at the NHL level. Prediction for 2022 – Detroit Red Wings (NHL).
2nd Line: Otto Kivenmaki – Cross Hanas – Elmer Soderblom

Kivenmaki – 5G/9A/14 pts – 28 GP Pelicans (Liiga): His small frame after his head injury has been the first concern when mentioning Kivenmaki. He's since added 40 pounds to his listed draft weight and has returned to form. His skill on the wall fits well into the system Coach Tanguay has implemented in his first year working with Blashill & Co. Prediction for 2022 – Detroit to start, down to Grand Rapids after 9 games
Hanas – 6G/16A/22 pts – 23 GP Portland (WHL): U.S. born prospect Cross Hanas is one of the true centers the Wings have with high level vision and playmaking ability. The Yzerplan has been focused on building the back end but picking up players like Hanas in the second round help speed the process along. Other than a 4 – game stretch at the end of November, Hanas finds the scoresheet consistently. Projection for 2022 – Grand Rapids (AHL)
Soderblom – 10G/4A/14pts – 27 GP: Currently tied for 8th in goals for the SHL. After starting the season playing less than 10 minutes a game, Soderblom has worked his way into consistent top 9 minutes and at times has gotten close to 20 mins/game. He's an elite shooter, similar to Laine but takes a while to acclimate to the speed. Once he's there its full steam ahead. Prediction for 2022 – Frolunda (SHL)
3rd Line: Sam Stange – Kirin Tyutyayev – Carter Mazur

Stange 2G/2A/4pts 16 GP, University of Wisconsin (NCAA). Stange has the benefit of a lack of RW depth in the Red Wings system. He hasn't shown much growth at UW and I expect him to stay for all four years to really develop. He'll likely reach double digit points to end the college season but now is the time to decide what type of player he'll be and really try to perfect those skill going into his junior year. Projection for 2022 – Wisconsin (NCAA)
Tyutyayev 0G/3A/3pts – 9 GP, Grand Rapids Griffins (AHL). "Kiril the Thrill" unfortunately has been out since early November due to injury but it looks like he will have ample chances to play in GR with injuries and a general lack of prospects on the roster compared to years past. His promising camp and start to the season are getting him enough hype to project as a steal when he makes the big club. Projection for 2022 – Signs his ELC but starts in Grand Rapids (AHL)
Mazur – 8G/6A/14pts – 14 GP, Denver University (NCAA). Mazur has been the prospect darling with his early season scoring stretch 11pts in his last 6 games. Mazur is not alone at Denver, a talented freshman class that includes Wings prospect Shai Buium is spreading the wealth up and down the score sheet. Mazur has multi point games in 4 of his last 6 games. If he keeps this up, I would expect an early departure following his sophomore year but scoring at this pace can only help speed up his arrival. Projection for 2022 – Denver (NCAA)
4th Line Pasquale Zito – Liam Dower Nilsson – Red Savage

There is a huge lack of wings in the farm system so I chose centers since depth up the middle is a huge need.

Zito – 8G/8A/16pts – 21 GP Windsor Spirfires (OHL). After not playing organized hockey last season, Zito is leading Windsor in face-off percentage and topped his rookie season scoring totals. Windsor has talent on both wings, which should help expand his playmaking abilities. His skating in tight spaces is far better than expected as well. Better passing and ice vision should be his main focus this year and will serve him well at the pro level. A lack of center depth in the minors will help earn him a promotion and ELC if he keeps this scoring pace up. Prediction for 2022 – Grand Rapids Griffins (AHL)
Dower Nilsson 0-0-0 7GP Frolunda (SHL). His "goose eggs" in Frolunda are not for a lack of skill. Nilsson averaged around 4 – 6 Minutes a night during his first stint. He was sent back to the Frolunda J20 team where he has 7G/12A/19pts in 17 games. This move benefits him due to a crowded roster that includes multiple higher priority Red Wings prospects. Nilsson has the most skill out of the three centers in this "line" and will likely get some serious time with the senior Frolunda club next season. Prediction for 2022 – Frolunda (SHL)
Savage 1-6-7 16GP Miami Ohio (NCAA). Red followed in his fathers footsteps by attending Miami University. The Redhawks freshman has put together a respectable freshman season so far and is likely going to consider it home for a few more seasons. Offense isn't going to come easy with the roster around him, perfecting his seam splitting passes and learning how to drive a line up the middle should be the Wings development staff's focus for him while in college. Though after his showing in the preseason prospect tournament and training camp, his college stint might be cut short should the Red Wings front office come calling. Prediction for 2022 – Miami University (NCAA)
Standout Player – It may seem like the easy choice with his success last year and currently, but Jonatan Berggren has taken this Griffins roster kept them in the hunt while everyone else takes trips down I-94 to Detroit. Before the season started, I was hesitant to throw all my eggs in his basket and kept my expectations tempered, but much like Raymond and Seider, I've let go and just learned to enjoy the ride.
Join us next week for part 2, covering the Red Wings defense prospects.