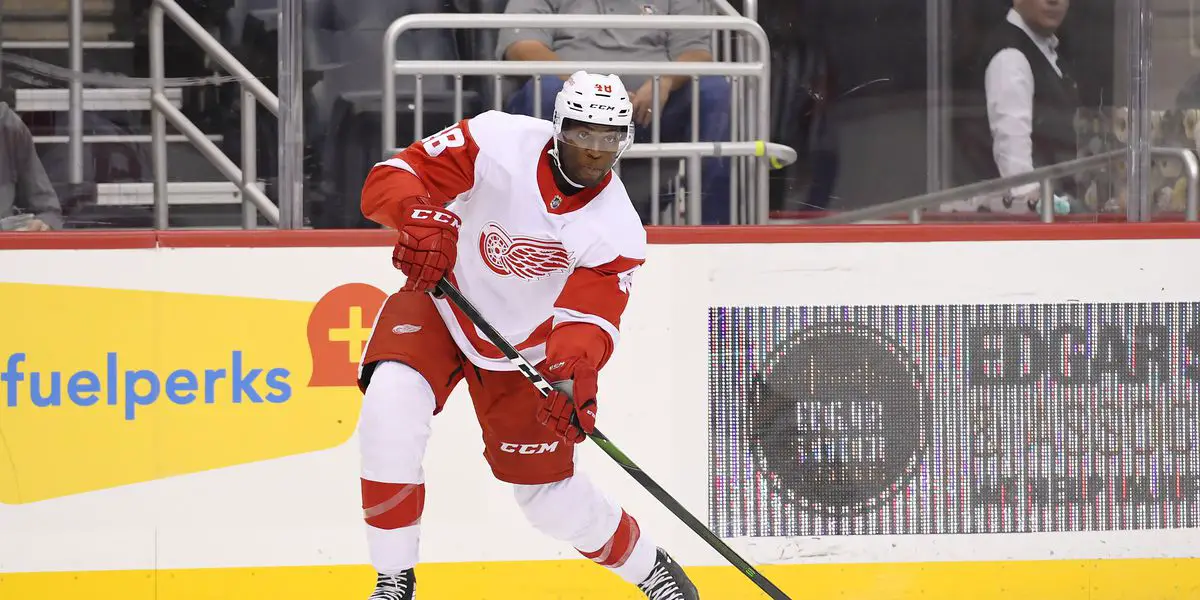 After defeating a mostly AHL Maple Leafs roster last night, the Detroit Red Wings will travel to Toronto tonight to play their final preseason game before rosters need to be set. All NHL teams must submit their 23-man roster by 5:00 pm ET on Monday. (check back at insidetherink.com/category/nhl/eastern-conference/atlantic-division/detroit-red-wings/ for all updates).
Last night, Toronto scored two goals in the game's first seven minutes before Detroit roared back with four unanswered goals for the win. Tyler Bertuzzi chipped away at the Toronto lead at the 17:48 mark of the first period. Elmer Soderblom continued his impressive preseason to tie the score 2-2 after two periods. Joe Veleno scored the winner just before the midway mark of the third. Bertuzzi scored his second of the night into an empty net with less than one minute to play to seal the victory for Detroit. Alex Nedeljkovic went the distance in the net for Detroit. The Red Wings outshot Toronto 27-23 for the game.
Tonight, the Red Wings will use a young roster with only six returning forwards and two returning defensemen in the lineup. Head coach Derek Lalonde indicated yesterday that the prospects that will play tonight are getting one last look before the opening night roster is announced. Returning forwards playing tonight include Filip Zadina, Jakub Vrana, Pius Suter, Givani Smith, Adam Erne, and Joe Veleno. Returning defensemen in the lineup include Gustav Lindstrom and Jordan Oesterle. Victor Brattstrom and Jussi Olkinuora will dress as tonight's goaltenders.
Prospects Dressing Tonight
Pontus Andreasson played 10:54 minutes last night against Toronto. Andreasson had one shot on goal and a -1 rating on the night.
Jonatan Berggren played 16:39, including 1:39 on the power play last night. Berggren had one blocked shot and a -1 rating against the Maple Leafs.
Cross Hanas played his last game one week ago against Chicago. Hanas played 10:30 minutes and had one shot on goal, two hits, and one takeaway against the Blackhawks.
Albert Johansson played his last game on Wednesday in Washington. In 20:17 minutes of playing time, including 3:20 with the man advantage, Johansson had two hits.
Jared McIsaac played his only game in the preseason opener against Pittsburgh. In 19:37 minutes, McIsaac had one shot on goal, three hits, and two blocked shots. McIsaac was also on the ice for 5:22, killing penalties for the Red Wings.
Donovan Sebrango played his last game against Washington last Friday. In 12:47 minutes, Sebrango had two hits and one takeaway.
Wyatt Newpower played his last game Saturday in Chicago. In 15:20 minutes, including 1:03 killing a penalty, Newpower had one shot on goal, one hit, one giveaway, and a +1 rating.
Eemil Viro played hit last game Saturday in Chicago. In 16:53 minutes, including 2:18 shorthanded, Viro had one shot on goal, one blocked shot, one giveaway, and a +1 rating.
Up Next: The Home Opener
Montreal @ Detroit Friday, October 14, 7:00 pm ET at LCA in Detroit, MI
In this episode, we recap the Red Wings' last three games versus St. Louis, Philadelphia, and Pittsburgh. David Perron scored his first hat trick as a Red Wing, Simon Edvinsson scored his first NHL goal, and more! We also discuss the Red Wings signing prospects Carter Mazur and William Wallinder to their ELCs, their impacts for the rest of the season in Grand Rapids, and if they could make the Red Wings next season. Marco Kasper is also reportedly coming over to North America for the rest of the season and could possibly report to Detroit.We wrap up by discussing the bottom of the NHL and where the Red Wings rank in the draft lottery odds, and which teams would be the best fit for Connor Bedard.Please rate and review our show on your favorite listening platform. Check out our partner's website at www.insidetherink.com for all your latest hockey news.