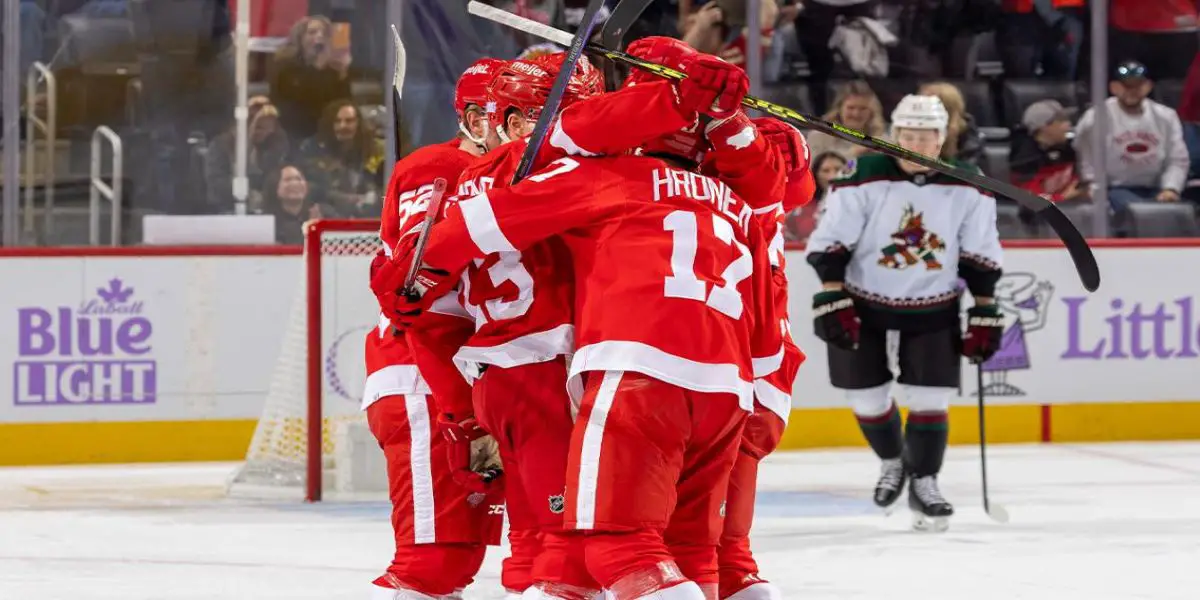 The Detroit Red Wings played 13 games in November and came out of the month with a 7-3-3 record. The month started nicely with three consecutive wins and ended with two losses. After 22 games, Detroit's overall record was 11-6-5, good for 4th in the Atlantic Conference.
Here are the Red Wings Top Performers for the month of November.
#1- Ville Husso
Ville Husso is the Red Wings Top Performer for the month of November. Husso has also now earned the right to be the #1 goaltender in Detroit. Husso started ten out of the Red Wings 13 games in November and had a record of 6-2-2, a .700 winning percentage, 2.68 GAA, .904 SV%, and two shutouts. Husso was named the first star in both his shutout wins and was also awarded the second star once and the third star one time. After Sunday's December win in Columbus, Husso has played 17 games and has a record of 10-4-3, with a 2.58 GAA and a .912 SV%, and he leads the NHL with three shutouts.
#2- Filip Hronek
Filip Hronek had a terrific month of November and has moved into third place in Detroit scoring. Hronek earned two first-star nominations and one third-star nomination in November. During the 13 games, Hronek tied the all-time Detroit record for defensemen scoring goals in four consecutive games. For the month, Hronek scored six goals, eight assists, 14 points, a +7 rating, and 37 shots on goal. In 13 games, Hronek helped solidify the Detroit power play while earning five power-play points. By the end of November, Hronek had played 22 games and had scored six goals, 14 assists, 20 points, a team-best +11 rating, and 52 shots on goal. Hronek is currently in the second year of a three-year contract extension. He has a cap hit of $4.4M annually and can become an RFA at the end of the 2023-2024 season.
#3- Dylan Larkin
Dylan Larkin has another excellent month for the Red Wings. After being the Top Performer in October, Larkin followed that up with three second-star nominations in November. Larkin played all 13 games in November and scored four goals, ten assists, 14 points, a +6 rating, and 51 shots on goal. By the end of the month, Larkin led the Red Wings in assists (16), points (25), and shots on goal (76). Larkin continues to play without a contract extension, and if he remains unsigned can become a UFA next summer.
Looking Ahead to December
The Red Wings started December by losing at home to Vegas on Saturday and defeating the Blue Jackets in Columbus on Sunday. The Red Wings will play in Tampa Bay tonight and will travel to play Florida on Thursday and Dallas on Saturday afternoon to close out the week. The Red Wings play 14 games during December, with five games at home and nine on the road. Detroit will likely need at least seven wins in December to remain in playoff contention in the difficult Eastern Conference.
With five picks in the top-50 of the 2023 NHL Draft, the Red Wings are in prime position to make a trade for a top-six forward. We breakdown fits of players that are potentially on the trade market and what a potential package could look like. We also start with how Red Wings at the World Championships are performing, focusing on Dominik Kubalik, Carter Mazur, and Lucas Raymond.