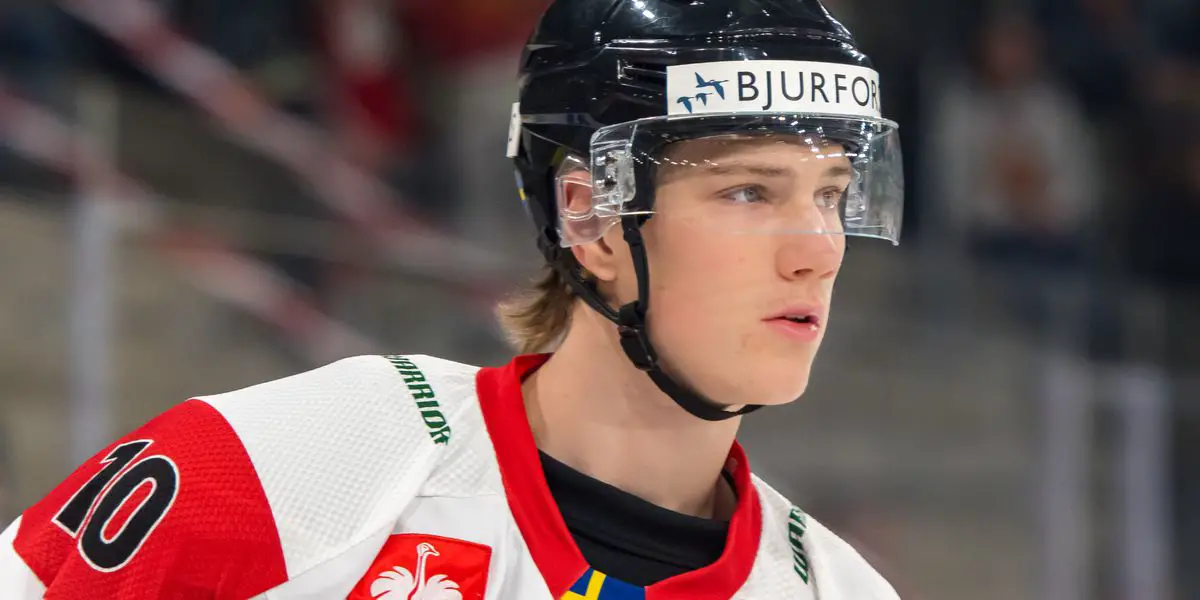 The Detroit Red Wings played their second game of the NHL Prospects Tournament in Traverse City on Saturday. The Red Wings were defeated 5-4 in an exciting game against the Stars.
Scoring Summary
1st Period
Detroit goaltender Jan Bednar made 14 saves to keep the game scoreless after one period.
2nd Period
Detroit scored two goals in the second period to take a 2-1 lead before Dallas scored late in the period to tie the game 2-2. Elmer Soderblom opened the scoring for Detroit. Trenton Bliss scored a power-play goal on a deflection from an Albert Johansson point shot to give Detroit the 2-1 lead. Kirill Tyutyayev assisted on both goals for Detroit.
3rd Period
Tyutyayev scored early in the third period to give Detroit a 3-2 lead. Dallas scored at the four-minute mark to tie the game 3-3. Cross Hanas scored on a beautiful breakaway pass from Soderblom to make it 4-3.
Dallas scored immediately after to tie the score 4-4. Dallas scored a power play goal in the second half of the period to take their first lead of the game. Dallas won the game 5-4.
Stars of the Game
Kirill Tyutyayev had another strong game for the Red Wings. He scored one goal and added two assists.
Jan Bednar made 18 saves and held Dallas scoreless during his half of the game.
Elmer Soderblom had a strong game for the Red Wings. Soderblom scored one goal, added one assist, and looked impressive all night.
Game Notes
Seth Barton and Drew Worrad were the alternate captains for Detroit.
Johansson had a huge hit during the first period.
The first power play unit consisted of Soderblom, Hanas, Worrad, Edvinsson, and Lombardi. The second unit had Limpar-Lantz, Tyutyayev, Piercey, Ivan, and Johansson.
Goaltending prospect Jan Bednar played excellent in goal for the Red Wings. Andrew Oke struggled for the Red Wings, allowing five goals in his half of the game.
Goaltender Sebastian Cossa did not suit up for Detroit. Other scratches were defensemen Donovan Sebrango and Tnias Mathurin and forwards Jake Uberti and Jacob Mathieu.
Dallas lost their first game in the tournament 6-2 against Toronto.
Up Next
Monday, September 19, 11:00 AM  Toronto vs. Detroit
You can follow the game live at http://www.detroitredwings.com
In this episode, we recap the Traverse City Prospect Tournament and which players stood out. We spend the rest of the episode previewing the Red Wings' training camp and potential storylines to follow.