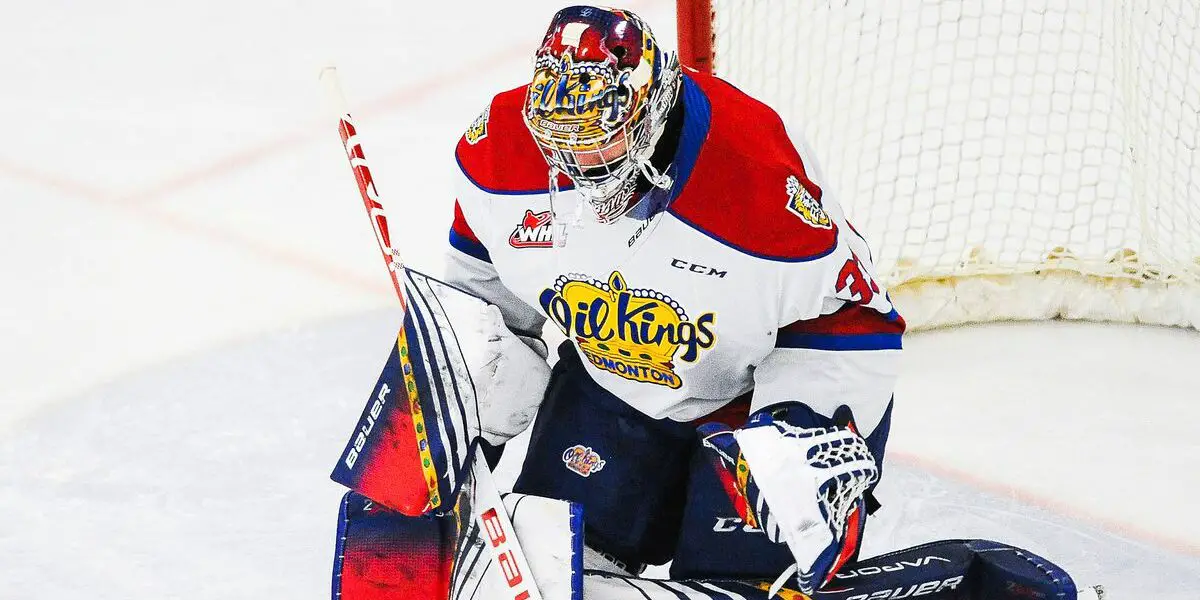 With long rebuilds comes trading away players that no longer fit into that specific team's competitive timeline. When you look at Detroit's rebuild, players like that would be Tomas Tatar, Gustav Nyquist, Anthony Mantha, Nick Jensen, and Andreas Athanasiou. With trading those players comes a silver lining; quality draft picks which turn into prospects. Detroit having a lot of draft capital over the past few years has meant more Red Wings picks competing in the World Juniors. The Wolrd Juniors is where the best of the best compete at the U20 level. In the 2020 tournament where the Red Wings had five prospects competing, such as Joe Veleno and Moritz Seider. In 2021, there were seven Red Wings' prospects in the tournament, including five Swedes highlighted by Lucas Raymond. The 2022 World Juniors is shaping up to be the most exciting yet for Red Wings' fans, as eight prospects will be competing in Alberta between December 26th through January 5th.
United States
Carter Mazur
Mazur was drafted 70th overall as a 19-year-old in the 2021 draft and was considered one of Detroit's more significant reaches by many experts. The Jackson, Michigan native was sought after by Red Wings' Director of Amateur Scouting, Kris Draper. Draper coached Mazur in the Little Caesars AAA program, so it'd be Draper if anyone knew Mazur's strengths.
Mazur wasn't viewed as a lock to make Team USA at the start of the 2021-22 season. At the beginning of his freshman season with Denver University, Mazur recorded 17 points in 16 games. Mazur, out of the draft, was profiled as more of a defensive winger who could chip in offense occasionally. He has been a pleasant surprise for Wings fans this year and could prove to be a nice grab in the third round. I'd look for Mazur to slot in somewhere in the middle-six for Team USA and possibly some powerplay time.
Red Savage
Easily the best name to come out of the 2021 NHL draft, if not any draft. Red, son of former NHLer Brian Savage, was a product of the U18 NTDP and was drafted in the 4th round at 114th overall. In his draft season, Savage was looked to shut down the top lines in the USHL and international play but also produced offensively. With 42 points in 48 games, Savage ended third in team scoring.
As a freshman at Miami of Ohio, Savage has had a successful start to his collegiate career. Playing with his older brother, Ryan, Red has 7 points through 16 games this season. Savage was also named NCHC Rookie of the Week on October 25th, where he recorded three helpers in 2 games versus Bowling Green.
He was the captain for the USA at the WJC-18 tournament in Texas this past May. Savage is a defensive center and was one of the last players to make the cut for the U20 WJC team. Savage will most likely be deployed in a bottom-six role with some time on the penalty-kill.
Canada 
Donovan Sebrango 
Sebrango has been a great story since he was drafted in the 3rd round in 2020. Due to the OHL shutdown last season, Sebrango could sign his entry-level contract and play in the AHL. As a teenager in the league, he hasn't looked out of place. Griffins' head coach Ben Simon has praised his work ethic and ability to not look out of place at the pro level. 
Sebrango's role in the AHL so far has been more of a shutdown defenseman. So far this season, he's put up three assists in 20 games for Grand Rapids. When you factor in that he's only 19 playing in one of the best pro leagues, and his primary role is stopping the opposing team's best players, that's a pretty good start. 
Sebrango was one of the last defensemen to make team Canada, but his style is something that the team was missing. When you have the likes of Owen Power and Olen Zellweger, you don't need all offensively minded guys on the back end. Sebrango is very sound in his own end and is willing to play physical and block shots. That's not to say he's completely inept on offense at all. In his draft year playing in the OHL, Sebrango recorded 30 points in 56 games. Sebrango will probably be Canada's 6th or 7th defenseman, so he'll probably not see too much ice time. But when he's out there, Sebrango will positively impact the game in all zones. I'm excited to watch his transition from playing against men at the pro level to playing against the best of the best at his age.
Sebastian Cossa
Cossa is the player I am most intrigued to watch. Steve Yzerman traded up to 15th overall for the 6'6 Edmonton Oil Kings' netminder in the 2021 draft. It was the worst kept secret that Detroit wanted to upgrade their goalie pipeline through trade and/or the draft. The Red Wings traded for Alex Nedeljkovic, which solved the goalie for the next few seasons. But with two first-round picks in the draft and two high-level goalies available, it was the perfect storm. Almost every analyst had Jesper Wallstedt ranked over Cossa, but not Detroit.
Cossa said after he was drafted that he believed that he was the best goalie in the draft, that kind of confidence is rare. His WHL numbers are awe-inspiring, 20-21′ season, Cossa went 17-1-1 with a .941 save percentage. So far this season, Cossa is 15-3-3 and has a .924 save percentage. In October, Cossa won the WHL's goalie of the month, where he posted a .943 save percentage. The way Cossa can move post-to-post for such a large goalie is comparable to Andrei Vasilevskiy. 
While Cossa is the favorite for the starter role for Canada, he has some competition. Fellow WHL goalie Dylan Garand has also had an impressive year for the Kamloops Blazers. With Cossa's pedigree and competitive style, I would guess that he is the starter for Canada, who are poised to bounce back and win gold in this year's tournament. 
Sweden 
Simon Edvinsson
Edvinsson is the player with the most expectations this tournament for Detroit prospects. The 6'5 defenseman was taken 6th overall in the 2021 NHL draft and is the epitome of "swing for the fences." Edvinsson had a significant growth spurt going into his draft year, and it took a while for him to get used to his newfound size. He bounced between the SHL and HockeyAllsvenskan as his decision-making wasn't quite there at the higher level. 
This season has been a completely different story for Edvinsson. He's been a mainstay on Frolunda's top pair and averaging over 20 minutes a night as an 18-year-old. With 12 points in 24 games, his pace at his age is third all-time for a U19 defenseman. When you are producing at the same pace as Victor Hedman and Rasmus Dahlin, you are doing something right. Edvinsson has also been doing this well with very little powerplay time. With his reach and skating ability, he's quickly become one of the best defensemen in the SHL.
Edvinsson will be the #1 defenseman for Sweden in the tournament and will be looked at to play in both the offensive and defensive zones. With shifts like this against men, I am excited to see what Edvinsson can do against players his own age.
Theodor Niederbach
Theodor Niederbach was taken 51st overall in 2020, which was acquired in the Andreas Athanasiou trade to Edmonton. Niederbach was a bit of an unknown as he missed the 18-19′ season with a knee injury. Losing a year of development can seriously impact a player's trajectory, but it didn't seem to affect his play. In his draft year, Niederbach scored 48 points in 40 games at the J20 level in Sweden.
Niederbach, this season has been slowly progressing playing for Frolunda with previously mentioned Simon Edvinsson. Through 28 games, Niederbach has two goals and four assists, playing both center and wing. In Frolunda's system, it's hard for young forwards to get consistent ice-time and opportunity. When Lucas Raymond played last season, he was primarily used on the third line due to his age. In more recent outings, Niederbach has been playing on the second line with fellow Red Wings' draft pick Elmer Soderblom.
I would expect Niederbach to slot in somewhere into the middle-six, either at center or right-wing. During line rushes on Sunday in Red Deer, Niederbach was the third line center. He's an underrated playmaker, so look for Niederbach to be on one of Sweden's powerplay units. 
Finland 
Eemil Viro
Viro is one of my favorite prospects in Detroit's system. The 3rd rounder from 2020 has spent the last three seasons playing for TPS in Liiga. There's nothing flashy about Viro's game; his game consists of smooth skating and a great first pass. In 26 games this season, Viro has a goal and a couple of helpers. Viro has been a regular in the top-4 and averaging over 17 minutes a night throughout his time with TPS.
Viro was an impact player in last year's tournament, even setting up this goal against rival Sweden. 
Viro will look to help Finland improve on their bronze medal in the last tournament in an increased role. Look for Viro to see top-pairing minutes with a presence on the penalty kill.
Czech Republic
Jan Bednar
Bednar is a goalie prospect that has started to get lost in the shuffle of all the prospects that Detroit has drafted over the past few years. The 6'4 netminder has had an up and down start to his young career. He spent his draft year playing at the pro level split between the Czech and Czech 2 leagues. Bednar struggled the past two seasons, but this season seems to be a different story. With a transition to North America playing for Acadie-Bathurst Titan in the QMJHL, Bednar has a 10-6-2 record, and a .902 save percentage.
Bednar was on the 2021 Czech Republic WJC roster but couldn't get into any games. This tournament could be a different story as both of the other goalies from the last tournament are not on the Czech roster. Bednar will have an excellent opportunity to compete with Jakub Malek for the starting role. Bednar played in the Traverse City Tournament this past September and looked solid. If he can bring that play to Alberta, the Czech team could surprise teams.