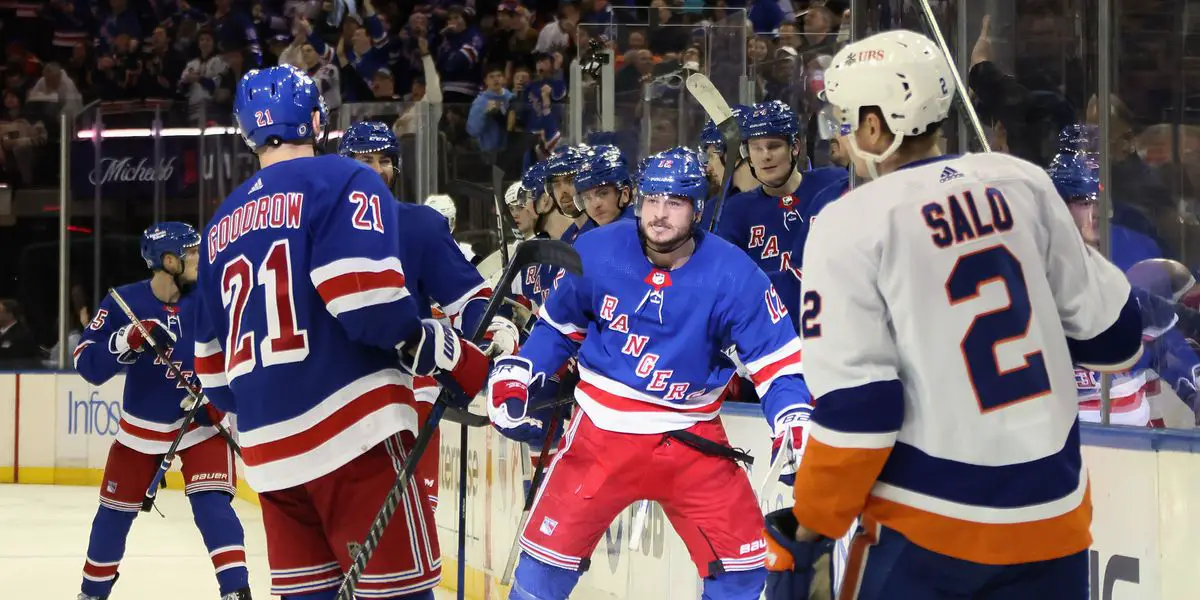 A couple of significant themes stood out in the NY Rangers' 5-3 triumph over the NY Islanders last night. Those two themes frame this breakdown of the Blueshirts' eighth victory in their previous nine games. So let's get to it.
THAT'S GOOD: A TALE OF REDEMPTION AND RESILIENCE 
REDEMPTION: TEAM
Redemption is the word that kept cropping up last night. It's a word that can be applied to the team itself, exacting some revenge for the way they lost to the Islanders the previous time they saw each other. In that tilt, the Rangers had a 3-1 lead heading into the third period, only to give up three goals (including one late) to lose a heartbreaker.  
Fast forward to last night, and the Rangers found themselves losing heading into the final frame, only to score three unanswered goals, including one late (more on that in a second) to secure the win. As they say, turnabout is fair play. (Unintentional Rhyme Alert)!
REDEMPTION: KAAPO KAKKO
More important were the individual acts of redemption. No more so than Kaapo Kakko. This was a game the Rangers were in control of predominately; however, their mistakes seemed to once again end up in the back of their net. The most egregious of these was a sequence early in the second period when Kakko possessed the puck behind the Islanders' net but proceeded to weave his way back and forth to the blue line. This, unfortunately, led to Barzal picking his pocket, racing down the other end on a breakaway, and roofing a backhander past Igor for a 2-1 Islanders lead. It was an embarrassing and glaring moment for Kakko.  
Credit the Rangers' leaders, namely Kreider and Goodrow, for going over and telling him to keep his head up. That served him well as he had his head up late in the third period when K'Andre Miller made an insanely beautiful pass towards the net to a streaking Kakko, who roofed a beauty over a surprised Sorokin for a 4-3 lead the Rangers did not relinquish.  
A comeback win for the Rangers would have been satisfying in any capacity, but the fact that it was Kaapo Kakko that netted the game-winner, made it a full-circle moment. A moment that might resonate with him for the rest of the season and help his overall growth.
REDEMPTION: JULIEN GAUTHIER
Kakko wasn't the only player who had something to prove. Julien Gauthier had previously been a healthy scratch for a few games (quite inexplicably, if we're being honest.). However, due to an unacceptable Blais turnover last game and subpar play overall, Gauthier took his spot and should be staying for a while.
In the second period, he took a nice little pass from Goodrow (who had a great overall game) and used a burst of speed to get around Robin Salo. Of course, we're used to seeing that from him, but then he made a beautiful move to get a goal through Sorokin's five-hole, tying the game at two. It was a double dose of redemption since it showcased why he should be in this lineup and possibly put what he cannot finish resting. That remains to be seen, but this season, especially, there has been evidence he's beginning to find another gear. He was rewarded with another assist later in the third period as he threw one towards the net that deflected off Goodrow for a goal, which again tied the score. 
RESILIENCE
Resilience is a trait you heard a lot about last season. No Quit In NY was not just a hashtag but a state of mind. However, this aspect was sorely lacking for most of this young season. There's a sense now that the fight, drive, and never-say-die attitude has returned to the team. Last night was a game that would have resulted in defeat not so long ago. It would have been another contest where the metrics looked okay, we played well overall, but nothing to show for it in the standings. All that reflects is a consolation prize and "moral" victories which feel hollow.
Most fans have come to accept that the Rangers are a roller coaster ride of emotions. We know that they will never be perfect. However, what we've come to count on is that they will also never be out of a game and give every ounce of effort humanly possible. Losses will happen and can be accepted if this team leaves everything out on the ice. That vibe is now finally starting to permeate throughout.
THAT'S BAD!
POWER PLAY
This section will be brief because, despite it being a close game the Rangers had to scrap for, overall, they played well. However, the team was afforded several opportunities to take over this game with careless penalties by the Islanders and only proceeded to go one for six on the power play.  
Thankfully, this team is finding its stride somewhat at even strength, but the power play is still an asset for us when it's humming, so we need to take more advantage of it when the situations arise.
POSTS
I think I might make this an evergreen section for these recaps. It will become its header, and we'll keep a counter of how many posts the Rangers hit. Since hitting the post has become redundant, I will be as well when I say that I have NEVER seen this many DINGS and CLANKS in such a short number of games as long as I've been watching hockey.
Thankfully, the Islanders evened out the karma a bit with two posts of their own in a quick sequence of the third period, but still, it continues to be baffling and frustrating.
CAN I GO NOW?
I realized that the name Adam Fox doesn't appear a lot in these recaps, and I think that's just because he's so damn consistent night in and night out; it's come to be expected. He "only" had one assist last night, but the guy is a rock and a star for this team. I still marvel at what an absolute steal he was from the Hurricanes for only two second-rounders.
Let's start putting some respect on empty netters, please. I joke how empty netters never get enough love and last night was a perfect microcosm of why. What an incredible effort and play by Vincent Trocheck to fight off a couple of Islanders, corral the puck, and fire into the empty net to secure the game. I know there is no goalie, but you're telling me that's not more deserving of praise than the goal that merely deflected off Goodrow into the net?
Some aspects will never show up on the scoresheet. Please don't dismiss the Chris Kreiders and Barclay Goodrow's of the team coming immediately over to Kaapo Kakko after his huge miscue. With young players, confidence is vital. Part of that is gaining teammates' trust and knowing they have your back, especially in times of adversity. Perhaps, Kakko's goal wasn't directly a result of their input, but that type of leadership can't be understated, even if those players don't have a "C" on their chest.
So now we have a mini-break for Christmas, but the team jumps right back into the fire with our next game at home Tuesday against the resurgent Washington Capitals.
Happy Holidays everyone! Please be safe and well!
In this week's episode we discuss the new rumors regarding the Rangers coaching situation. Then go on to the fun stuff discussing the impact Tkachuck's play will make on the game, Rangers players and more. Thanks for listening! Please rate and review our show on your favorite listening platform. Check out our partner's website at www.insidetherink.com for all your latest hockey news.