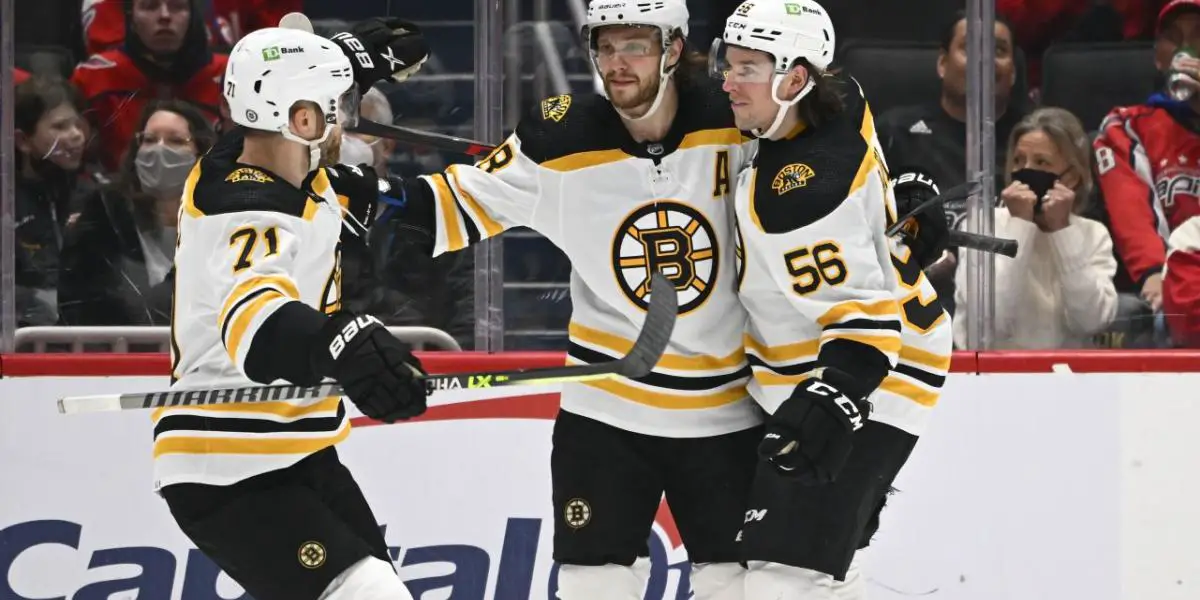 When the Bruins take on the Ottawa Senators tonight, they will look to get back on track and secure a win after two tough losses against playoff teams. The main problem for the Bruins has been the loss of key players during injury and a lackluster power-play that seems not to be operating like a well-oiled machine. The Bruins have lost three of their last four games and have seen their power-play go 0 for 13 during that span. The one bright spot of the previous four games was their overtime win over the Tampa Lightning, but they haven't been able to keep that momentum. With injuries to Hampus Lindholm, Matt Grzelcyk, and now Brandon Carlo, the defensive core is in shambles as the Bruins look to rebound and find some momentum ahead of the playoffs. They are looking to secure a win tonight and an Islanders loss to guarantee their ticket will be punched.
Bruins Missing Three For Tonight
One of the missing keys to the power-play has been David Pastrnak, as he is set to miss his fifth straight game after exiting their matchup on April 4th against the Columbus Blue Jackets. The Bruins are taking the slow approach with Pasta's nagging core injury as they want to leave no doubt about his health before bringing him back. This shows that Head Coach Bruce Cassidy is looking at the big picture as he understands that a playoff run will require Pastrnak if the Bruins look to make a deep run this year.
This is the same approach the Bruins are taking with top blueliner Hampus Lindholm as not much information has been provided about his status as he is set to miss his fourth game since being knocked out of the Bruins matchup against the Detroit Red Wings on April 5th.
As for the remainder of the Bruins defense, they will be missing Brandon Carlo, who is still dealing with an upper-body injury that many speculate has to do with his head and the hit he sustained during the game against the Washington Capitals on Sunday. He was able to suit up for Tuesday's game against St. Louis but had to exit early as entering the contest; Carlo was reported to have felt sick.
B's Return Grzelcyk to Lineup
The Bruins did get some good news as they are expected to return Matt Grzelcyk to the lineup tonight after he sustained an injury the other day in Washington, forcing him to miss one game. With the return of Grzelcyk, the Bruins do get back one of their top-four defensemen as he will be paired up with Josh Brown tonight on the second pairing. Bruce Cassidy has penciled in Mike Reilly alongside young star Charlie McAvoy to form the top pairing. He has the combination of Derek Forbort and Connor Clifton to round out the third pairing tonight. The Bruins did have Jack Ahcan called up from Providence on an emergency basis, but he will sit as Grzelcyk has been cleared and looks good to go.
Frederic Heads to Dog House as Cassidy Shakes Up Lines
As for the Bruin's forward lines, Patrice Bergeron is set to play after getting the day off from practice yesterday for maintenance, as he's set to anchor the top line once again alongside Brad Marchand and Jake Debrusk. As for the second line of the Bruins, that will shake up slightly as Jesper Froden has been called up from Providence in the wake of Trent Frederic being a healthy scratch tonight as he's been put into Bruce Cassidy's dog house. Jesper Froden will be on the right-wing as he slots in with Taylor Hall and Erik Haula. With Frederic's benching, Tomas Nosek will slide into the third line left wing spot alongside Charlie Coyle and Craig Smith as Cassidy attempts to jump-start their production. As for the fourth line will still have Nick Foligno on the left wing, but Curtis Lazar will bump from center to right wing as Cassidy wants to get a look at Marc McLaughlin at the center spot tonight. McLaughlin did play some center during his days at Boston College, so it's important the Bruins evaluate his ability as being flexible with positions in this league comes in handy.
Ullmark Looks to Right the Ship
The Bruins will have Linus Ullmark in goal tonight as he looks to get back on track as his last outing was on Sunday during the loss to Washington. This will be Ullmark's 36th game started this season as he enters tonight's matchup with a 23-10-2 record as he goes for win number 24 on the season. The Bruins are also looking to climb back into the top three in the Division as they sit just one point behind the Tampa Bay Lighting, who are scheduled to play the Anaheim Ducks tonight.  
Episode 51: Interview w/Jack Ahcan Episode 51 is back in action talking about the New York Paingers ITR bet, Can Buffalo Sabres make the playoffs? Is Vancouver in the wrong on the Boudreau treatment? Is Tocchet the right guy? Is Daryl Sutter the last Dinosaur in the NHL?YouTube: https://www.youtube.com/@insidetherinkTwitter: https://twitter.com/CueTheDuckBoatzFacebook: https://www.facebook.com/Cuetheduckboats/Thanks for listening! Please rate and review our show on your favorite listening platform. Check out our partner's website at www.insidetherink.com for all your latest hockey news. Also, catch all of the games in this year's NHL season by signing up for ESPN+ at Insidetherink.com/ESPN