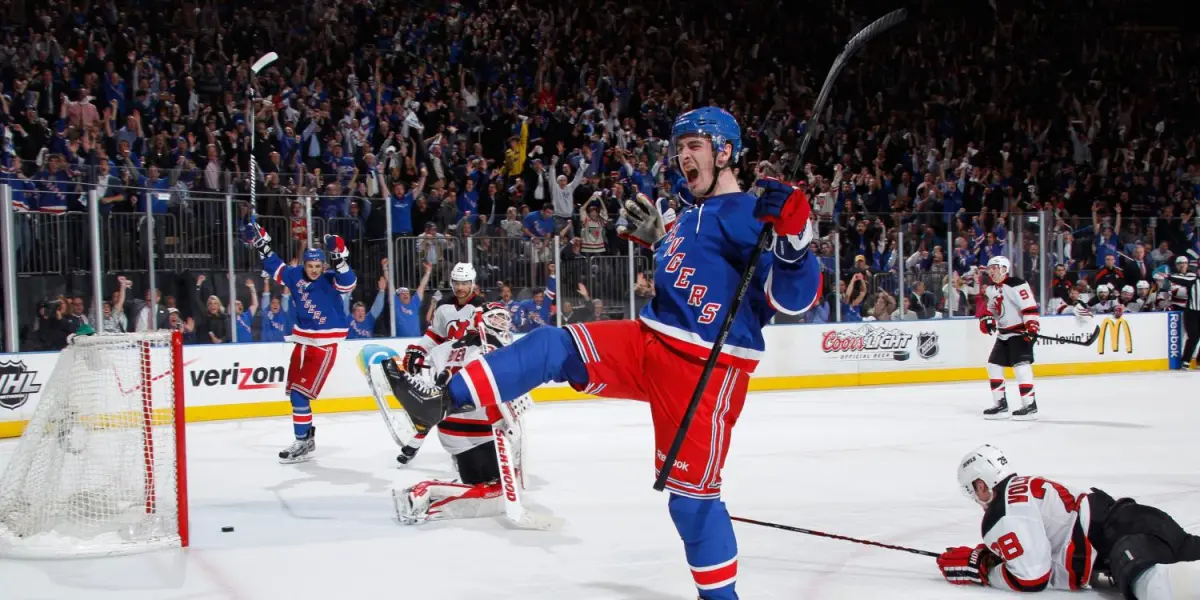 The New York Rangers selected Chris Kreider 19th overall in the 2009 NHL Entry Draft. The Boxford, Massachusetts native turned pro after winning two National Championships in three seasons at Boston College. On the heels of the 2012 National Championship, and with the ink still moist from his contract, Kreider jumped into his first NHL game… in the playoffs. Kreider burst onto the scene that playoffs with five goals and two assists in his first playoffs. He still holds the NHL record for most playoff goals before playing his first NHL regular-season game.

Fast forward ten years and that young phenom is still electrifying Madison Square Garden crowds on a nightly basis, albeit he's able to grow a face-mullet now. Kreider's skill has always been undeniable. Since he debuted on the Rangers during the 2012 playoff run that ended with a Game 6 Conference Finals overtime loss to the Devils, the 6'3" 220 lbs winger has been the fastest skater on the Rangers. Carl Hagelin and a few others may be able to contest that, but Kreider has always had the rare combination of size, speed, and skill.

After a year of call-ups and assignments to Hartford, Kreider finally stuck with the big club in 2013 and never looked back. Since cementing himself in the NHL during the 2013-14 season, Kreider has had six 20 goal seasons. In the only two years, he hasn't hit at least 20 goals; he played in less than 66 games. The knock on Kreider has always been that he's a streaky player, and he MIGHT hit 30 goals one year. He'll explode for a few weeks and then disappear.
Until this season, his high-water mark for goals was 28, which he's hit twice in his ten-year career. Only three Rangers in the 96-year history of the franchise have ever scored 50 goals in a single season; Vic Hadfield in 1971-72 with 50, Adam Graves in 1993-94 with 52, and Jaromir Jagr in 2005-06 with 54. The man who many believe should be wearing the C on his chest is on the precipice of becoming the fourth. As of today, April 6, with thirteen games remaining, he's three goals away at 47 from a threshold no one thought he would ever hit. He's not a pure sniper in the vein of Alex Ovechkin or Austin Matthews, but he's become one of the best power forwards in the modern NHL in the mold of players like Jarome Iginla or his former teammate Rick Nash.

Kreider has aged like a fine wine and is having his best season at the ripe old age of 30. As the only holdover from the last core group that went to three Conference Finals in four years and one Stanley Cup Final, Kreider is ushering in a new collection of talented young Rangers with hopes of going a little further than the last one did. With 13 games remaining and the way he's been playing all year, Kreider could easily get to 50. The real question is, can he get hot enough to catch the All-Time Rangers record of 54 set by Jagr in 2005-06?
This week we have on the Legend himself, Bill Pidto. We discuss the broadcast, the Rangers 2nd half and do our own fastest 150 seconds on a podcast.Thanks for listening! Please rate and review our show on your favorite listening platform. Check out our partner's website at www.insidetherink.com for all your latest hockey news.