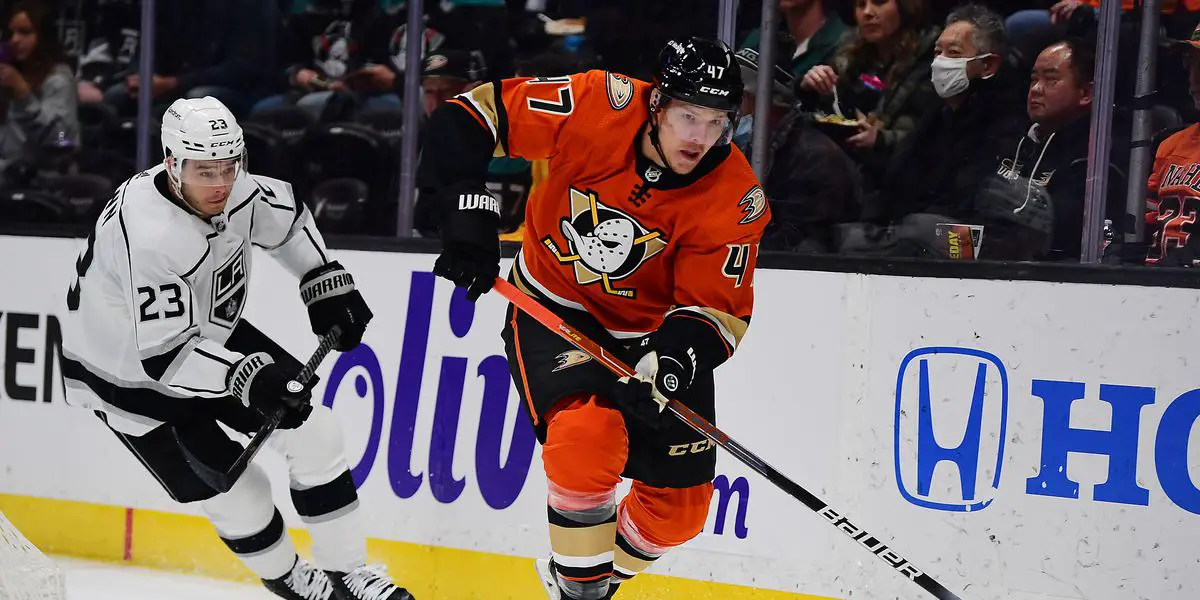 For weeks, there have been trade rumors surrounding the Boston Bruins regarding the possible acquisition of a top left-side defenseman. Last night those rumors became a reality as Don Sweeney was able to pull off the best-case scenario trade with the Anaheim Ducks to acquire 28-year-old defensive stud Hampus Lindholm. Sweeney was able to dump a bad contract and preserve the top-end prospects the Bruins barely have. The Bruins came down to trading for either Arizona's Jakob Chychrun or Anaheim's Hampus Lindholm, with Arizona wanting an insane package that included the talented Fabian Lysell. Don Sweeney wouldn't budge and instead went elsewhere. He orchestrated a best-case scenario deal that didn't mortgage the future but instead has the balance of an all-in for this season and securing the future of the top defensive pairing for years to come.
Breaking Down the Lindholm Trade
When looking at the trade deal, it appears the Bruins fleeced the Ducks, especially now that the news has come out that Lindholm is signing an extension to stay in Boston long term. Breaking down the trade, you start to see what you gave up just for Lindholm as part of the compensation was for Anaheim to take on a bad contract and retain part of Lindholm's salary. The significant pieces going to the west coast were a 2022 first-round pick and Urho Vaakanainen, which got you the rights to Lindholm to play in Boston. There were two other picks involved in this trade as well; Boston sent their 2023, and 2024 second-round picks to Anaheim, one of the picks was for the Ducks to retain 50 percent of Lindholm's salary and the other pick as compensation for the Duck's taking on John Moore's contract.
By dumping Moore's contract, Don Sweeney cleared his 2.75 cap hit this year and his 2.25 cap hit next year. This gives the Bruins cap flexibility to continue trading at the deadline and bringing in win-now pieces and the flexibility for next year to sign free agents this offseason. With only losing Urho Vaakanainen, this has to be a win for the Bruins as other teams were looking to acquire Fabian Lysell or Mason Lohrei in their package. Yes, Vaakanainen is a former first-round pick, but he is still unproven and most likely will not transform into the player Lindholm is, making him the perfect asset to give up in return.
How the Extension Breaks Down
Trading for Hampus Lindholm was the first domino that had to fall, while the second domino to fall was his agreeance to sign an extension to stay in Boston. Today on March 20th, Don Sweeney and the Bruins were able to do just that as Lindholm agreed to an eight-year extension for a reported $6.5 million AAV that keeps the 28-year-old in Boston till he's 36. This is great news for Boston, who recently signed their top defenseman Charlie McAvoy to an eight extension, solidifying their top defensive pairing for years to come, leaving no question marks anymore. The Lindholm extension also signifies that Boston is not looking to rebuild anytime soon as they now have a top defensive pairing to build around along with goaltender Jeremy Swayman and 25-year-old David Pastrnak, who they will most likely resign this offseason to a new extension.
Who is the Odd Man Out on Defense?
Now that Lindholm is a Boston Bruin, the defensive pairings of Boston will now be switched up, hopefully creating some more balance on the second and third pairing. It's a no-brainer that Lindholm is sliding into that top left spot alongside war horse Charlie McAvoy creating a dominant pairing that will not be easy for opposing offenses to penetrate. The second pairing of Matt Grzelcyk and Brandon Carlo will stay the same as they have built chemistry and seem to work well together, with the real question mark coming to the third pairing. The third pairing of Derek Forbort and Connor Clifton is a combo that head coach Bruce Cassidy seems to like and does not often mess around with. They are also a pairing that Bruins fans get frustrated with the most, especially during the Bruin's most recent loss to the Minnesota Wild, where both players looked lost at times, specifically Clifton. If Bruce Cassidy sticks to his routine, the odd man out on the Bruins defense would be Mike Reilly, a guy who was acquired last trade deadline and someone who could be dealt this trade deadline along with Derek Forbort as Don Sweeney is not done wheeling and dealing. The Bruins have Jack Ahcan waiting in the wings in providence as he's filled in a couple of times this season and looks to latch onto a full-time spot in Boston. With what Ahcan lacks in experience, he makes up in skill and potential, making this a perfect scenario to let him be your seventh defenseman for depth. The Bruins just got a lot better with the Hampus Lindholm trade as they look to go all in this season for the Stanley Cup and look to contend for years to come.
Don Sweeney Still Has a Few Trades Up His Sleeve
Don't be surprised if Don Sweeney is not done, though, as there is still time to swing a couple of deals before the deadline closes. Another perk of the Lindholm deal is that Sweeney kept next year's first-round pick and this year's second-round pick, giving him plenty of capital to negotiate still and fill the other holes around the roster. Lindholm was the first domino to fall and get the fire going, now look for potential trades of Andrew Copp from Winnipeg Jets, Max Domi from the Columbus Blue Jackets, and Tyler Bertuzzi from the Detroit Redwings as all three players have been linked to Boston to fill holes at center and winger.
Episode 51: Interview w/Jack Ahcan Episode 51 is back in action talking about the New York Paingers ITR bet, Can Buffalo Sabres make the playoffs? Is Vancouver in the wrong on the Boudreau treatment? Is Tocchet the right guy? Is Daryl Sutter the last Dinosaur in the NHL?YouTube: https://www.youtube.com/@insidetherinkTwitter: https://twitter.com/CueTheDuckBoatzFacebook: https://www.facebook.com/Cuetheduckboats/Thanks for listening! Please rate and review our show on your favorite listening platform. Check out our partner's website at www.insidetherink.com for all your latest hockey news. Also, catch all of the games in this year's NHL season by signing up for ESPN+ at Insidetherink.com/ESPN