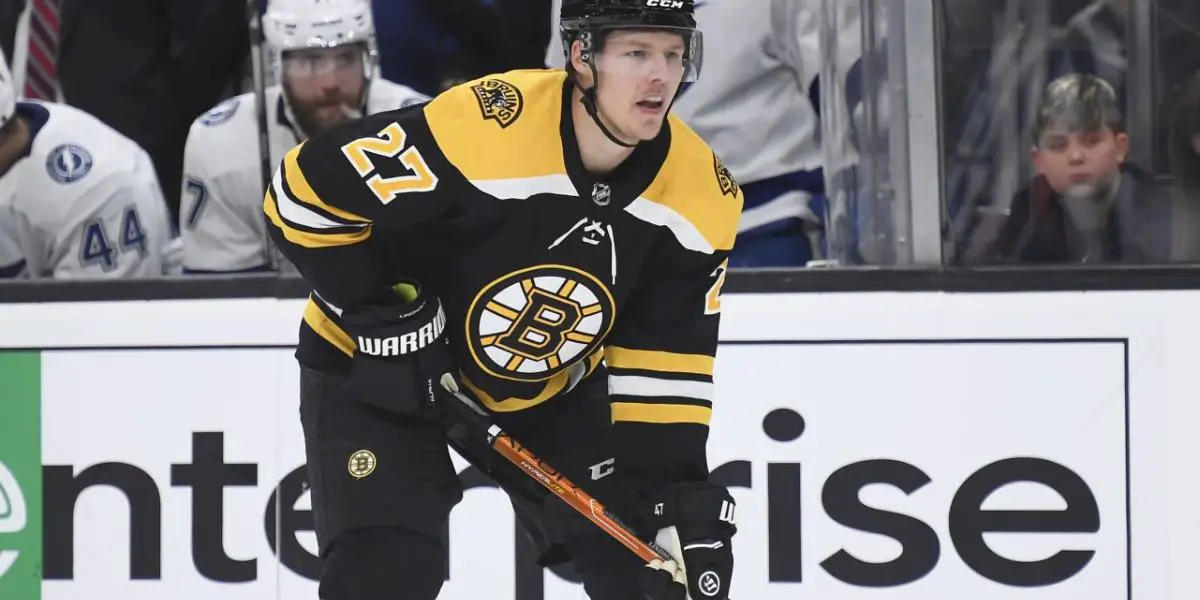 David Pastrnak's 12 career hat trick propelled the Boston Bruins to a 3-2 win over the Tampa Bay Lightning Thursday night at TD Garden in Boston. Pastrnak scored his third of the night with 4:10 remaining to help the Bruins move ahead of the Lightning for third place in the Atlantic Division standings. Boston is in a virtual tie for second with Toronto but has played one more game than the Maple Leafs.
Pastrnak's heroics were not the only story in Boston's win. Newly-acquired defenseman Hampus Lindholm made his Bruins debut after being obtained in a trade on March 19th with Anaheim. Lindholm showed why the Bruins extended his contract for eight more years by playing just under 24 minutes in the win. The 6'4", 216-pound defenseman provided much-needed physicality on the ice and also an ability to move the puck quickly out of the defensive zone.
Lindholm became the first Bruins defenseman since Charlie McAvoy in 2017-18 to record a point in his debut with Boston, assisting on Pastrnak's first goal. McAvoy is now Lindholm's defense partner, and the pair was dominant in their first game together.
In 12:37 of 5-on-5 ice time together, the Bruins held a 21-9 shot attempt advantage, 12-2 shot edge, 10-3 scoring chance advantage, and Boston outscored Tampa Bay 2-0. And the Bruins held on to their one-goal lead late after having difficulties doing so recently, and Lindholm was a significant factor.
The trade and extension for Hampus Lindholm were received with mostly praise from the media and Bruins fans, but Lindholm showed even more value and promise than expected in his first game. The Bruins got a huge win and now have renewed hope that they may, in fact, make another run at a Stanley Cup.
Season 2. Episode 38. Special Guest Terrence Wallin
–
Bruins Benders Podcast
Maine Mariners Coach Terrence Wallin makes a return visit to recap the season. Should the Bruins make room for Tyler Bertuzzi? Will the Bruins move some core pieces? I guess there is more time for golf and more!