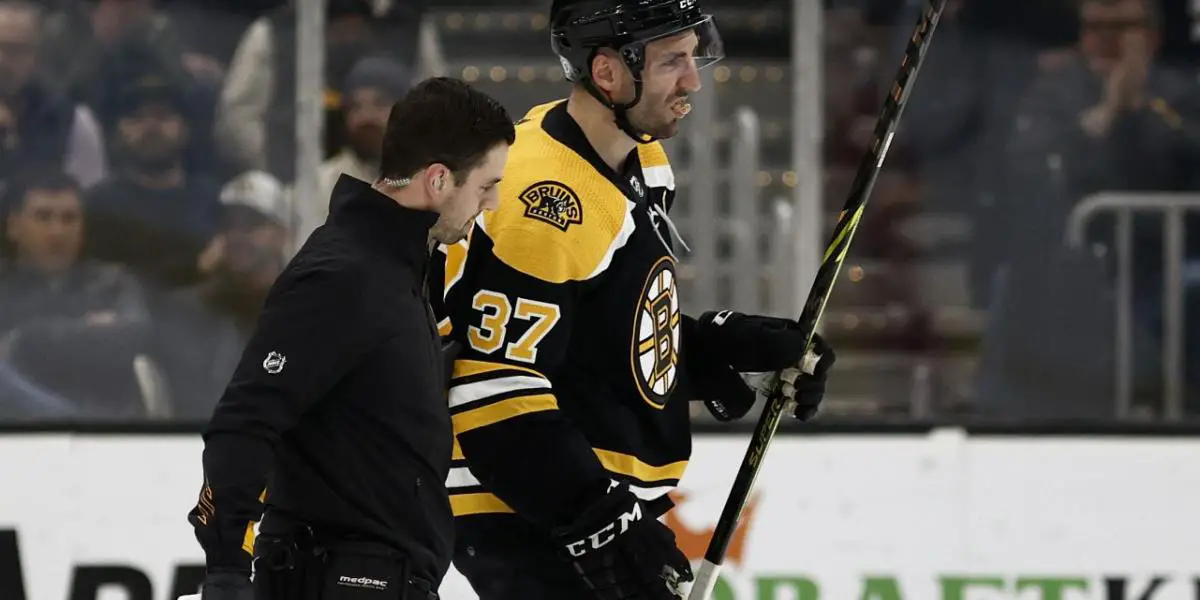 For those that have watched the last two games that featured no Patrice Bergeron anchoring the top line and have worried, it has officially gotten worse. What was originally only supposed to be a one or two-game absence turned into three straight when Bergeron was announced he would not suit up against the Montreal Canadiens for tomorrow night's game. Those three games have now officially turned into an IR stint for the Bruins Captain that requires him to be out seven days from when he initially sat out, which was March 16th against the Minnesota Wild. This status puts the next possible game for Bergeron being able to play in on Thursday, March 24th, when the Bruins host the Tampa Bay Lightning in Boston.
The injury that Bergeron is dealing with is some type of arm laceration that he sustained in practice last week and seems to have gotten an infection as the Boston training staff is taking the safe approach when it comes to the top-line center. The doctors will treat the infection and reevaluate Bergeron in the coming days, ensuring no lingering infection will occur once he returns to the ice.
In Bergeron's absence, the Bruins have rolled out two different looks through the two games so far, with the first option being the promotion of fourth-line center Tomas Nosek against the Minnesota Wild that resulted in a Bruins Loss. The second look the Bruins used was the promotion of Jack Studnicka from Providence, which actually worked as the 23-year-old had an assist on a Brad Marchand goal before sustaining an injury while blocking a shot during the Bruins 4-2 win over the Winnipeg Jets that has left him day-to-day. With the second and third lines of the Bruins locked in and on fire, head coach Bruce Cassidy is very reluctant to move Charlie Coyle or Erik Haula off their respected lines leaving Tomas Nosek to be once again the top-line center against the Montreal Canadiens for tomorrow night's game.
Episode 51: Interview w/Jack Ahcan Episode 51 is back in action talking about the New York Paingers ITR bet, Can Buffalo Sabres make the playoffs? Is Vancouver in the wrong on the Boudreau treatment? Is Tocchet the right guy? Is Daryl Sutter the last Dinosaur in the NHL?YouTube: https://www.youtube.com/@insidetherinkTwitter: https://twitter.com/CueTheDuckBoatzFacebook: https://www.facebook.com/Cuetheduckboats/Thanks for listening! Please rate and review our show on your favorite listening platform. Check out our partner's website at www.insidetherink.com for all your latest hockey news. Also, catch all of the games in this year's NHL season by signing up for ESPN+ at Insidetherink.com/ESPN