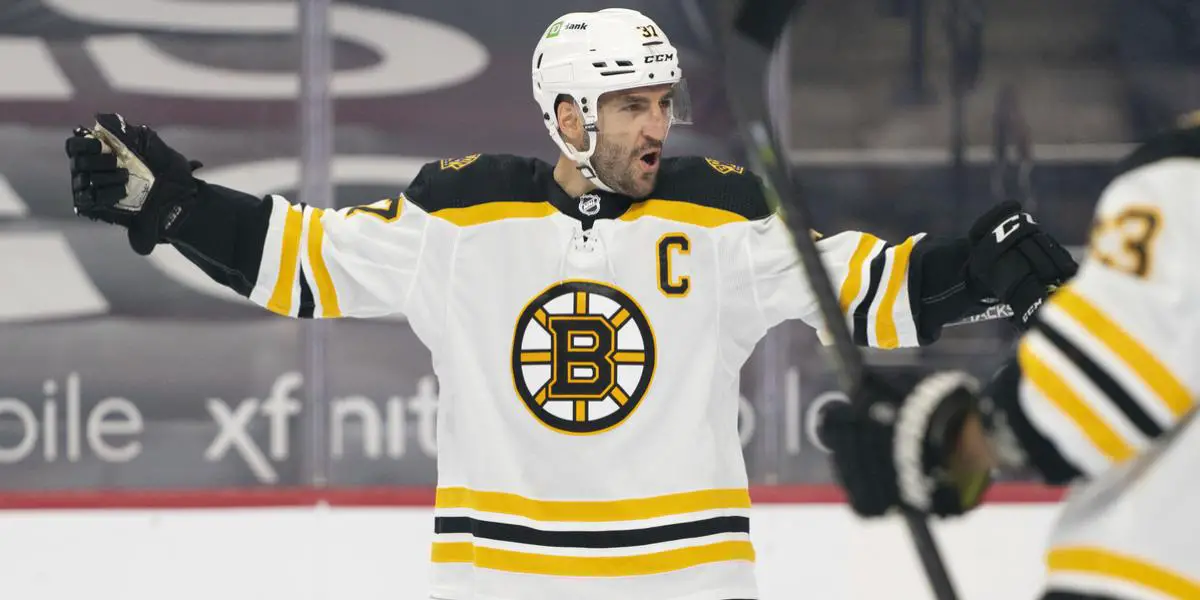 Earlier today, the Boston Bruins skated to a dominating 6-3 victory over the New York Islanders, as the Bruins continued their winning ways as they moved up the standings. Today's victory marked the Bruin's fourth consecutive win and their 14th win in their last 17 games as they have gone 14-2-1 since February 19th. While the winning ways of the Bruins have been impressive as they now sit in second place in the Atlantic Division at the moment, waiting for the Toronto Maple Leafs to play later tonight to determine if they stay put, another milestone was reached for a specific player today.
The Bruins Captain and number one center Patrice Bergeron played in his 1200th game today as he returned from the injured reserve that caused him to miss the last four games. With his 1200th game in hand, he sits third on the Bruins all-time games played, ranking behind only Johnny Bucyk, who played 1,436, and the all-time leader Ray Bourque who played 1,518 games for the black and gold. With his 1200th career game played, Bergeron is now the 120th player in NHL history to reach that mark, joining a select group of elite players to lace up skates. Bergeron's storied career in Boston continues to grow and grow as he shows no sign of slowing down as he continues to be one of the best two-way forwards in the league.
Game Recap
Today's game was a barn burner for the boys in Boston as they put up six goals and had everyone contributing on the score sheet as six different players recorded a goal and ten players registered a point. All three of Boston's top lines got it done in the scoring department, but none more lethal than the second line that saw David Pastrnak, Taylor Hall, and Erik Haula scored a goal apiece. The other three goals came courtesy of Brad Marchand, Jake Debrusk, and Craig Smith, who all got in on the scoring for Boston. For number 37, he was able to celebrate his 1200th game by adding an assist to the score sheet as he now has 17 goals, 29 assists for 46 points on the season. Today's point was also his 963rd of his career as the 36-year-old Bergeron is closing in on his 1,000th career point, which would mark another significant milestone in his already hall of fame career. Today's game showed what the new look Bruins are capable of when firing on all cylinders and playing the game the right way and the way they know how to.
Episode 51: Interview w/Jack Ahcan Episode 51 is back in action talking about the New York Paingers ITR bet, Can Buffalo Sabres make the playoffs? Is Vancouver in the wrong on the Boudreau treatment? Is Tocchet the right guy? Is Daryl Sutter the last Dinosaur in the NHL?YouTube: https://www.youtube.com/@insidetherinkTwitter: https://twitter.com/CueTheDuckBoatzFacebook: https://www.facebook.com/Cuetheduckboats/Thanks for listening! Please rate and review our show on your favorite listening platform. Check out our partner's website at www.insidetherink.com for all your latest hockey news. Also, catch all of the games in this year's NHL season by signing up for ESPN+ at Insidetherink.com/ESPN