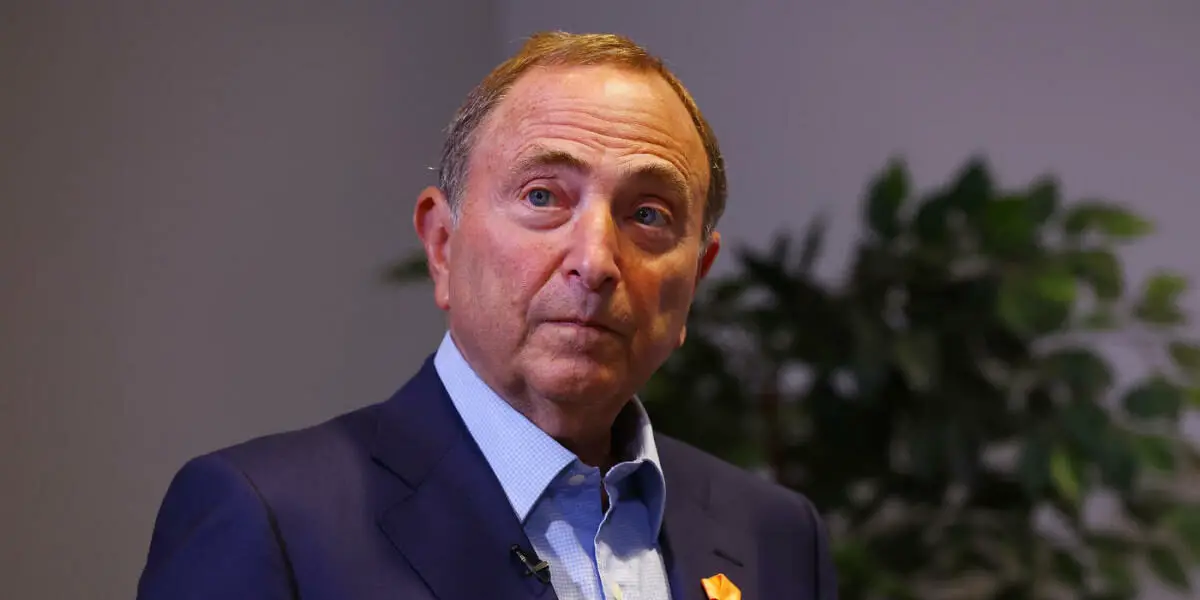 What's the deal with the 2023-24 season salary cap?
The 2022-23 NHL season has come and gone, and the Conference Finals are nearing completion. As the offseason begins, each team has a set amount of cap space that they can utilize to build their roster ahead of the 2023-24 season.
A report from Chris Johnston via Twitter mentioned that the NHL and NHLPA are in discussions about the salary cap for the 2023-24 season. What makes Johnston's report even better is the fact that Allan Walsh quote tweeted it, suggesting that the owners with more influence in the league are giving league commissioner Gary Bettman an incredible amount of heat.
Allan Walsh🏒 on Twitter: "What Gary Bettman doesn't want anyone to know is that he's getting big time heat from the most influential owners in the NHL to raise the Upper Limit beyond $1M. So don't tell anyone…" / Twitter.
This tweet by Allan Walsh is pivotal for hockey fans who like seeing the behind-the-scenes and day-to-day operations within the National Hockey League. Allan Walsh is hinting at the fact that the NHL is being pressured to raise the salary cap beyond the base one million dollars up to $83.5 million next season.
If the salary cap rises more than $1M next year, does this affect escrow?
To answer this question, no, the escrow debt will not be affected if the salary cap rises past one million dollars. Thanks to Allan Walsh and the information he provides as a sports agent, he has noted that the escrow debt was as high as $1.1B and will be down to $70M by the end of the season. If the NHL raises the cap now by an extra $3-4M for an upper limit of either $85.5M or $86.5M, it will smooth out the higher upper limit and NOT lead to higher escrow. Walsh also notes that once escrow is paid off, there will be a significant increase, likely over $10M+, between the 2024-25 season and the 2026-27 season.
How does a $3-4M cap increase help teams next year?
Here are two photos as of Wednesday, May 24th, 2023, of the salary cap breakdown, with the upper limit being at $83.5M and the lower limit being $61.7M for the 2023-24 season. The first photo shows projected cap space, and the second photo shows the positional breakdown. Both screenshots are provided, thanks to CapFriendly.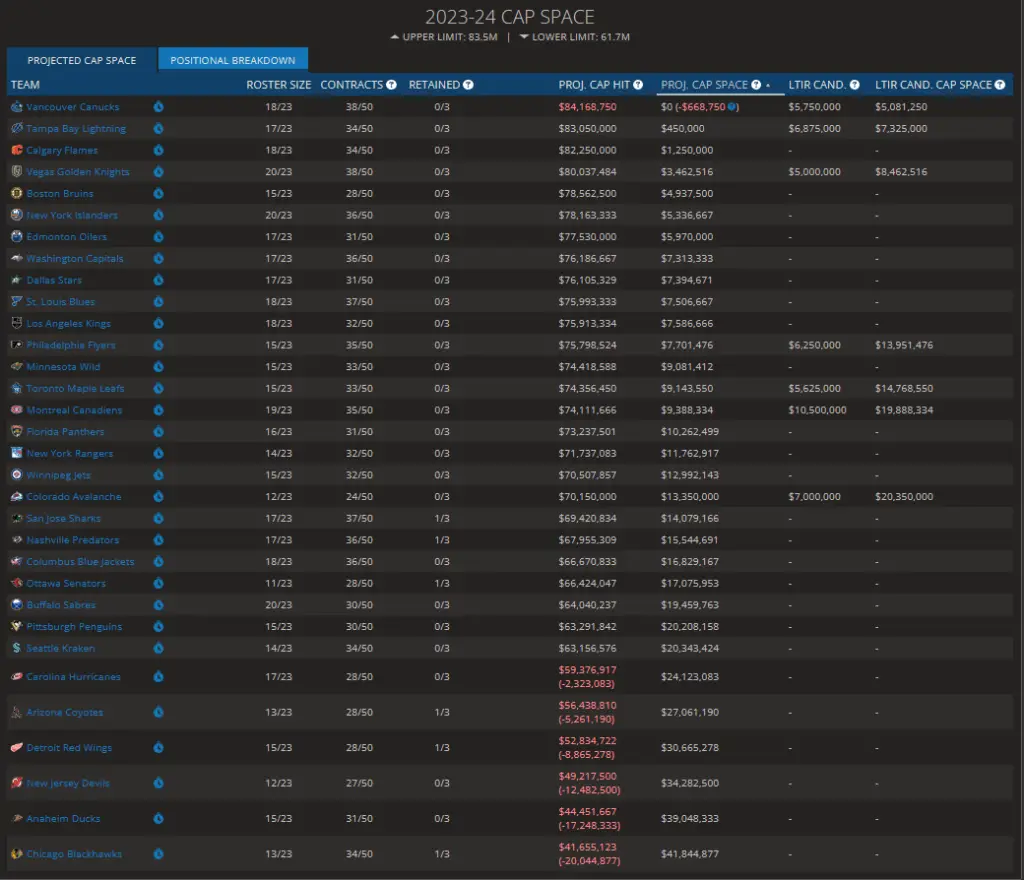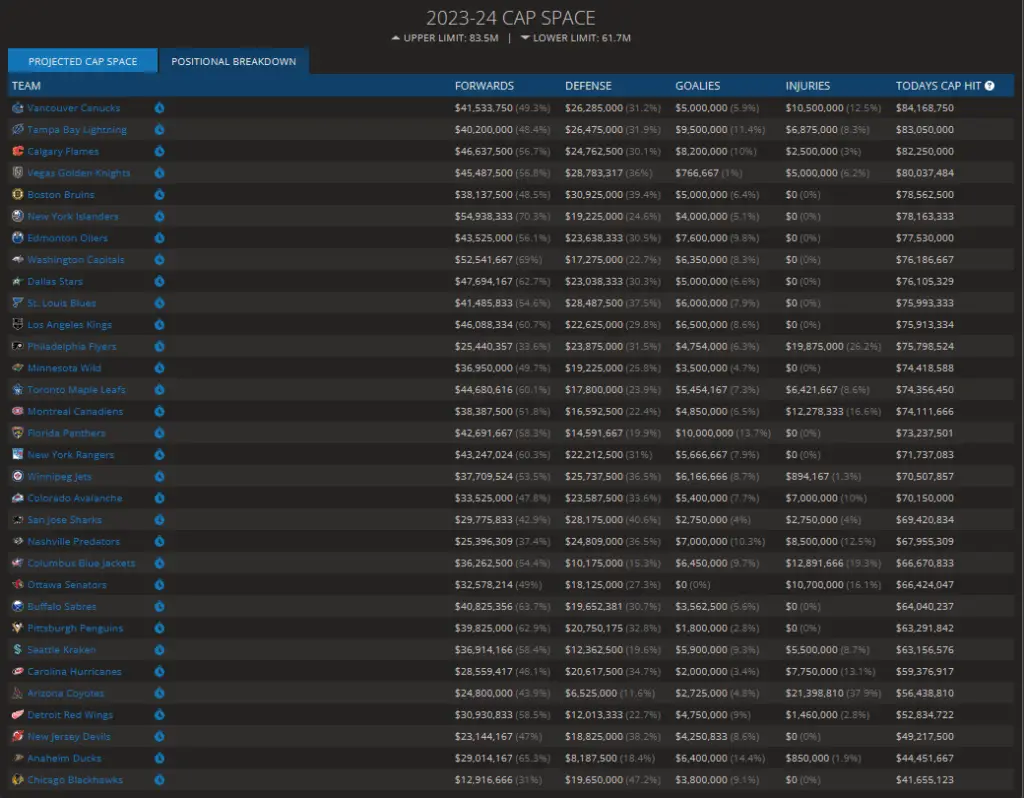 The following list will point out all of the major things wrong with the salary cap situations of all the teams.
Vancouver is $668,750 over the 2023-24 season salary cap. – This is not a good situation to be in for any team, especially a team that just missed the playoffs. Vancouver traded their former captain Bo Horvat to the New York Islanders as their cap situation was so tight after signing J.T. Miller, this is still an awful look for the team that desperately needs to shed salary.

14 teams have less than $10M in salary cap space. – I have been following the NHL for a while now, I have never seen so many teams have such little cap space when the offseason rolls around. Big-name free agents are likely going to take deals that aren't longer than three years because these guys know that the salary cap is due to rise exponentially in a couple of years.

A total of 23 teams have less than $20M in salary cap space. – I'm more familiar with more teams being within $20M of the salary cap upper limit, closer to the $10M mark, still, it's crazy to think that so many teams are crunched because of the hard salary cap.

Four teams have over $20M in salary cap space. – Typically, there are more teams than just four that have over $20M in salary cap space, most being closer to the $20M mark. This is a number that Gary Bettman should be looking at not only in the NHL but in other leagues too. The NHL has minimal salary cap increases because they are so reliant on gate revenue that it almost hurts them. Meanwhile, the MLB, NFL, and NBA can pay their big players a one-year salary that a player like Sidney Crosby would make in an entire eight-year contract. A hard salary cap is a flawed system for reasons to be later explained.

Three teams have over $30M in salary cap space. – You usually find the bottom teams having a ton of salary cap space, so this number isn't unusual, it's just the teams that own so much cap space that is kind of eye-opening.

One team is $20M below the salary cap lower limit and has over $41M in salary cap space. – Chicago sold off everything, they got rid of the former era, and now they're planning to build around Connor Bedard and become a Stanley Cup contender for years to come. They will almost certainly weaponize this cap space this offseason because there are teams with deals set to expire in 2024-25 or players they won't be able to pay after their contract expires that Chicago can bring into the fold.

16 teams have one or more players on IR, and seven of those 16 teams have one or more players on LTIR and will use that for extra cap space. – I'm not going to expand or look into this a whole lot, you never want to see someone else injured, regardless of if they play on your rival's team. Teams with LTIR-eligible space will almost certainly use it to their advantage as the league seemingly refuses to punish this salary cap loophole.

Eight teams are unlikely to roster a complete 23-man team due to the salary cap constraints. – You can take a look on CapFriendly and see which teams are under $10M in cap space that has five to eight roster spots to fill ahead of the 2024-25 season. Most teams will almost certainly bring in cheap replaceable depth players. However, a team like the Boston Bruins absolutely needs to bring in experienced depth and middle-six pieces to fill out their roster.

18 teams are likely to be hit with a salary cap penalty for using LTIR to maximize their roster before the 2023 NHL Stanley Cup Playoffs. – This is something that came from the NHL executive offices that is a 50/50 as of right now, especially with the tweet Allan Walsh put out on Wednesday, May 24th. Why would the league penalize teams now for circumventing the salary cap when teams have been circumventing the salary cap since it was implemented?

Pros of the salary cap:
Mandatory upper and lower limits of payrolls from season to season
Limited player contracts
Encourages better team management
Talent distribution is far more even throughout the league
Cons of the salary cap:
There are minimal player-for-player trades
The Canadian dollar
Bad contracts
Successful teams are punished
Final Thoughts:
The NHL certainly has its hands tied with the salary cap, player agents, and the owners getting frustrated with them. We will see what happens in the next month or so as this story is developing.
The boys are back after a long break but have plenty to talk about as the playoffs are in full swing. We go series by series, looking at how teams have fared so far and who will come out on top. Thanks for listening! Please rate and review our show on your favorite listening platform. Check out our partner's website at www.insidetherink.com for all your latest hockey news.