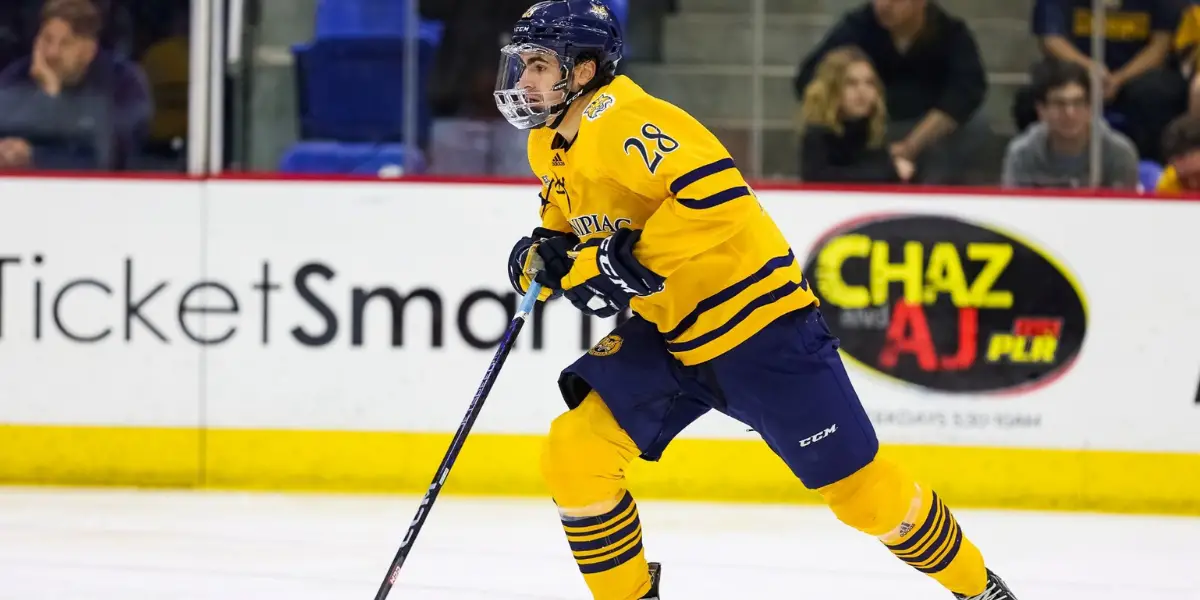 Sam Lipkin has had an incredible journey from the 223rd pick in the 2021 draft to making the championship winning pass in the Quinnipiac title game and rising up the Coyotes farm system.
2021 Draft
General Manager Bill Armstrong's first official draft for the Coyotes was full of moves. His last one was to reward his scouts and take a guy they had been banging the table for and traded for the second to last pick to draft Sam Lipkin, the 6'2" LW who finished the 2021 season playing a bit of role with the Chicago Steel that was sure to grow.
2021/2022 USHL Season(Chicago Steel)
And lucky GMBA did because Lipkin exploded onto the scene playing a larger role for the Steel, seeing a massive jump in scoring 36-35-71 in 59 games played for the Steel and committing to the Quinnipiac Bobcats the following season. His offensive game grew as he was given more responsibility on that end and played a very solid two-way game that would prove a perfect match for the structured style of the Bobcats. Lipkin was already rising up the Coyotes prospect ranks.
2022/2023 Season (Quinnipiac Bobcats)
The Philadelphia native took his two-way play to the NCAA, where he continued his rise up the ranks with an excellent freshman season scoring 14-29-43 in 39 games and playing multiple roles for one of the top teams. He also made the Team USA world juniors roster, and although he only played a minor role for them, that is still an incredible achievement for the Coyotes prospect. Quinnipiac managed to play their way to a top seed in the NCAA championship tournament, where Sam Lipkin truly excelled, being a major cog for the team's offense and making the key pass and primary assist on the goal to win it all. It is very safe to say the Bobcats don't win their first National Championship without him on the team.
Post National Championship
The Coyotes made a full-court press to sign him and bring him up from the college ranks to play for their AHL team, but ultimately Lipkin decided returning to Quinnipiac for another season to try and repeat as champions was the best course of action. Coyote fans everywhere should tune into as many Quinnipiac games this season as they can to watch this exciting prospect grow his game even more. He is definitely a name to remember and someone who should outperform his draft position for the Coyotes and should make the Roadrunners very soon!

The Chirpin Yotes Podcast Pre-Preseason Fireside Chat
–
The Chirpin Yotes Podcast
Tyler and Grandy talk about hockey down under, the coaching staff's extension, if the howling Coyote head will be remembered fondly, Jenik and the digital dasherboards. Keep an eye on our twitter account for fantasy details!