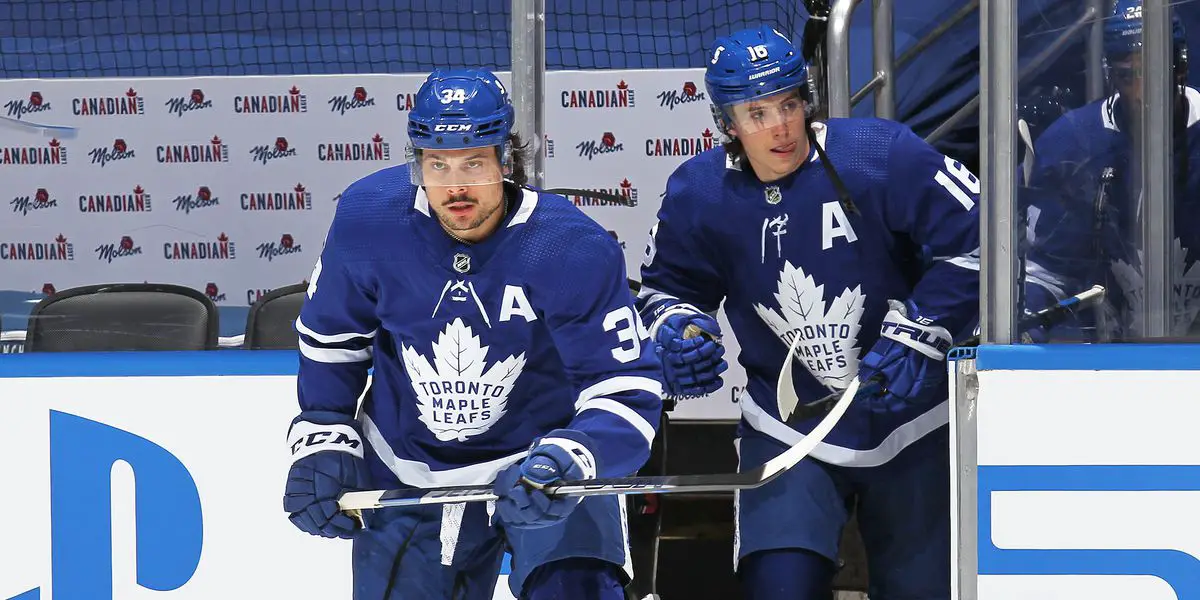 Despite a bad run of form on the defensive end of the ice, the Toronto Maple Leafs smashed the Seattle Kraken 6-2 in their first-ever meeting last night.
There were some concerns going into this one about the ongoing problems in defense and in net for the Leafs. 
Jack Campbell let in 12 goals in his previous four starts, and what should be a lockdown defensive pairing in Jake Muzzin and Justin Holl have produced seemingly underwhelming results on the ice as of late.
However, it's important to note how overplayed Campbell has been with Petr Mrazek out for four weeks with a groin injury. With Mrazek back now, the Leafs won't have to overplay their starter.
As well as this, the NHL has made Toronto play all their rescheduled games in the span of a week. Players are tired, and playing five games in ten days is not easy.
They have still managed to score goals for fun, scoring at least six goals in four of their last seven.
Last night's game was an example of how the Toronto Maple Leafs can be described at the moment. Running rampant in the attacking zone and on the powerplay, but conspicuously flawed in the back.
However, no hockey team will ever win 82 games, so there's no need to panic when they drop a game to the Coyotes or when one of their players is in a slump.
There is so much creative ability on the ice. Toronto has five players with at least 40 points at this stage of the season. Auston Matthews (57), William Nylander (45), John Tavares (45), Mitch Marner (43), and Morgan Reilly (40). 
They also have the likes of Michael Bunting, Pierre Engvall, and Ondrej Kase, who have all provided an abundance of much-needed depth production this season. 
You have a Vezina candidate in Jack Campbell who has won 22 games, has a SV% of .921, and a GAA of 2.38.
Even when you thought they had holes in their defense, they are currently 5th in the league in goals-against and are third in shutouts.
So what's the problem?
If history has shown us one thing, the Toronto Maple Leafs can't succeed in the playoffs on skill alone. Every year they show up to camp with an All-Star caliber team and win about 40 games in the regular season. But come playoff time, they disappear. They get outplayed.
For the Toronto Maple Leafs to succeed in the playoffs, they need their players on massive salaries to step up and show their worth. 
Last season, Auston Matthews and Mitch Marner disappeared like Thanos snapped them away, and John Tavares suffered an almost career-ending injury. Three out of four of their big forwards didn't step up.
If Matthews, Marner, Tavares, and Nylander are all producing, there isn't a team in the National Hockey League that can beat them.
I see so many parallels between this team and the Washington Capitals of the 2010s. Both teams have a hump they need to get over.
Everyone knew the Washington Capitals had a hockey club with the ability and potential to do great things, but most of the time, the Pittsburgh Penguins shut the door on them.
I can imagine that once the Capitals beat the Penguins in the second round of the 2018 Stanley Cup Playoffs, they knew that they were finally going to do it.
All the Toronto Maple Leafs need is to get over that first-round hump. At that point, it's full-steam ahead.
HOT-TAKE OF THE DAY: The Toronto Maple Leafs are one first-round playoff victory away from becoming a dynasty.