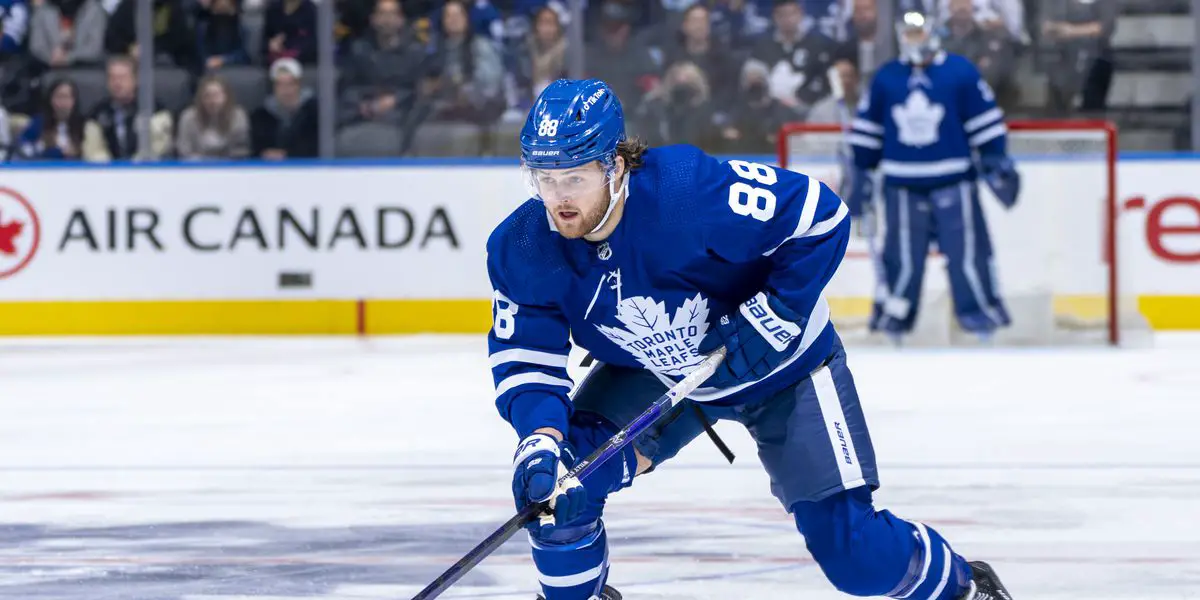 After a tough 3-2 overtime loss in Montreal on Saturday night against the Habs, the Leafs returned home to take on the Islanders. This game was the first of a five-game home stand for the blue and white leading up to the all-star weekend. There were a ton of whistles in the opening minute in this one. Neither team was able to get into much of a rhythm at all. Samsonov made his first massive game save as he got across and got a blocker on a Casey Cizikas scoring chance on the doorstep. This was Samsonov's fourth straight start for the Leafs. The blue and white didn't register their first shot on goal till almost halfway through the opening frame. There were no whistles at the 14, ten, or six-minute mark, resulting in a ton of snow built up all over the ice. There was finally a whistle as Ryan Pulock was called for tripping Pontus Holmberg with just 2:43 remaining in the first period. The Leafs were unable to capitalize with the man advantage, but they did generate three shots on goal. With 22.2 seconds remaining in the frame, the Islanders got the icebreaker in this one as Anders Lee buried a loose puck that hit the post and went off of Samsonov's back into the crease. It would be an incredible understatement to say it wasn't an ideal opening 20 minutes for the blue and white. Shots on goal in the first period were 12-6 for the Islanders. TOI leader for the Leafs was Morgan Rielly with 7:56. 
Leafs head coach Sheldon Keefe made a line adjustment putting Mitch Marner back with Matthews and Bunting. It turned out to be a great decision as that line had a fantastic shift to start the second period. They hemmed the Islanders in their own zone for over a minute. The Islanders countered with an attacking shift of their own in the second minute of the period, which ended with an outstanding glove save on Anthony Beauvillier. John Tavares collected an indirect pass from Bobby McMann off the boards, then drove the Islanders' net but couldn't finish the play. Tavares didn't quit on the play, however, as he was able to set up William Nylander for his 25th goal of the year, tying the game 1-1. An outstanding shift from the Leafs' captain. The following shift, the Islanders went right back to the attack, and Kyle Palmieri set up Anders Lee for a one-timer that he rifled past Samsonov for his second of the game restoring the Islanders one goal lead. The goal came just 1:11 after the Leafs tied it up. The Tavares and Nylander duo went back to work and almost tied the game again. While they couldn't tie it, they managed to generate a power play for the blue and white as Kyle Palmieri was called for interference on Calle Jarnkrok 6:41 into the period. The Leafs' top power play unit made absolutely no mistake this time around as William Nylander sprung John Tavares in all alone, and he went forehand backhand to beat Ilya Sorokin for his 21st goal of the year to tie things back up 2-2. William Nylander continued his unbelievable night as he made a mind-blowing pass into open ice over everyone's head in a perfect spot for Calle Jarnkrok to corral it and go in all alone on a partial breakaway where he went bar down.
Just a fantastic play from Nylander and a great finish by Jarnkrok for his 11th goal of the year, making it 3-2 and giving the Leafs their first lead of the game. With 4:36 to go, Michael Bunting was sprung on a breakaway, but Alex Romanov hauled him down, resulting in Bunting's first career penalty shot attempt. Sorokin came up with a massive save to keep it just a one-goal game. William Nylander once again with yet another dominant shift as he knocked down an outlet pass attempt by Scott Mayfield. He then gathered the loose puck, curled into the slot, and made absolutely no mistake firing his second of the game and 26th goal of the year top shelf past Sorokin making it a 4-2 game. With just 31.2 seconds remaining in the period, Justin Holl was called for hooking Brock Nelson. After a subpar first period, the Leafs needed a much better effort in the second, and they gave just that. Shots on goal in the second period were 22-10 in favor of the blue and white; John Tavares had eight of those 22 shots himself and 28-23 overall. TOI leader after 40 minutes was Morgan Rielly with 14:33. 
The Islanders' power play carried over to the third period, but the Leafs managed to successfully kill it off, keeping their 4-2 lead intact. There was a lot of back-and-forth action between both teams. Not a lot of anything happening, and barely any whistles. With just over 12 minutes remaining in regulation, Justin Holl fired a laser of a pass off the boards to find Auston Matthews at the Islanders' blue line. When given that much time and space, Matthews doesn't miss too often, and it wasn't any different in this case. He made absolutely no mistake beating Sorokin with his 25th of the year to give the Leafs a 5-2 lead. With that goal, Matthews extended his home point streak to 16 games. Adam Pelech laid a big hit on Calle Jarnkrok. He then proceeded to spear Jarnkrok in the neck area as Jarnkrok was laying on the ice. There was no call on the play, and Jarnkrok was not impressed, to say the least. With 6:33 to go, there was a scrum in the Islanders' crease which resulted in a penalty being assessed to both teams. Timothy Liljegren for the Leafs and Casey Cizikas for the Islanders, resulting in four-on-four. Neither team was able to take advantage of the extra open ice during four on four. With under four minutes to go in regulation, Anders Lee was hit up high in the neck area as a result of a shot from the point in the offensive zone; he was able to leave the ice under his own power. With 36.2 seconds to go, Pierre Engvall was called for tripping Scott Mayfield. The Leafs managed to kill off the final seconds, and they hung on for the 5-2 victory. Ilya Samsonov improved to 13-0-1 at Scotiabank Arena this season with the win. Shots on goal in the third period were tied 10-10, and overall they were 38-33 in favor of the Leafs. TOI leader in this one for the blue and white was Mark Giordano with 22:16. 
Tonight's Three Stars 
1. William Nylander: 2 Goals, 2 Assists 
2. John Tavares: 1 Goal, 1 Assist 
3. Justin Holl: 2 Assists 
Honorable mention to Ilya Samsonov, who was fantastic again in this one as he made 31 saves on 33 shots. 
The Leafs are back in action on Wednesday as they host the New York Rangers! 
For more Leafs news and in-game tweets, follow me on Twitter @mikethefanatic! Also, be sure to check out The Leafs Late Night Podcast wherever you listen to your podcasts!