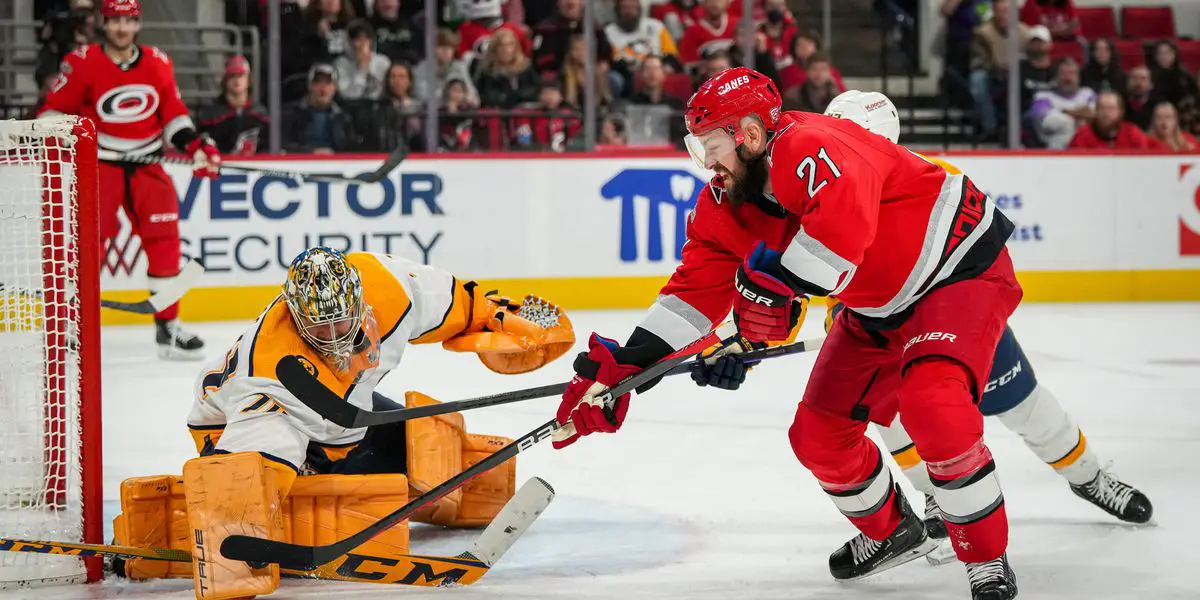 Replacing a franchise goaltender is not an easy task.
There is a lot of pressure, responsibility, expectations, and more that come with replacing someone who has been with the team for an extended amount of time. It is not an enviable position.
Pekka Rinne was the starting goaltender for the Nashville Predators, the only franchise he ever played with, for 13 seasons. During that time, he accomplished the following:
Is the franchise leader in wins with 369
Is the franchise leader in shutouts with 60
Won the Vezina Trophy during the 2017-18 season
Was a Vezina Trophy finalist four times
Is a four-time NHL All-Star
He was everything and more to the Predators. Rinne retired following the 2020-21 season.
Juuse Saros, after five seasons of being Rinne's backup, took over as the team's starter, and he has never looked back. Saros, 27, was a Vezina finalist last season after having a 38-25-0-3 record with a 2.64 goals-against average, a .918 save percentage, and four shutouts while also playing in his first All-Star game.
Saros is once again having a good season this year. He is currently (Thursday, January 12) 15-11-0-5 with a 2.65 goals-against average, a .922 save percentage, and one shutout.
Some of his statistics are among the top 20 in the league this season:
11th in wins
Seventh in save percentage
16th in shutouts
18th in goals-against average
There are a few reasons why the Predators should be thankful that Saros mans the pipes for them. For starters, he gives them a chance to win every night.
The team is four points behind the Minnesota Wild for third in the Central Division and three points behind the Edmonton Oilers for the second wild-card spot with a 19-15-6 record and 44 points.
Saros, who was named to the All-Star game for the Central Division for the second straight season, has 15 of the team's 19 wins. More often than not, he is the team's best player when they win.
He can also steal games. Such was the case back on Thursday night, January 15.
That night, Saros made 64 saves on 67 shots in a 5-3 win over the Carolina Hurricanes, who are one of the best teams in the league. He was especially good in the third period when he stopped all 28 shots he faced in the third period.
The Predators had no business being in that game. They should have been blown out, but that did not happen because Saros put in an unbelievable performance.
Lastly, Rinne is just entering his prime. He is only 27 years old and is only going to get better, which is hard to imagine considering how good he is already.
The Predators are lucky to have been able to go from Rinne to Saros without a hitch. Now, it's time for the Predators to reward Saros by doing everything they can to get into the Stanley Cup playoffs this year, a task that Saros will certainly be more than up for.
The boys are back after a long break but have plenty to talk about as the playoffs are in full swing. We go series by series, looking at how teams have fared so far and who will come out on top. Thanks for listening! Please rate and review our show on your favorite listening platform. Check out our partner's website at www.insidetherink.com for all your latest hockey news.