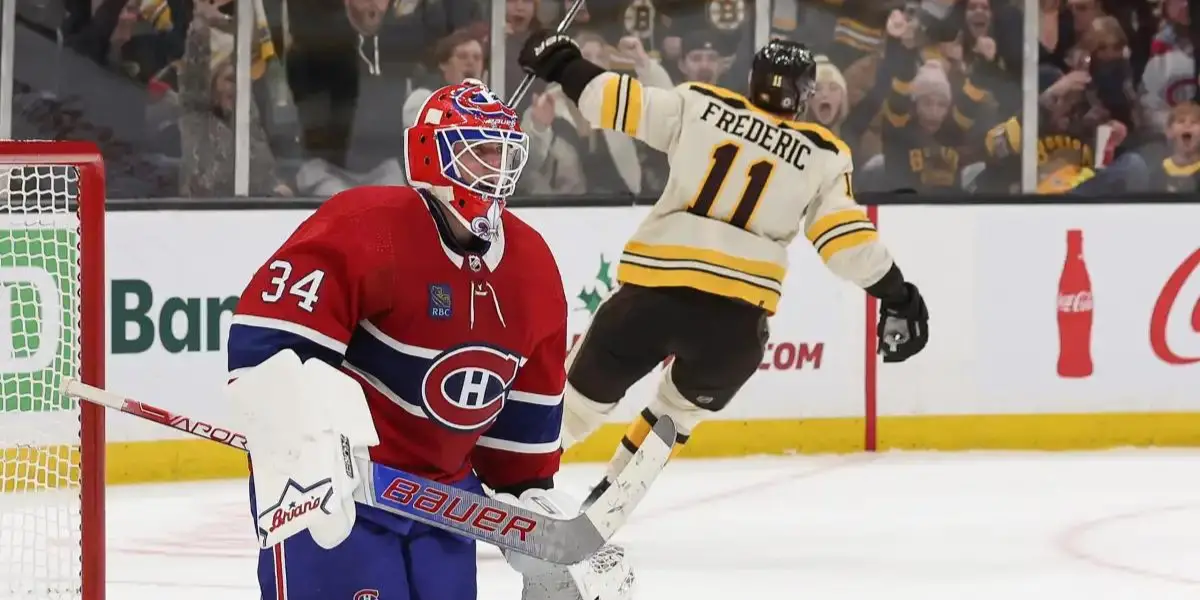 You'd be forgiven, which in the landscape of New England sports fandom is a luxury not often enjoyed, for waking up on November 12th with an odd feeling of glee. Despite the Montreal Canadiens handing their now 100-year-old rival, the Boston Bruins, a rare loss.
It felt like the days of old, prior to the Tampa Bay Lightning and Toronto Maple Leafs resurgence. Boston and Montreal ran the table in their division, a playoff matchup was all but a certainty, and everything leading up to it was just the first course.
But back to November 11th- A third-period table-turning comeback for Montreal was followed by a power play marker from Brad Marchand, with a decent amount of footwork depending on what side of the fence you stand on, evening the score. In overtime, an unlikely hero in Kaiden Guhle was the beneficiary of a fortunate bounce which the ghosts of the old Montreal Forum would admire, paddling home a game-winner which appeared to symbolize something even greater. Is it possible this rivalry between two titans of hockey could be back? 
Now, let's clarify something: a rivalry never truly fades away. But this one in particular has lain dormant for a number of years. A quick history lesson- when Boston qualified for the 2008 playoffs, they were young, up and coming, the foundation was there, but the concrete hadn't hardened. As fate would have it, Montreal awaited them in round one. While the Habs would emerge victorious, the bad blood began to boil. Three more playoff matchups would ensue, with the most recent coming in 2014. Since then, the two franchises have traveled in parallel, seldom if ever at all, overlapping at the height of their powers.
Which leads us to Saturday night. A change in venue, but not importance. For Montreal, who was 6th in Atlantic Division standings but sat just four points off Toronto for third place, it was a chance to build off their gusty win a week earlier and keep their playoff aspirations very much alive. Boston, with Florida on their heels, was presented with an opportunity to build on their divisional lead, pushing a young Canadiens team further down the ladder. They did not squander it.
Similarly to their first meeting of the season, Boston assumed control in the first period with goals from Charlie McAvoy and Trent Frederic, but in contrast, they did not look back. Juraj Slafkovsky scored in the middle frame, cutting the lead to 3-1, but it wasn't enough to halt Boston's momentum en route to a one-sided 5-2 victory. 
Looking over the divisional standings as a result of their loss, Montreal slid to last place in the Atlantic. They remain six points off Toronto for 3rd place.  
If all holds, a rather disheartening anniversary is set for the spring. Ten years since the Boston Bruins and Montreal Canadiens squared off in the playoffs. 
A once red-hot rivalry has been extinguished to a few smoldering embers. 
The Bruins are reeling and need to right the ship; their division lead is dwindling. What's wrong with Brad Marchand? Is he starting to decline, or stuck in an early slump? Should the Bruins make a deal now? Potential trade partners discussed. Plus much more!DraftKings Sportsbook – Boston's hometown Sportsbook is LIVE right here in Massachusetts! Bet local on all your favorite sports from the comfort of your own home with DraftKings. To celebrate, ALL new customers will receive up to TWO HUNDRED DOLLARS in BONUS bets when you sign up for DraftKings Sportsbook using code ITR! You can now bet local on money lines, spreads, props, and more with one of America's top-rated Sportsbooks – DraftKings Sportsbook!  Download the DraftKings Sportsbook app and sign up with code ITR to get up to TWO HUNDRED DOLLARS in BONUS bets to use now that mobile sports betting is live in Massachusetts. That's code ITR only at DraftKings Sportsbook. If you or a loved one is experiencing problems with gambling, call 800 327-5050 or visit helplineMA.org to speak with a trained specialist, free and confidentially, twenty four seven. 21+. Physically present in MA. Eligibility restrictions apply. Subject to regulatory licensing requirements. Eligibility and deposit restrictions apply. Opt in required. Bonus issued aree bets. Terms at draftkings.com/MA.