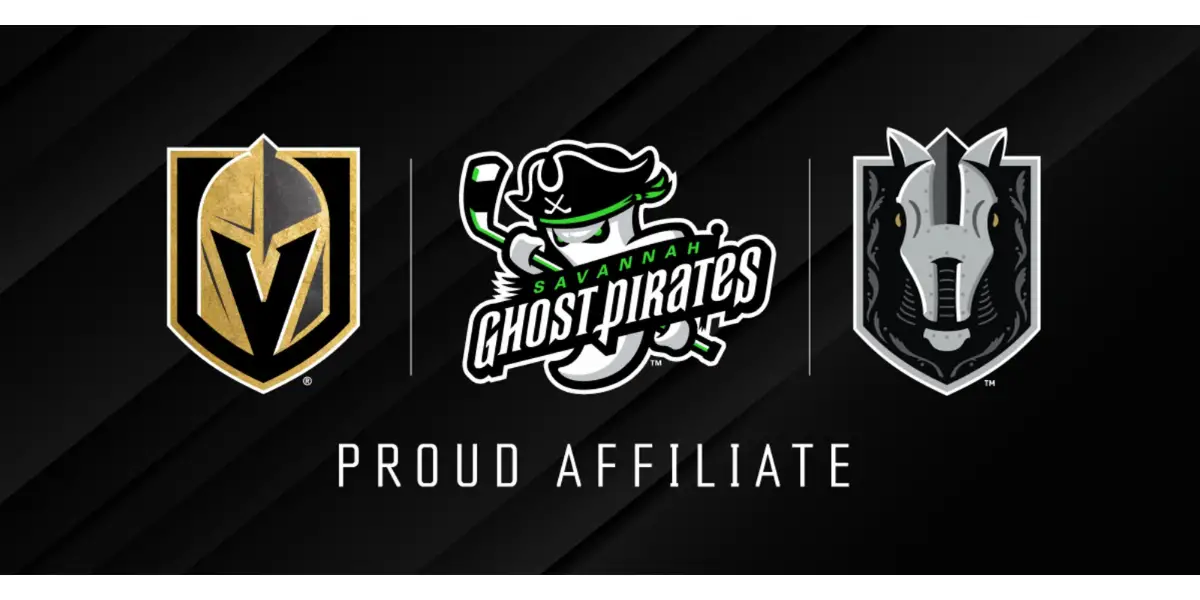 The Savannah Ghost Pirates' AHL affiliate, the Henderson Silver Knights, have been pulling up some of Savannah's players throughout the season. This is mainly because of some injuries and recallings from Henderson to Vegas. Today, Henderson recalled forward Daniel D'Amato and goalie Jordan Papirny. Both of them started their 2022-2023 seasons in Savannah; D'Amato got pulled up to Henderson on December 6th, then reassigned to Savannah on January 31st, while Papirny stayed with Savannah the entire season.
Before the Ghost Pirates, Papirny had played with a couple of different teams, being with the Brandon Wheat Kings the longest. He played one game for the ECHL's Florida Everblades in the 2020-2021 season. Last season, the 26-year-old Edmonton, Alberta native played two games for the Fort Wayne Komets and 11 with NAIT (Northern AB Ins. of Tech.) While his save percentage was high, his goals-against average was lower with NAIT than they are with the SGP. He had moved up a league, making the competition he faced that much more significant. Papirny has played and developed amazingly well in Savannah, with one of his best games being Sunday night against the Greenville Swamp Rabb. It's where he made 50 huge saves, despite the overtime loss. Papirny has had six wins and five losses with the Ghost Pirates, with four overtime losses. His goals-against average is 3.78, and his save percentage is 0.904%.
Daniel D'Amato's 20 games with Henderson this year were not his first, as he played five games with them last season. He is 21, 6'1, and a left-handed shooter from Maple, Ontario. He's spent most of his professional career in the OHL with the Erie Otters. He started with them in the 2018-2019 season and finished in 2021-2022 as a captain. As he adapted to the OHL's competitiveness, his stats improved significantly. He went from scoring four goals and 11 assists in his first 63 games to having 24 goals with 39 assists in his last 63 games with the Otters. D'Amato is a fast and agile player who is also incredibly skilled in stick handling. With the Savannah Ghost Pirates, he managed to help them win their first shootout win in franchise history. In his 27 Savannah games, D'Amato scored eight goals, assisted 17, and spent 33 total minutes in the penalty box.
This first season has allowed fans to observe the Ghost Pirates and come to know them. The Ghost Pirates play videos of the players doing or saying various things, including how much they love and care for one another throughout some of the games. They all played golf together in a competitive mini-tea for bragging rights ms at the beginning of the seats. Max Kaufman, Brent Pederson, and Willy Riedell were in Jordan Papirny's group, while D'Amato was with Estes, Phillips, and Hawkinson. Although that D'Amato's group won, the video played during the intermissions during games showed how well players could work together, win or lose. As many players keep moving up to Henderson, their fans hope they continue to play hard and develop into the best players they can be. It's great to see Savannah as one of the critical places for developing future Las Vegas Golden Knights. The Ghost Pirates fan base will always be the most extensive support system.