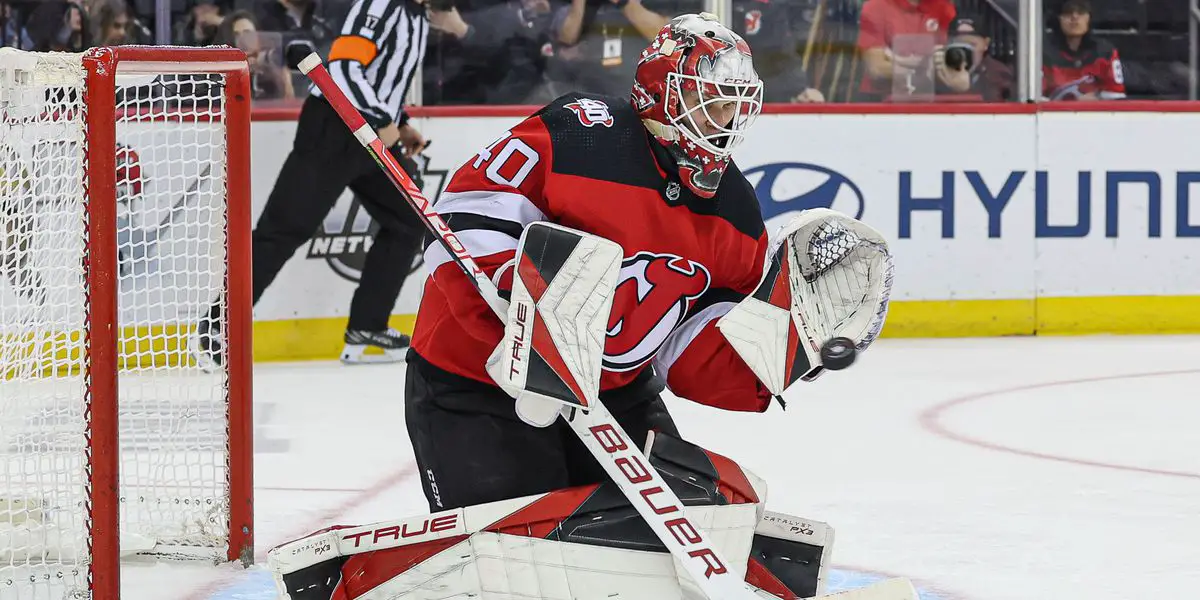 The play of New Jersey Devils goaltender Vitek Vanecek during the regular season is one of the reasons why the team had so much success and made it into the playoffs for the first time in five seasons.
Vanecek, 27, was 33-11-0-4 with a 2.45 goals-against average, a .911 save percentage, and three shutouts during the regular season. He won many games for his team this season and even got them close to winning the Metropolitan Division as the Devils finished just one point behind the first-place Carolina Hurricanes with a 52-22-8 record and 112 points.
Things changed for Vanecek in his team's first two games of their first-round Stanley Cup playoff matchup with the New York Rangers. He allowed nine goals on 52 shots, and his statistics looked like this as the Devils were down 2-0 heading into Game 3 at Madison Square Garden:
April 18th against the Rangers: Stopped 18 of 22 shots for a .818 save percentage.
April 20th against the Rangers: Stopped 25 of 30 shots for a .833 save percentage.
While the team's two losses were not solely the fault of Vanecek, it was clear that the Devils needed to make a change. As such, they decided to start rookie Akira Schmid in Game 3 on Saturday night, April 22nd.
Schmid, 22, played extremely well for the Devils in a limited time with the club during the regular season. He went 9-5-0-2 with a 2.13 goals-against average, a .922 save percentage, and one shutout.
As everyone knows, however, the playoffs are a different animal. The stakes are higher, the games obviously mean more, and there is nothing like it in professional sports.
Well, if Schmid was nervous, he certainly did not show it as he stymied the Blueshirts all night long in his team's 2-1 overtime victory. He made 35 saves and, with his strong play in the net, has given his team some hope heading into Game 4 on Monday night at Madison Square Garden.
There are several reasons why Schmid had success in his first NHL playoff game. For starters, he played with confidence.
Schmid looked calm, cool, and collected between the pipes all night long. He challenged shooters, played at the top of his crease, showed a little flash when he made a few key glove saves, and looked like nothing was going to bother him in front of the loud Rangers faithful.
One teammate of Schmid's who agreed with this sentiment was All-Star forward Jack Hughes. In talking with NHL.com Devils beat reporter Sam Kasan after the game, Hughes said that he and his team believe in Schmid and that he has what it takes to have success at this time of the year.
"He's stone cold, no pulse, always relaxed and poised," said center Jack Hughes, who scored a power-play goal for the Devils in the game. "We have a lot of confidence in Schmid coming in. He showed everyone how good he is, and we'd like him to keep that going."
Secondly, he was great at controlling his rebounds. He did not give the Rangers many second opportunities because he either gobbled up pucks or put the rebounds into the corners where they belonged.
When a goaltender is able to guide and hold onto the puck the way that Vanecek did last night, it means that he is in control of his game. Vanecek was not in control of his game in Games 1 and 2.
Lastly, Schmid simply carried his strong play from the regular season into the postseason. He did all the things that made him successful in the regular season and carried it into Game 3 on Saturday night.
With his great play in Game 3, it is clear that the Devils' crease now belongs to Schmid. Will he be able to have another strong performance in a crucial Game 4 on Monday night, April 24th, to tie up the series?
In this weeks episode former Rangers goalie Dan Blackburn comes on to discuss his time with the Rangers, the draft, and more.Thanks for listening! Please rate and review our show on your favorite listening platform. Check out our partner's website at www.insidetherink.com for all your latest hockey news.