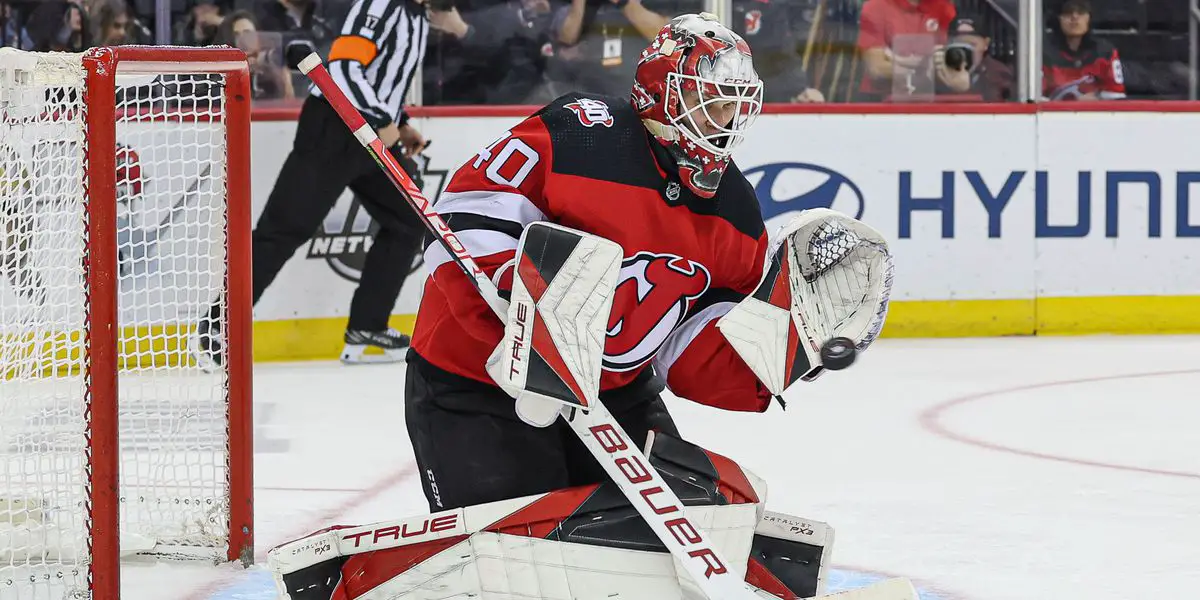 After Games 1 and 2, the New Jersey Devils were in serious trouble in their first-round Stanley Cup playoff matchup with the New York Rangers.
For starters, they lost both games, both of which were on home ice. After coming into the series as somewhat of a favorite to win, going down 2-0 heading into Madison Square Garden certainly was not an ideal situation.
Secondly, they had been outscored 10-2 in those games. The Rangers won both games by a score of 5-1 and looked like they might even sweep the Devils.
Lastly, the Devils were not getting good goaltending from their starter Vitek Vanecek. After having a great regular season in which he went 33-11-0-4 with a 2.45 goals-against average, a .911 save percentage, and three shutouts, he struggled in Games 1 and 2 and posted a 4.43 goals-against average and a .827 save percentage.
Due to the above-mentioned circumstances, Devils head coach Lindy Ruff made a change for Game 3 and decided to start 22-year-old Akira Schmid in Game 3. The rest, as they say, is history.
Schmid came in and did everything and more for the Devils in this series. For starters, he did something Vanecek could not do in Games 1 and 2, and that is win hockey games.
He came into the net and won four out of the five games he played. Simply put, he did the most important thing in playoff hockey, and that was win games.
Secondly, Schmid was calm and poised between the pipes. He was always in the position to make first and second saves and never really seemed to be out of position.
When you have a goaltender that can play that style in the playoffs, it makes the game much easier. Schmid put rebounds to the corners, swallowed up a lot of pucks, and when he needed to, especially in Game 3 and parts of Game 7, he made the big saves when his team needed them the most.
Lastly, he showed that he was resilient. After allowing five goals in his team's 5-2 loss in Game 6 at MSG, Schmid could have easily been rattled going into a do-or-die Game 7.
Instead, Schmid came in and picked up a 31-save shutout in a 4-0 win to eliminate the Rangers. He made a few big saves, played within himself, and made things look really easy for someone who is still a very young goaltender.
Schmid showed the Devils and the rest of the league that he can win on the biggest stage. It will be interesting to see if he can keep up his strong play in the second round against the Carolina Hurricanes.
The boys are back after a long break but have plenty to talk about as the playoffs are in full swing. We go series by series, looking at how teams have fared so far and who will come out on top. Thanks for listening! Please rate and review our show on your favorite listening platform. Check out our partner's website at www.insidetherink.com for all your latest hockey news.